Jewish Groups Praise House Vote to Sanction 'Bigoted' Marjorie Taylor Greene
Jewish groups are among those celebrating Thursday's vote to strip far-right GOP Rep. Marjorie Taylor Greene of her committee assignments, amid outrage over past comments in which the Georgia lawmaker backed anti-Semitic, Islamophobic, and far-right conspiracy theories.
The House voted 230-199 to remove Greene from the committees, with 11 GOP House members siding with Democrats. Speaking in the chamber before the vote, Greene said the remarks had been made before she ran for office last year. "These were words of the past. These things do not represent me," she said.
Among her incendiary comments were suggestions that a plane did not hit the Pentagon on 9/11; that the Sandy Hook and Parkland school shootings were staged; that prominent Democrats should be executed; and that forest fires were caused by a space laser operated by the prominent Jewish Rothschild family.
Jewish groups from across the political spectrum praised the action taken by Greene's House colleagues Thursday, and warned that her extremist beliefs must not be allowed to take root in the GOP, which has been split on whether or not to punish Greene.
Jonathan Greenblatt, the CEO of the Anti-Defamation League, wrote on Twitter that lawmakers showed "real leadership" by stripping Greene of her committee positions. "Any individual who traffics in racism, #antisemitism & conspiracy theories is not deserving of these posts," Greenblatt said. "Thankful most House members recognize that."
Bend the Arc, a progressive Jewish group, warned that Greene's remarks must be taken seriously, regardless of how outrageous they may seem.
"It's tempting to laugh at Marjorie Taylor Greene's absurd fantasies about 'Jewish space lasers,' but there is nothing funny about the hatred and violence which is fueled by her incendiary rhetoric," CEO Stosh Cotler said.
"Greene's anti-Semitic conspiracy theories and racist, anti-Muslim rhetoric should have no place in the halls of Congress, and removing her from House committees is an appropriate start toward holding her accountable," Cotler added.
Cotler also condemned "the shameful complicity of Republicans in refusing to stand up to their colleague's bigotry, and by defending Greene's racism and Islamophobia with more racism and Islamophobia."
At the other end of the spectrum, the conservative pro-Israel Christians United for Israel Action Fund also praised the censuring of Greene. "Rep. Marjorie Taylor Greene's anti-Semitism, for which she has yet to apologize, does not represent the Republican party or the American people," the group said in a statement.
"Her bigoted beliefs should be shunned and removing her from her committee assignments was therefore necessary. Both parties must get their respective houses in order and reject any radical Members of Congress who desecrate the Capitol by trafficking in antisemitic tropes."
Other groups yet to comment have been calling for action against Greene, including the influential pro-Israel American Israel Public Affairs Committee or AIPAC.
Earlier this week, the Conference of Presidents of Major Jewish Organizations—which includes AIPAC—said Greene was spreading "baseless hate against the Jewish people" and demanded "swift and commensurate" punishment.
The J Street non-profit said of Greene: "She is a threat to her colleagues, to the American Jewish and Muslim communities, and to vulnerable communities throughout the country. She has to go."
The progressive IfNotNow group condemned the Republicans who are still standing behind Greene, suggesting her extremist ideology is now representative of right-wing discourse. "Marjorie Taylor Greene is who the Republicans are," the group tweeted.
In another tweet, IfNotNow wrote: "The Republican Party is desperate to distract from the clear and obvious fact that they elevate their members who use racist and anti-Semitic dog whistles and who encourage violence against their colleagues. A message for @GOPLeader: The American people are not buying it."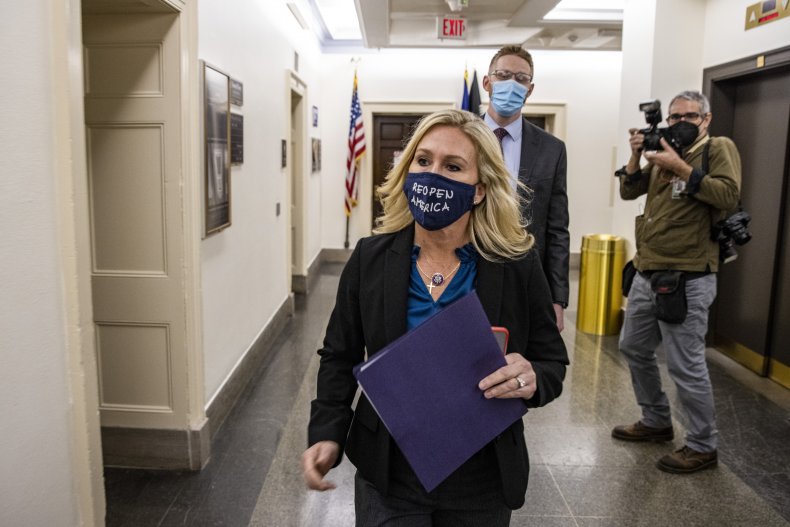 Correction 2/5/21, 10:45 a.m. ET: The headline of this article was updated to remove a reference to "censure" as Marjorie Taylor Greene has not been formally censured by the House.