Jewish Man Wearing Star of David Assaulted in Las Vegas, Says Man Yelled 'Baby Killers'
A Jewish man from New York said he was the victim of a hate crime during a trip to Las Vegas on Monday, when another man knocked him to the ground and yelled antisemitic slurs.
Paul Lebowitz, 67, said he was violently targeted for being Jewish during a conversation about the Israeli-Palestinian conflict with a stranger, NBC New York reported. Lebowitz, who works as a paramedic in New York City, said he was visiting the area with his wife and adult son.
The three travelers stopped by the MGM casino for a coffee when they encountered another family and began discussing the ongoing conflict. Lebowitz told NBC New York that the man he spoke with identified himself as Sam, and said he was from Palestine.
"I said, turns out I'm from Palestine also. And we were having an amicable, disagreeing conversation," Lebowitz said. But that conversation, he added, quickly grew hostile.
As they were talking, Lebowitz said the man told him that "your people are not going to exist anymore," adding that "the Jews are not going to exist anymore."
Lebowitz, who told KVVU-TV that he was wearing his Star of David necklace, responded by telling the man that he was a "proud Jew."
At that point, Lebowitz said that the man grew violent.
"He yells out, 'baby killers!' Puts his hand to my face and throws me to the ground. I fell back. I smacked my head," Lebowitz said.
Lebowitz said that he did not fight back or lay hands on the man. His family was able to call police, but by the time officers arrived the suspect had already run off, KVVU-TV reported.
The Las Vegas Metropolitan Police Department report was filed as a battery assault. Police told Lebowitz surveillance footage will be used to identify the suspect in the ongoing investigation.
The 67-year-old said he suffered from a concussion and is urging police to consider the incident a hate crime.
"Police report said it was a battery, I said yea it's a battery, but this is a hate crime," Lebowitz said, according to NBC New York. "When I said I'm a proud Jew, that's when he hit me. You can't just say it's a battery case, it's a hate crime case."
Newsweek contacted the Las Vegas Metropolitan Police Department for additional comment.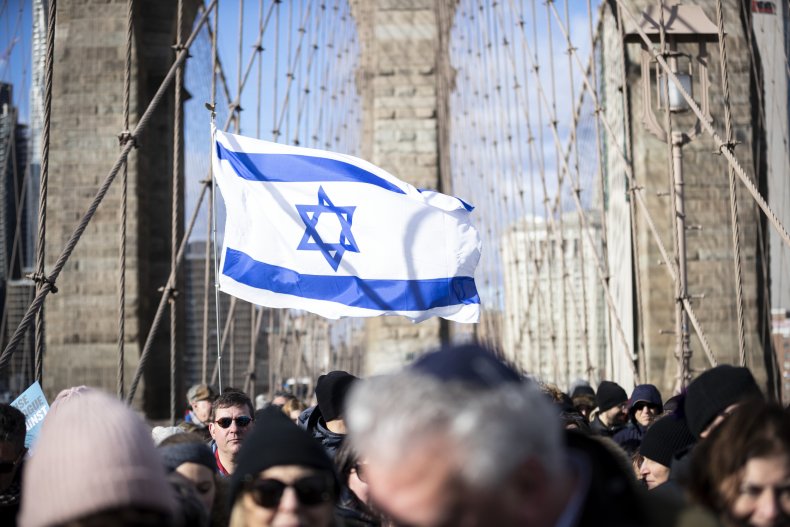 According to the Anti-Defamation League (ADL) there has been a rise in antisemitic threats and attacks in the U.S. following the recent outbreak of violence between Israel and Hamas.
In the week after the fighting first erupted the ADL said it received 193 reports of possible antisemitic violence, up from 131 a week earlier. On Twitter, the group said it found over 17,000 tweets using variations of the phrase "Hitler was right" between May 7 and 14, NPR reported.
"I've heard from Jewish people all over the country in the past week who are alarmed," ADL CEO Jonathan Greenblatt said last week. "It's like a Charlottesville every day when someone is driving down the street targeting Jewish neighborhoods... through a bullhorn and a megaphone screaming 'Are you Jewish?' and then, again, throwing bottles at people."
A cease-fire between Israel and Hamas was announced last week, ending nearly two-weeks of fighting that resulted in more than 250 deaths throughout the Gaza Strip, and 12 deaths in Israel.