Joseph Borgen, Jewish Man Beaten in NYC Attack, Says Face 'Felt Like It Was on Fire' as Suspect Arrested
Joseph Borgen, a Jewish man who was brutally assaulted on Thursday as pro-Israel and pro-Palestinian protesters clashed in New York City's Times Square, said his face felt like it was "on fire" after the attack.
Speaking to multiple news outlets after the incident, Borgen described being kicked, punched, maced, and beaten to the ground by a group of several men. The suspects also reportedly directed antisemitic comments toward him.
"They were macing me for like a minute straight," he said. "Kicked me, punched me, beat me with crutches, hit me with flags. My whole face... felt like it was on fire for hours," Borgen told CBS2.
The attack on Borgen, a 29-year-old who was wearing a yarmulke and kippah at the time of the assault, occurred while he was walking alone to attend a pro-Israel rally on 47th and Seventh Avenue.
"I was literally just in a fetal position, trying to guard my head and face, literally just trying to make it out of there alive," he told The Daily Mail. "I thought I was going to die. I thought I was really going to die."
Borgen told the outlet that he never imagined he would have to fear for his life like that in New York City.
"I would never think I'd ever have to worry about my religion or my skin color or my ethnicity being a problem in New York city," he continued, adding that "beyond just the Jewish perspective, the amount of hate that's going on these days is really just mind blowing to me."
The incident is being treated by the New York Police Department (NYPD) as a hate crime. So far, one person has been detained, and police are searching for up to six more individuals.
The suspect in custody, 23-year-old Waseem Awawdeh of Brooklyn, was charged with assault as a hate crime, gang assault, menacing, aggravated harassment as a hate crime and criminal possession of a weapon.
The NYPD on Saturday released photos of the additional suspects with the caption "wanted for assault."
Borgen was taken to Bellevue Hospital for treatment following the attack. He has since been released and is now recovering at home.
At least 26 people were arrested during demonstrations on Thursday night in Manhattan. The protests came as Israel and Hamas announced a cease-fire, ending nearly two-weeks of violence that resulted in more than 250 deaths throughout the Gaza Strip, and 12 deaths in Israel.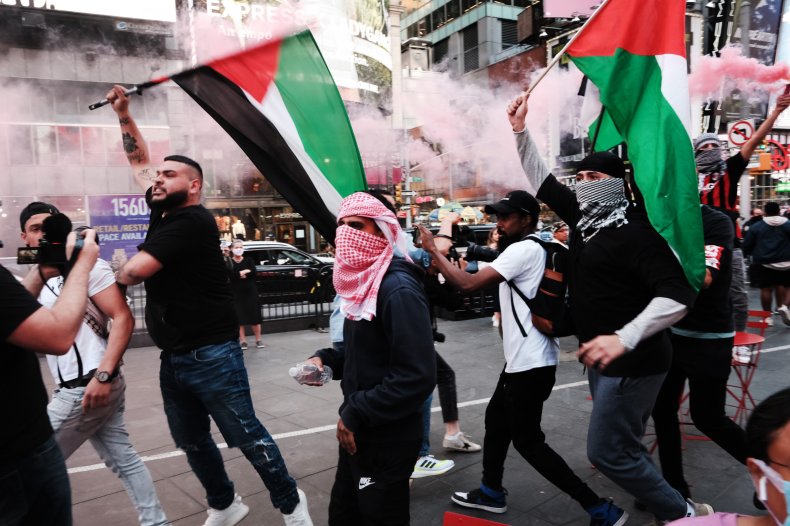 The Anti-Defamation League noted of the latest surge of antisemitism amid the current conflict between Israelis and Palestinians, saying in a statement Thursday that "it's indisputably inexcusable in any context."
"I've heard from Jewish people all over the country in the past week who are alarmed," ADL CEO Jonathan Greenblatt said Friday. "It's like a Charlottesville every day when someone is driving down the street targeting Jewish neighborhoods... through a bullhorn and a megaphone screaming 'Are you Jewish?' and then, again, throwing bottles at people."
In response, U.S. progressive lawmakers such as Bernie Sanders, Alexandria Ocasio-Cortez, and Rashida Tlaib – representatives who have each criticized the Israeli government over the past week – have condemned the rise of attacks on Jewish Americans.
"We've recently seen disturbing antisemitic attacks and a troubling rise in Islamophobia. If you are committed to a future of equality and peaceful coexistence, please stand united against anyone who promotes hatred of any kind," Sanders, a Vermont independent who is Jewish American, tweeted on Friday evening.
Newsweek contacted the NYPD's hate crimes unit for additional comment, but did not hear back in time for publication.