Dozens of Jewish Activists Avoid Jail Over 'Never Again' Protest at ICE Detention Center: 'We've Seen This System of Dehumanization Before'
A group of Jewish demonstrators have avoided a custodial sentence after they were arrested during a protest at an Immigration and Customs Enforcement (ICE) detention center in New Jersey earlier this year.
A total of 36 demonstrators from the Never Again Action group were detained at the Elizabeth Detention Center on June 30.
The group, who staged the protest alongside fellow immigrant rights organization Movimiento Cosecha, were demanding the permanent closure of the detention centers on the U.S.-Mexico border, as well as protection for all undocumented immigrants, refugees and asylum seekers in the U.S.
The protest was staged amid debate which was started by New York congresswoman Alexandria Ocasio-Cortez after she said the ICE facilities on the border should be referred to as concentration camps.
The 36 defendants appeared at a in court in Elizabeth, New Jersey, on September 16 to plead guilty to municipal ordinance violation of disturbing the peace. They were each ordered to pay $133 in fines.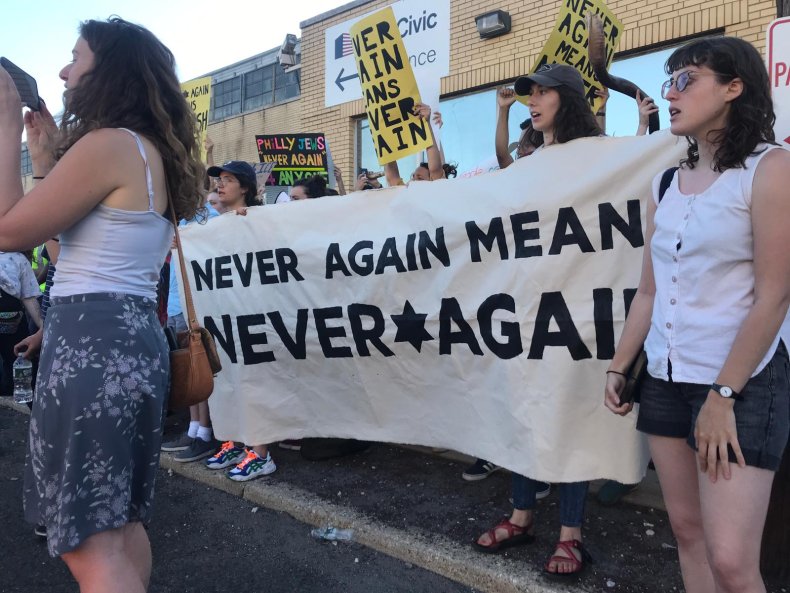 All 36 wore white—the Jewish color of mourning—for their court appearance, Never Again Action said in a statement.
"Today, we face criminal charges for blocking the entrance to the Elizabeth Detention Facility which is operated by CoreCivic, a private prison company," the group added.
"But we know the real crimes are the ones being committed every day inside these ICE facilities. The detention of our neighbors in abusive, unlivable facilities like this one should upset all of us.
"As members of the Jewish community, we've seen this system of dehumanization before, and know that it extends well beyond the boundaries of any building.
"We will continue to join courageous groups like Cosecha who lead the way to oppose this system until everyone's humanity is recognized, brutal detentions and deportations end, and all 11 million undocumented immigrants can live in dignity."
The chart below, provided by Statista, shows the states where ICE detains the most migrants.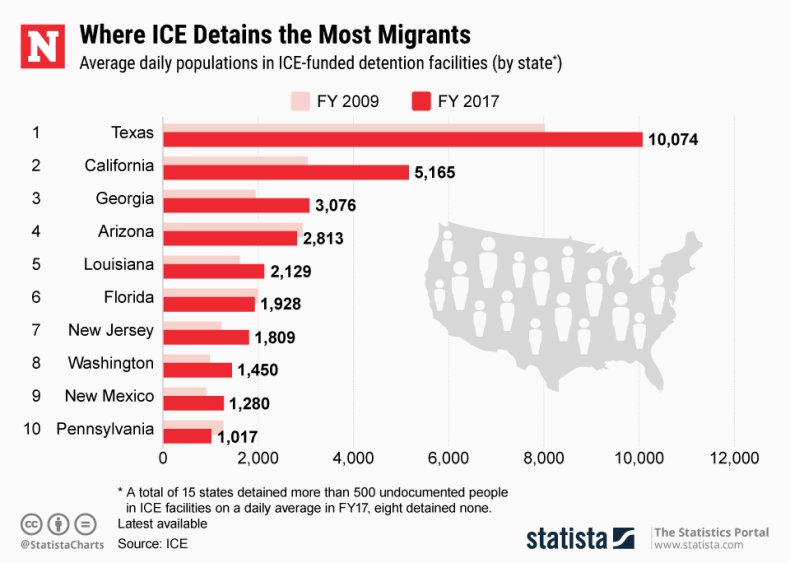 Following the protest, a Movimiento Cosecha spokesperson said: "Never again means never again. We are inspired by the Jewish community who sent a bold statement of solidarity rooted in their past struggles.
"As families continue to be separated, as children continue to be caged, and as thousands of immigrants are forced to make a life-threatening journey crossing borders out of desperation, every American should be called to stand up and take action."
After the 36 protesters were arrested, Never Again Action set up a GoFundMe page in order to raise money for their legal costs. The group went on to receive more than $180,000 in donations.
"Truly, thanks to your support, we have shown the world that when we say Never Again we mean it," the group posted in an update on GoFundMe.
Ocasio-Cortez previously praised the actions of the protesters for their "courage, compassion, and selflessness" while tweeting a link to their fundraising page.