Jim Clyburn Says Kyrsten Sinema's Argument for Supporting Filibuster 'Not Right'
House Majority Whip Jim Clyburn on Sunday criticized Senator Kyrsten Sinema's argument for supporting the Senate filibuster, which he and other Democrats have hoped to sidestep in order to pass voting rights legislation.
Sinema, a Democrat from Arizona, restated her support for the rule in a speech on the Senate floor on Thursday. That followed President Joe Biden urging Democrats to go around the filibuster—which requires that lawmakers in the Senate reach a 60-vote threshold to advance legislation.
On CNN's State of the Union, host Jake Tapper asked Clyburn about Sinema's reasoning for backing the filibuster.
Tapper played an excerpt from Sinema's Thursday's speech: "Eliminating the 60-vote threshold will simply guarantee that we lose a critical tool that we need to safeguard our Democracy from threats in the years to come," the senator stated.
"Her basic argument is that Republicans are going to take over the chamber at some point, and Democrats are going to need that filibuster," Tapper said. "Doesn't she have a point that Democrats might need that filibuster as soon as 2025 to stop Republicans from imposing even harsher voting restrictions?"
"No she is not right about that," he responded. He said his caucus isn't trying to eliminate the filibuster entirely and noted that lawmakers recently voted to break the filibuster to raise the debt limit—all 50 Senate Democrats, as well as 14 Republicans moved to do so.
"Why? Because we don't want to put the full faith and credit of the United States at risk," he said.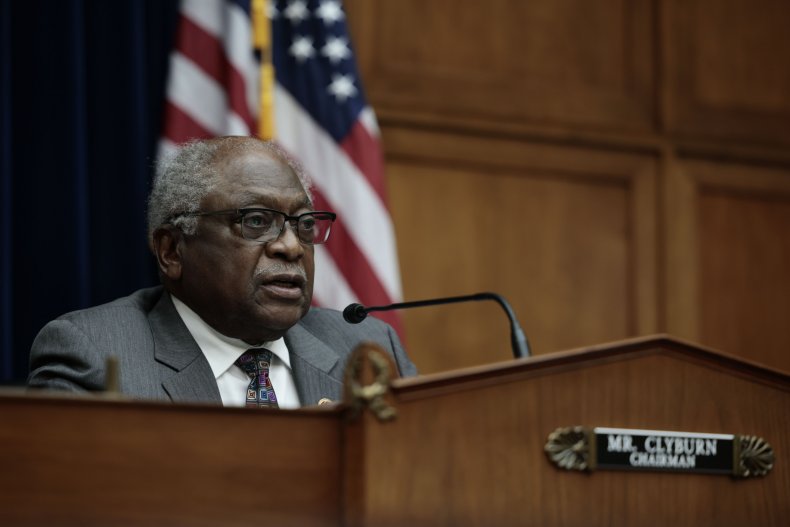 "No one has asked her to eliminate the filibuster," he added. "The filibuster is there for all these issues that may be policy issues. But when it comes to the Constitution of the United States of America, no one person sitting downtown in a spa ought to be able to pick up the telephone and say you are going to put a hold on my ability to vote."
"So I would wish they would stop that foolishness," he added. "Because if we do not protect the vote with everything that we've got, we will not have a country to protect going forward."
Sinema isn't the only Democrat who has opposed modifying the filibuster to pass the voting rights bills. Senator Joe Manchin of West Virginia has also defended the Senate rule.
On Sunday, Tapper also asked Clyburn if he believe the election reform bills were "dead" in the wake of Democrats' failed attempt to modify the filibuster.
"No, I don't," Clyburn said. "They may be on life support, but you know John Lewis and others did not give up after 64' Civil Rights Act. That's why we got the 65' Voting Rights Act."
"We're not giving up, we're going to fight and we plan to win," he said.
Newsweek reached out to Sinema's office for comment, but did not receive a response in time for publication on Sunday afternoon.