Jim Jordan Calls on Anthony Fauci to Resign: If He 'Had Any Sense of Honor Left'
Representative Jim Jordan has said that if infectious diseases expert Dr. Anthony Fauci had any dignity, he'd immediately resign.
"If Fauci had any sense of honor left, he'd resign today," the Ohio Republican wrote in a Monday morning tweet.
Conservatives have long targeted Fauci, the head of the National Institute of Allergy and Infectious Diseases (NIAID), because of his continued advocacy for restrictive measures for slowing the ongoing COVID-19 pandemic. Throughout the pandemic, Fauci has advocated for mask and vaccine mandates and school and business shutdowns, among other social distancing measures.
The GOP legislator and the infectious diseases expert have clashed several times before over COVID-19 prevention measures.
In mid-April, Jordan and Fauci got into a heated exchange during a congressional hearing. Jordan asked Fauci when Americans could stop following mask mandates and other social distancing measures.
"What metrics, what measures, what has to happen before Americans get more freedoms back?" Jordan asked Fauci.
Fauci accused Jordan of making the preventative measures "a personal thing," which Jordan denied. Fauci then responded, "You're indicating liberty and freedom. I look at it as a public health measure to prevent people from dying and going to the hospital."
Fauci later said he'd feel more comfortable relaxing social restrictions once the U.S. had reached less than 10,000 new COVID-19 infections a day. As of October 25, the U.S. is averaging just over 10,000 new infections each day, according to the U.S. Centers for Disease Control and Prevention (CDC).
In a late July hearing, Jordan accused Fauci of refusing to condemn public protests that could potentially spread the virus. Jordan said Fauci's refusal was hypocritical, considering that Fauci had previously advocated closing down schools, businesses and other public gatherings to prevent the virus' spread.
"You see the inconsistency though, Dr. Fauci?" Jordan told the doctor. "So you're allowed to protest millions of people on one day in crowds, yelling, screaming, but you try to run your business. You get arrested."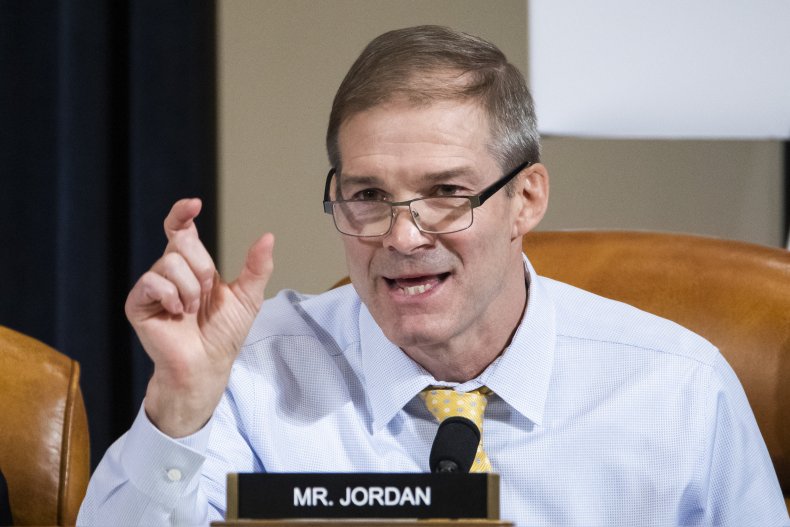 Conservatives have accused Fauci of "obfuscating the truth" about the COVID-19's origins and changing his mind about whether the virus originated from a lab.
They have also claimed that the NIAID funded gain-of-function (GOF) research in the Wuhan Institute of Virology that helped COVID-19 leap from animals to humans, causing the pandemic.
While Fauci said that the NIAID has never funded GOF research, he has also admitted under Senate questioning that he can't know for certain how the WIV lab used the NIAID's funding. Recent documents have suggested that Fauci may have been "untruthful" about the funding's use, though his agency has continued to deny that it ever funded GOF research.
More recently, Fauci has come under bipartisan criticism over a $1.68 million taxpayer-funded NIAID grant to a Tunisian laboratory to conduct drug and "de-barking" experiments on beagle puppies.
Georgia Representative Marjorie Taylor Greene and other conservatives have publicly called for Fauci's firing. Greene herself has introduced the "Fire Fauci Act," though Jordan has not yet cosponsored her legislation.
Greene's bill would terminate funding for Fauci's position until someone new is appointed as the NIAID's new director. The legislation would also require an audit of Fauci's emails, policy memoranda and financial transactions from October 1, 2019, until December 31, 2021.
Fauci has advised every president since Ronald Reagan and has served as director of the NIAID for nearly 40 years.
Newsweek contacted Jordan's office for comment.