Representative Jim McGovern, a Massachusetts Democrat, has suggested that Representative Jim Jordan, an Ohio Republican, may be "trying to hide" something after a report this week revealed phone records show that the GOP congressman spoke with former President Donald Trump for about 10 minutes on the morning of January 6, 2021.
Jordan, a staunchly pro-Trump lawmaker, has said publicly that he spoke with Trump on the day of the 2021 attack targeting the U.S. Capitol. However, he previously said that he believed those conversations occurred after the attack was in progress, and also said he couldn't remember exactly when he spoke with the then president.
CNN first reported on Friday that phone records show the Ohio Republican actually spoke with Trump for approximately 10 minutes on the morning of January 6, 2021—before the pro-Trump riot took place at the federal legislative building. After the news broke, Jordan critics quickly questioned how he could have forgotten a call of that length with the president.
".@Jim_Jordan, this report directly contradicts what you said before the Rules Committee. What are you trying to hide? It's past time for you to go before the @January6thCmte and speak honestly about what happened that awful day," McGovern tweeted on Friday afternoon.
Russell Dye, Jordan's communications director, dismissed McGovern's remarks.
"McGovern's statement is straight from the Select Committee's dirty playbook of leaking and misleading information, because Mr. Jordan told McGovern's committee that he may have spoken to President Trump on the morning of January 6th but didn't remember for sure," Dye told Newsweek on Saturday.
Representative Ilhan Omar, a Minnesota Democrat, also called Jordan's previous remarks about his conversations with Trump into question.
"No one forgets talking to the President of the United States for 10 mins, unless they have a reason to," Omar tweeted. "Jim Jordan has a lot of explaining to do."
Jordan continued to insist that he didn't remember exactly when he spoke to Trump on January 6 when pressed further by CNN on Friday. "I talked to the president a number of times that day, but I don't remember the times," he said. The congressman said he still didn't "recall" if he spoke to the former president that morning, despite the records.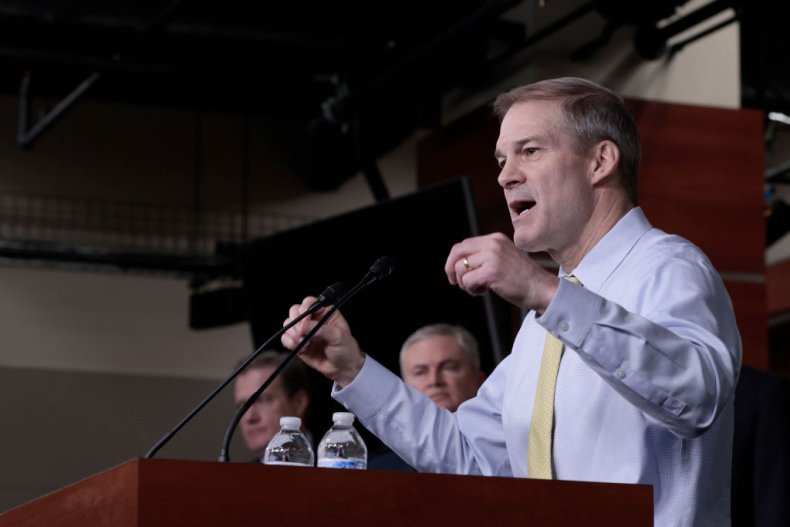 In October, Jordan said that he spoke with Trump "after" the assault on the Capitol during a House Rules Committee meeting. McGovern chairs the committee and had asked his Republican colleague about his conversations with the former president. When pressed further by McGovern over whether his call with Trump took place after the riot, Jordan responded, "Right. And I've been clear about that."
Prior to that interaction, Jordan told Spectrum News in July that he couldn't remember when he spoke to Trump.
"Uh, I'd have to go—I spoke with him that day after. I think after?" he said. "I don't know if I spoke with him in the morning or not. I just don't know. I'd have to go back. I mean I don't know when those conversations happened. But what I know is that I spoke with him all the time."
Jordan has drawn substantial backlash from Democrats and some Republicans for his continued support for Trump and a controversial text message he forward to the former president's White House Chief of Staff Mark Meadows prior to January 6. That message laid out an unconstitutional strategy to overturn the 2020 election results in a bid to keep Trump in power—despite President Joe Biden's clear victory.
"Look, Jim Jordan is a traitor. He's a traitor to the Constitution of the United States. He has been a traitor to the Constitution of the United States for quite a while, and now we actually have it in text," Representative Ruben Gallego, an Arizona Democrat, told MSNBC in mid-December.
The House select committee investigating the January 6 attack requested that Jordan voluntarily testify, but the GOP congressman thus far has declined to do so. He has argued that he has no further information to provide. The committee may subpoena Jordan in an effort to legally force him to speak to the investigators.
Other commentators on Twitter questioned how Jordan apparently struggles to remember the morning call.
"Jordan has tended to say or imply that he only spoke with Trump on Jan. 6 after the attack on the Capitol. It turns out they spoke for ten minutes that morning. Why has Jim Jordan wanted to pretend that pre-attack call didn't happen?" Bill Kristol, a conservative commentator and writer, posted.
"Just a casual 10-minute chat with the president on the morning of the insurrection. Why would anyone expect Rep. Jordan to recall that—or care about what was said?" Laurence Tribe, a constitutional law professor emeritus at Harvard University, tweeted.
Former U.S. Attorney and Deputy Assistant Attorney General Harry Litman told CNN in a Saturday morning segment that the Jordan-Trump call appears to be "a big piece of evidence."
"It's significant," Hitman said. "Because he's been all over the lot and very squirrely about it with one exception. He said categorically, 'I never talked to him in the morning.' So this puts the lie to it. As you say that really matters because it is in advance of the whole riot and rally that Trump undertook."
This article has been updated with a comment from Jordan's communications director.