Jim Jordan's '14 FBI Whistleblowers' Claim Met With Jokes, Skepticism
Ohio Representative Jim Jordan claimed that 14 agents at the Federal Bureau of Investigation (FBI) have come forward to Republican investigators following the raid on former President Donald Trump's Mar-a-Lago residence last week, prompting a wave of doubt and jokes on Twitter.
In a conversation with Fox News host and former Republican Representative Trey Gowdy and former Director of National Intelligence John Ratcliffe on Sunday night, Jordan argued that the Department of Justice (DOJ) has been dangerously politicized, claiming that amid the raid at Mar-a-Lago, some FBI agents began figuring that out, too.
"Fourteen FBI agents have come to our office as whistleblowers, and they are good people," Jordan told Gowdy on Sunday. "There are lots of good people in the FBI. It's the top that is the problem. Some of these good agents are coming to us, telling us what is baloney, what's going on—the political nature now of the Justice Department, God bless them for doing it."
Jordan told Fox News host Laura Ingraham two months ago that only six FBI officials approached the committee—two to discuss the FBI's investigation into threats to public school boards, and four to talk about January 6.
His claim sparked a wave of skepticism on social media, as many doubted that 14 federal agents would come to him.
"Why would 14 FBI agents go to Gym Jordan -- the guy who failed to whistle blow when those boys were being molested -- for ANYTHING? Why would anybody?" one Twitter user asked, referencing a previous sexual abuse and child molestation scandal at Ohio State University that Jordan allegedly failed to report, even though many said he was aware of the situation.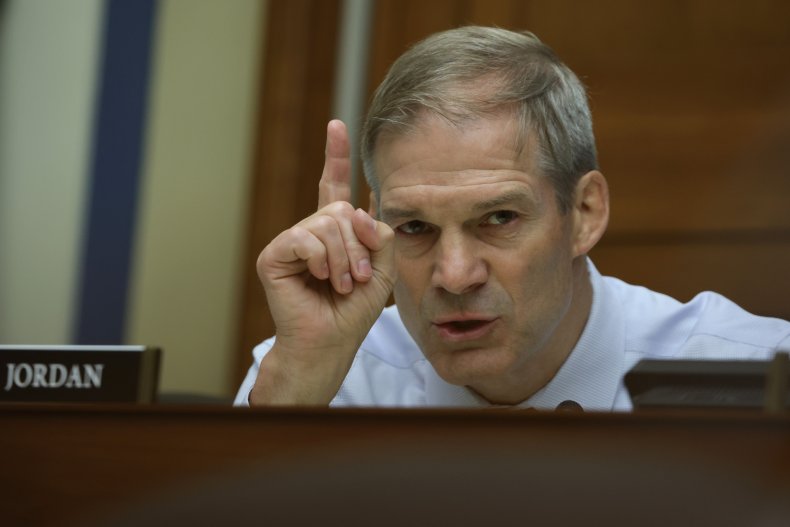 Another Twitter user asked a similar question: "Why would these alleged or phantom 14 FBI whistleblowers even WANT to go to Jim Jordan to report anything? And that's how we know it's another lie. No reputable & ethical individual would EVER again go to Gym to expose a possible wrongdoing," they said.
Others joked about the claim. One tweet included a photo of a dog that sported an FBI vest and said, "One of the 14 FBI agents Jim Jordan has been speaking to."
Many are also pushing for proof of the matter.
"If Jim Jordan really has 14 FBI whistleblowers, he can make the paperwork they are required to file public," one Twitter user said. "If he cannot do that, well, he doesn't have 14 FBI whistleblowers."
Some approached the topic with similar skepticism but showed a level of trust in Jordan's claim.
One user wrote, "If Jim Jordan has 14 FBI whistleblowers going to his office, many more are probably going to other places as well. Hopefully, the Democrat Party's activities at the FBI will be exposed and people will be held accountable."
The majority, however, questioned Jordan's legitimacy.
"Is Rep. Jordan willing to testify under oath that 14 FBI agents came to him as he claimed on cable news?" another wrote.
Newsweek reached out to Jordan for comment.