Jimmy Kimmel Sparks Anger For Calling Reddit Investors 'Russian Disruptors'
Jimmy Kimmel has sparked anger online after he called Reddit investors "Russian disruptors."
The late-night host's comments came amid the Wall Street frenzy that saw amateur investors from Reddit's WallStreetBets community disrupt hedge funds last week by taking on those short-selling GameStop stocks.
"GameStop, if you don't know, is a video game store and like a lot of businesses they've been struggling because of COVID but also because most people buy games online now," Kimmel said as part of his Friday night monologue on Jimmy Kimmel Live!
He continued: "And yet, despite a sharp decline in sales, over the past six months their stock price has grown by 8000 percent because a bunch of amateur investors, maybe even some Russian disruptors, who are part of a Reddit community called WallStreetBets decided to buy a bunch of GameStop stock and drive the price up and screw over the hedge fund guys who had shorted the stock.
"Now the hedge fund guys are upset and they're pushing for an investigation and they're like 'we can't have a bunch of randos from Reddit manipulating the market. That's what we do. Stealing our things.'"
The comments have angered many Twitter users who feel that Kimmel is siding with wealthy Wall Street investors over the underdog Reddit community who took on the stock exchange.
Kimmel also caused upset by comparing former host of The Daily Show, Jon Stewart, to Donald Trump in a screenshot of a now-deleted tweet that is circulating on the platform.
Newsweek has reached out to Kimmel's representatives for comment.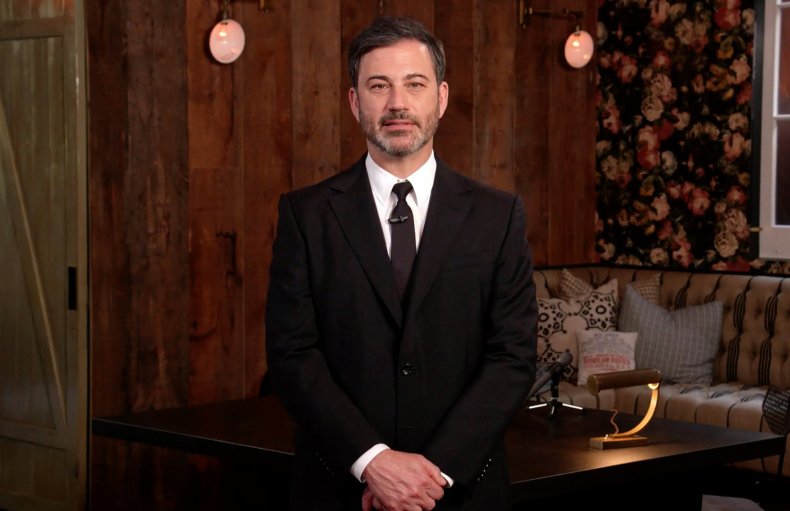 Stewart, who famously eschewed social media for years, joined Twitter last week after being compelled by the Wall Street/Reddit/GameStop news.
Upon Stewart tweeting his support for the Reddit investors, a screenshot shows Kimmel quote tweeted the post to say "RealDonaldTrump is that you?" However, this appears to have been deleted—Newsweek has asked Kimmel's representatives to confirm the legitimacy of the tweet.
"I AM LOSING MY MIND WE ARE WATCHING MANUFACTURED CONSENT PLAY OUT IN REAL TIME," reads one viral tweet responding to Kimmel's monologue.
"The wealthy are really trying to make this a 'trumpers hate Wall Street' thing, aren't they?" said another Twitter user.
While another added: "Jimmy Kimmel really thought he had more respect from people than Jon Stewart has lmaooo."
Another tweeted: "Uh this doesn't make sense??? I mean - maybe cuz I'm dense. But WSB is the GOOD guys- kimmel making it seem like they the bad guys? I could be wrong."
Stewart said that the Redditors "weren't cheating" when he joined Twitter late last week.
"The Redditors aren't cheating, they're joining a party Wall Street insiders have been enjoying for years," he said. "Don't shut them down...maybe sue them for copyright infringement instead!! We've learned nothing from 2008. Love StewBeef."