Jimmy Kimmel had some fun with a new poll that found Republicans think President Donald Trump is a better president than Abraham Lincoln on Jimmy Kimmel Live this Monday.
Kimmel pointed to a poll last week by The Economist and YouGov in which 53 percent of Republicans said Trump was the better president. A total of 47 percent said they preferred Lincoln, the president who steered America through the Civil War and abolished slavery.
"They can't be serious... no one believes Donald Trump is a better president than Lincoln," said Kimmel in disbelief. "That's like saying measles is better than ice cream."
Kimmel then added: "Trump isn't even a better president than Daniel Day-Lewis pretending to be Abraham Lincoln," referring to Day-Lewis' Oscar-winning performance in Steven Spielberg's Lincoln biopic.
"To compare Donald Trump to not just one of the greatest presidents, but one of the greatest Americans who ever lived, sounds nothing short of preposterous," said Kimmel.
The comedian then showed clips of Trump's more rancorous moments interspersed with a reenactment of Lincoln's Gettysburg Address beginning with the famous line, "Four score and seven years ago..." The montage ended with the actor playing Lincoln saying, "I'm glad I'm dead."
Concluding the segment, Kimmel zinged Trump, adding: "Donald Trump thinks Four Score is a strip club in Florida."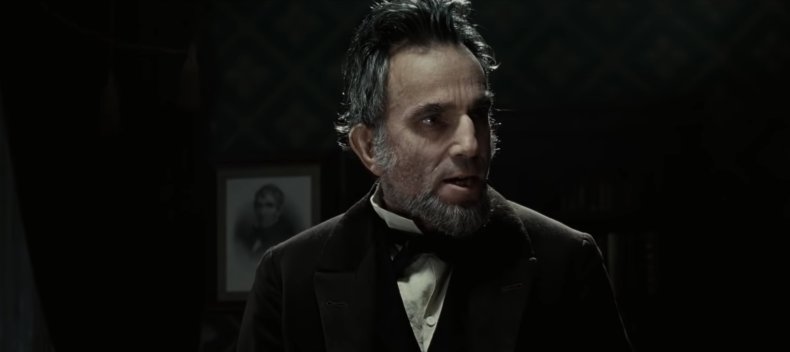 Last week's Economist/YouGov poll found that as well as thinking Trump is better than Lincoln, Republicans also think he's a better president than George W. Bush, George H. W. Bush, Gerald Ford, Richard Nixon and Dwight Eisenhower. However, Ronald Reagan is considered a better president than Trump.
In the poll, 71 percent of Republicans said Trump is better than both George W. Bush and his father George H. W. Bush, 82 percent said he is better than Ford, 86 percent said he is better than Nixon and 65 percent said he is better than Eisenhower.
But 59 percent of Republicans said they think Reagan was a better president than Trump.
Aside from Republicans, all other voters—including Democrats and independents—said Lincoln was a better president than Trump.
Breaking down the poll results along various other metrics, Lincoln was preferred every time, including among men and women, all age groups and races.
On Comedy Central's The Daily Show, Trevor Noah was also incredulous at the poll results, but joked: "You might think it's weird to compare Trump to Lincoln, but they've both done great things. Abraham Lincoln freed the slaves and Trump freed Rudy Giuliani from Area 51."