Jimmy Kimmel Says Republicans Want to 'Smear' Trump Impeachment Witnesses and 'Confuse Us,' But There's No Movie Ending
Jimmy Kimmel artfully broke down what he says is the Republican Party's "strategy" to obfuscate their way out of the impeachment hearings involving President Donald Trump and warned that unlike in movies and television shows, we can't expect Trump to break down on the stand and confess to asking Ukraine to interfere in the 2020 presidential election.
On Tuesday's Jimmy Kimmel Live, the comedian expressed his unease about Republican lawmakers on the House Intelligence Committee grilling Trump White House officials to protect the president. Earlier in the day, the House heard testimony from Lieutenant Colonel Alexander Vindman, the National Security Council's expert on Ukraine, and Jennifer Williams, a national security aide to Vice President Mike Pence. Both were on the July 25 phone call between Trump and Ukraine's President Volodymyr Zelenskiy in which Trump is accused of coercing Zelenskiy to investigate a political rival and both say there were concerned about the contents of the call.
Kimmel began: "There's an old saying among trial lawyers that if the facts are on your side, pound the facts; if the law's on your side; pound the law; and if neither's on your side, pound the table. Republicans today pounded that table like Stormy Daniels pounded Donnie T. with that Forbes magazine."
The late-night host seemed incredulous by the way members of the GOP, namely Rep. Jim Jordan of Ohio, appeared to question Vindman's loyalty to the U.S. and his integrity. "The way they treated Vindman was embarrassing even for them. They tried to smear the recipient of a purple heart... to protect a president who doesn't even have a red one," said Kimmel.
Kimmel also took a shot at Trump's son Donald Trump Jr. who tweeted about Vindman: "Anyone listening to Vindman stammer through this seemingly trying to remember the Catch Phrases he was well coached on should get that. He's a low level partisan bureaucrat and nothing more."
Kimmel fired back that "the slick-backed sperm sample who never served anybody is questioning the integrity of a lieutenant colonel with a purple heart." He added that "Daddy Bone Spurs must be very proud of him," referring to the president's deferment from military service in the past.
"[Vindman] has a purple heart. The woman whose reputation they tried to stain works for Mike Pence right now. They're actually trying to make us believe that a woman who voluntarily works for Mike Pence is on the other side," said Kimmel.
The comedian then broke down what he says is the GOP's strategy to distract from Trump's alleged crimes by creating a sideshow.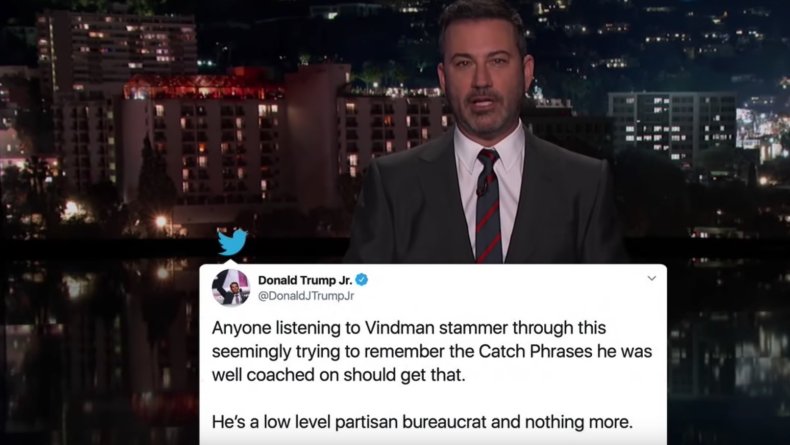 "This is the strategy: Their goal, the Republicans, is to smear [witnesses], confuse us, bore us, to question the loyalty and patriotism of lifelong civil servants and even members of our military who've served heroically," said Kimmel. "They're intentionally damaging these Americans to protect the lowlife they know is a lowlife, but they also know that defending him makes them popular among certain groups."
Kimmel warned viewers not to be fooled by these tactics, adding: "We're so used to these movies and TV shows where the criminal breaks down on the stand and confesses, it's like we're waiting for that to happen before we make a decision."
But, he continued, "in real life, that's not how it goes—no one shouts, 'You can't handle the truth.' It's not an episode of The Good Wife. We get little bits of information and those little bits of information, to me, plainly add up to this: Our president made it clear to Ukraine you're not getting the money you need to keep your people alive unless you help me win the election. And that's it."
"The idea he was fighting corruption...not only does Donald Trump not care about corruption in Ukraine, he wanted it, he tried to buy it. At this point the only defense that might work for them is that Donald Trump is too stupid to know he committed a crime," Kimmel added to laughs.