Kate McKinnon made an apparent dig at J.K. Rowling over her controversial remarks about transgender people on Saturday Night Live.
The episode, hosted by Adele, featured a sketch where McKinnon played a psychic called Madame Vivelda, who makes predictions about what 2020 has in store for a group of friends.
"This year has been so insane and hard, we kind of want to skip ahead and see what next year holds instead," Heidi Gardner tells McKinnon's Vivelda. Bowen Yang adds: "2019 has sucked... I think 2020 is going to be our year."
But the friends grow increasingly concerned as McKinnon shares a series of out-of-context predictions about how their lives will change in 2020.
She tells Gardner that she and her partner will be "washing a bag of Doritos with soap," without explaining that people will start sanitizing groceries during the COVID-19 pandemic. "You're screaming, 'that's not enough soap! I don't want to get it from a bag of chips.'"
When Gardner asks what 'it' is, Vivelda says "the vision is gone."
When Adele asks if Vivelda sees anything work-related in her future, Vivelda predicts Adele will yell at a man from FedEx for not delivering her adult coloring book. She adds there will be "no concerts in 2020... only coloring."
She then tells Yang that he won't be flying to Paris with his boyfriend in 2020, but will end up reliving himself into a bag on the way to Kentucky because he's "too afraid" to use the bathroom, without explaining why.
She also tells Yang that his friends will never speak to him again after he does something "so terrible" in June. "Oh my God, what do I do?" Yang asks. "You will eat inside a restaurant!" Vivelda tells him.
When the friends become angry with the strange predictions and prepare to leave, McKinnon's Vivelda tells them to pass on a message to J.K. Rowling.
"Girls, do me a favor," she says. "If any of you see J.K. Rowling, please tell her... Stick to the books!"
The line from McKinnon, who is gay, is an apparent reference to the Harry Potter author's widely criticized comments about transgender people.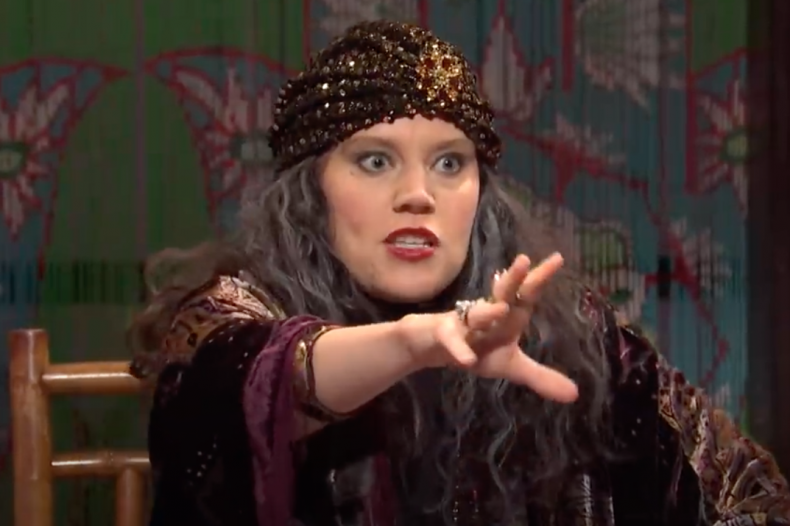 Rowling came under fire over the summer after posting a series of tweets, including one where she criticized an opinion piece for using the phrase "people who menstruate," which critics perceived as transphobic—an accusation Rowling has repeatedly denied.
Days later, she posted an essay with her views on her website, prompting further backlash from the LGBTQ community, celebrities and others. Some of the stars of the Harry Potter film franchise, including Daniel Radcliffe, Emma Watson and Eddie Redmayne have spoken out against Rowling and in support of the trans community in response.
Rowling's latest book, Troubled Blood, fueled further criticism ahead of its release last month. The book sees the protagonist, a detective, on the hunt for a cisgender male serial killer who dresses as a woman to murder women. The book's moral "seems to be: never trust a man in a dress," according to one review.
Earlier this month, Pete Davidson discussed the controversy on a "Weekend Update" segment of SNL. Davidson, who has a Harry Potter tattoo, said he got the inking years ago because "I'm not psychic."
"I long for a few years ago when the worst thing she ever did were those Fantastic Beasts movies," he joked. "No discrimination, there. Those films harmed us all equally."