What Eddie Redmayne Said About J.K. Rowling Transphobia Issue
Eddie Redmayne has condemned what he calls the "absolutely disgusting vitriol" directed at J.K. Rowling over her transphobic views despite previously distancing himself from those views.
The star of Harry Potter prequel, Fantastic Beasts and Where to Find Them told The Daily Mail he thinks the "torrent of abuse toward trans people online" is "hideous", but added that he was alarmed by the "vitriol" towards Rowling, which he described as "absolutely disgusting."
He said: "Similarly, there continues to be a hideous torrent of abuse towards trans people online and out in the world that is devastating."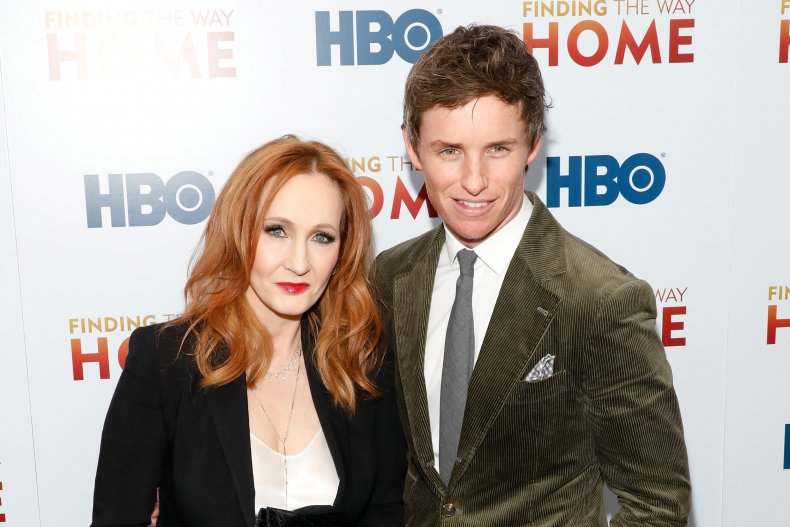 Earlier this year, the author—who also writes under the pseudonym Robert Galbraith—came under fire for tweeting an article about "people who menstruate" in which she criticized the phrase, implying that she believes it "erases" women.
Amid ongoing criticism, Rowling just released another book in her Cormoran Strike detective novel series titled "Troubled Blood," where a plotline involving a male serial killer who disguises himself in women's clothing being cited as transphobic by some.
Previously, Redmayne joined a number of Harry Potter actors in opposing Rowling's tweets and showing support for the transgender community.
In a statement first provided to Variety in June, he said: "Respect for transgender people remains a cultural imperative, and over the years I have been trying to constantly educate myself. This is an ongoing process."
The Danish Girl actor continued: "As someone who has worked with both J.K. Rowling and members of the trans community, I wanted to make it absolutely clear where I stand. I disagree with Jo's comments. Trans women are women, trans men are men and non-binary identities are valid. I would never want to speak on behalf of the community but I do know that my dear transgender friends and colleagues are tired of this constant questioning of their identities, which all too often results in violence and abuse."
He added: "They simply want to live their lives peacefully, and it's time to let them do so."
At the beginning of the summer, the English author unleashed a series of controversial tweets.
However, Redmayne's newfound defense of Rowling has seen his Oscar-winning role in The Danish Girl scrutinized as many criticize why he, a cis man, was cast to play the role of a trans woman.
One person tweeted: "Remember when Eddie Redmayne played a trans woman and a bunch of us said that there's a problem with cis men playing trans women is that trans women are often framed/solidified as crossdressing men?"
While another added: "eddie redmayne should be ashamed of himself. profiting off the trans community as he has, he could, AND SHOULD, have taken a stance against the harm that rowling is causing trans people every day. what a spineless little man."
Another tweet reads: "Who would have thought that the talentless opportunist who jumped at the chance to "play trans" for Oscar bait would be this pathetically clueless?"
Last month, Rowling returned a human rights award she received from the Robert F. Kennedy Human Rights (RFKHR) organization after the president of the body, Kerry Kennedy, criticized her views on transgender issues.