Jo Cox Tributes Across the World to Mark Late MP's Birthday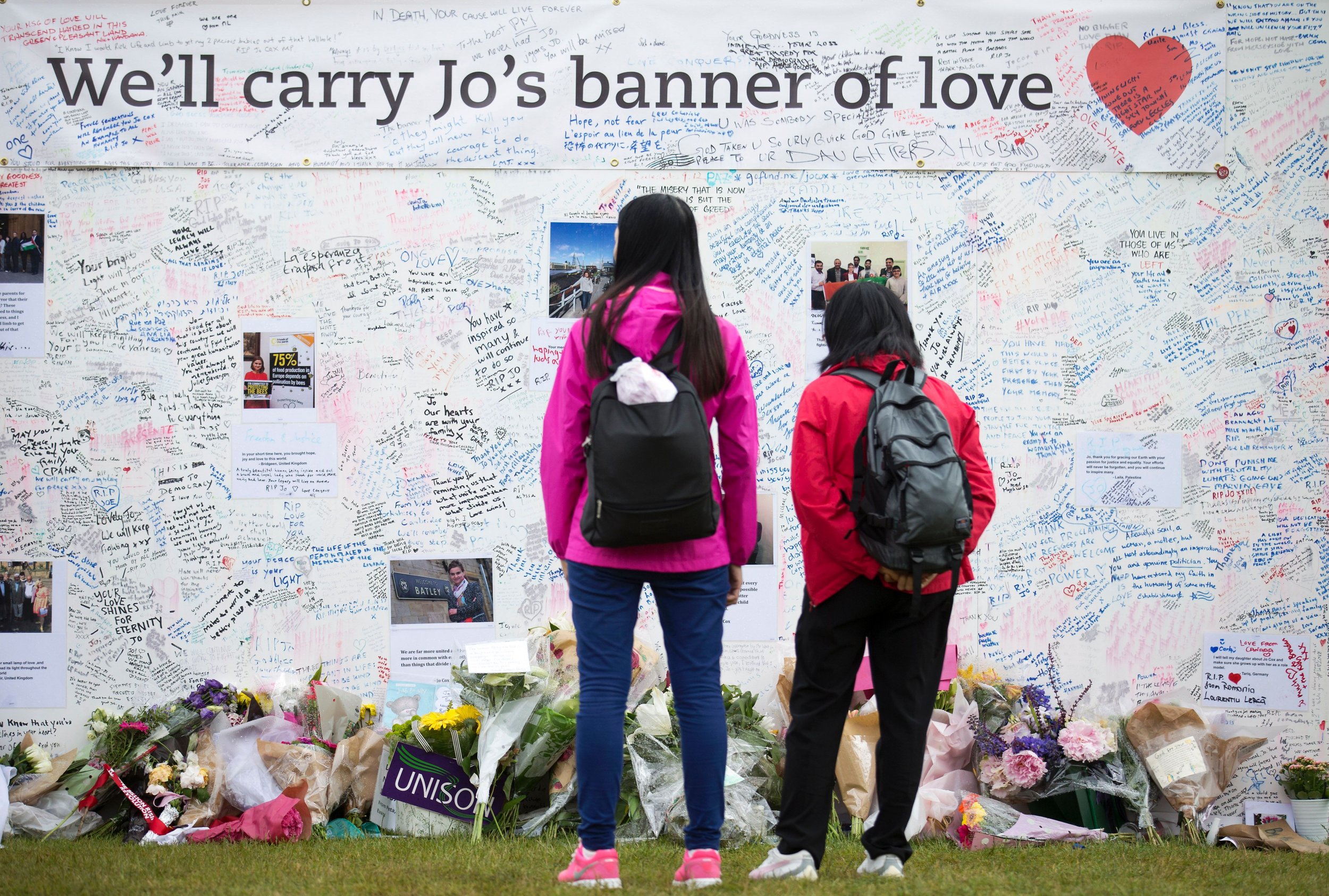 Tributes are planned across the world to mark what would have been the 42nd birthday of former Labour MP Jo Cox, who was shot and stabbed in Birstall, West Yorkshire, on Thursday. Cox was attacked outside a library on her way to her constituency surgery. Thomas Mair, 52, has been charged with her murder.
New York, Paris, London and Batley, Cox's constituency, will celebrate the life of a woman who "met the world with love," in the words of her widower Brendan Cox.
People will gather in London's Trafalgar Square from 4 p.m. BST at the same time as the event scheduled in the market square in Batley, West Yorkshire. "Today would have been Jo's birthday. If you can, please join us this afternoon to celebrate her life & legacy," tweeted Brendan, who will be joined by his 3-year-old daughter Lejla and 5-year-old son Cuillin at the rally in London. Before proceedings begin, a floating commemoration on a flotilla will depart from the houseboat where Cox lived with her family, and sail across the River Thames.
Malala Yousafzai, women's rights activist and the youngest-ever Nobel Prize laureate, is expected to speak at the tribute in Trafalgar Square, paying homage to Cox.
On the Facebook page entitled "More In Common: A Worldwide Celebration of Jo Cox," over 2,000 people have already said they will attend one of the global tributes. Organizers hope that people will unite "across the world...to celebrate Jo's life; her warmth, love, energy, passion, flair, Yorkshire heritage, and her belief in the humanity of every person in every place, from Batley and Spen to Aleppo and Darayya." The #MoreInCommon hashtag has already gone viral on social media.
Hundreds are expected to attend events in Washington, D.C., Auckland and Dublin. Tim Dixon, a friend of Cox who plans to attend the event in Trafalgar Square, told BBC News that Brussels, Oslo, Buenos Aires and Beirut will also hold tributes for the much-loved MP.
"Jo symbolised something…people want to come together and rise up in love over hate and hope over fear and I think there's something that she's touched very deeply in people's hearts, that goes well beyond Britain," he said.
At 4.25 p.m. BST, a moment of silence will be observed as a mark of solidarity and respect.
Those unable to attend one of the tributes can join 36,000 people who have already donated to Cox's fund, set up by a group of her friends. Over a million pounds has been raised so far.
See photos from the tributes made to Jo Cox here: