Uproar As Joan of Arc Portrayed As Non-Binary in U.K. Play
A debate is raging online after a British theater venue announced an upcoming play about Joan of Arc would feature a non-binary person in the lead role.
Shakespeare's Globe Theatre in London announced that the upcoming production, I, Joan, will feature a Joan who uses the pronouns "they/them."
A statement made by a venue spokesperson explained their decision at length, but it didn't prevent the decision from becoming a controversial talking point across social media.
Many are questioning why the French patron saint and feminist icon is going to be played by non-binary person. Joan of Arc achieved fame in France for her heroism as she led the French army in victory over England in 1429 during the Hundred Years' War.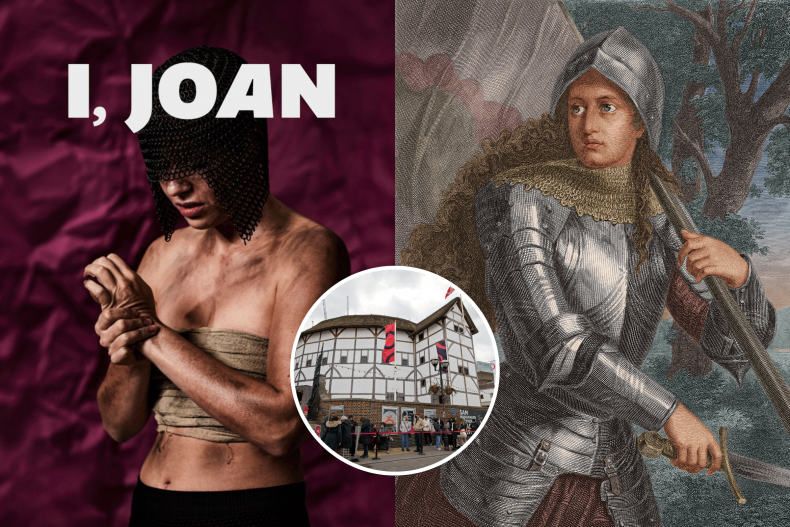 I, Joan will play at the Globe Theatre in London from August 25 until October 22.
The play has been written by Charlie Josephine, and the performance description reads: "The men are all fighting, again. An endless war. From nowhere, an unexpected leader emerges. Young, poor and about to spark a revolution. This is Joan. Rebelling against the world's expectations, questioning the gender binary, Joan finds their power and their belief spreads like fire."
The decision to change Joan's gender in the I, Joan has sparked debate online.
"Leftist theater group attacks Joan of Arc," wrote author Tom Fitton, summarizing the upcoming production from his point of view.
British broadcast journalist Esther Krakue went one step further with her criticism. "Of course. Because Joan of Arc was best known for subscribing to the same 'pronouns' as a group of tapeworms," she wrote
British columnist Allison Pearson also questioned the gall of the makers of the production, said that "When I was a child, I had a book of inspiring women through history. Joan of Arc was one. That book and those amazing women meant a lot to a timid little girl. How dare @The_Globe try to cancel history's inspirational women."
"Reprehensible sexism," writer Alessandra Bocchi said. "It implies female warriors like Joan of Arc could only have been gender neutral—that it is not possible for a woman to be a warrior and still be a woman."
Thousands of Twitter users joined the debate with many criticizing the makers of the production, and the Globe Theatre for hosting it. Many others were open minded to the change, and welcomed the new interpretation.
"So, Joan of Arc was a woman who dressed like a man and did what was considered a man's job. Many writers have told her story," actor and writer Olivia Mace wrote, adding: "Many women and men have played her. She could have been non binary. It's an interesting idea. Allow it to be explored. It won't hurt anyone."
Author Kevin Chesters also spoke up for the right to artistic expression in I, Joan. "99.9% of the angry wangry brigade on this have never been to see any play, ever. And their entire knowledge about Joan of Arc was gleaned from OMD singles of the early 80s."
Author and critic Hanna Ines Flint pointed out that there have been other recent high-profile interpretations that have changed gender roles which were welcomed.
"If you celebrated Phyllida Lloyd's all-female Shakespeare trilogy then you shouldn't get mad that one production explores gender identity at a time of gross misogyny with a non-binary Joan of Arc," she wrote.
The Atlantic writer Helen Lewis wrote several tweets around the subject and told her Twitter followers that she'd maintain an open mind on the non-binary decision in I, Joan, but still had some reservations.
"I totally support their artistic freedom to produce a play in which Joan of Arc is non-binary, and will wait to watch it before commenting on that. But the general practice of declaring historical women too interesting to be mere females is regressive," she wrote, whilst including a passage from her book Difficult Women: A History of Feminism in 11 Fights.
When presenting their argument in favor of the upcoming production, Dr. Kit Heyam, a queer trans academic, wrote on Shakespeare'sGlobe.com: "Joan's story shows us that gender has never been strictly tied to the body, and has always been open to challenge and contestation."
Elsewhere on the website, a statement from Shakespeare's Globe suggests they are not the first to present Joan in this way, "and won't be the last."
They continue: "Regarding the use of pronouns, 'they' to refer to a singular person has been traced by the Oxford English Dictionary to as early as 1375, years before Joan was even born.
"Regardless, theatres do not deal with 'historical reality'. Theatres produce plays, and in plays, anything can be possible," they state.
Tickets for I, Joan at the Globe Theatre in London are priced from £5 to £52. You can order from the venue's website here.