Yulia Tymoshenko: Ukraine's Joan of Arc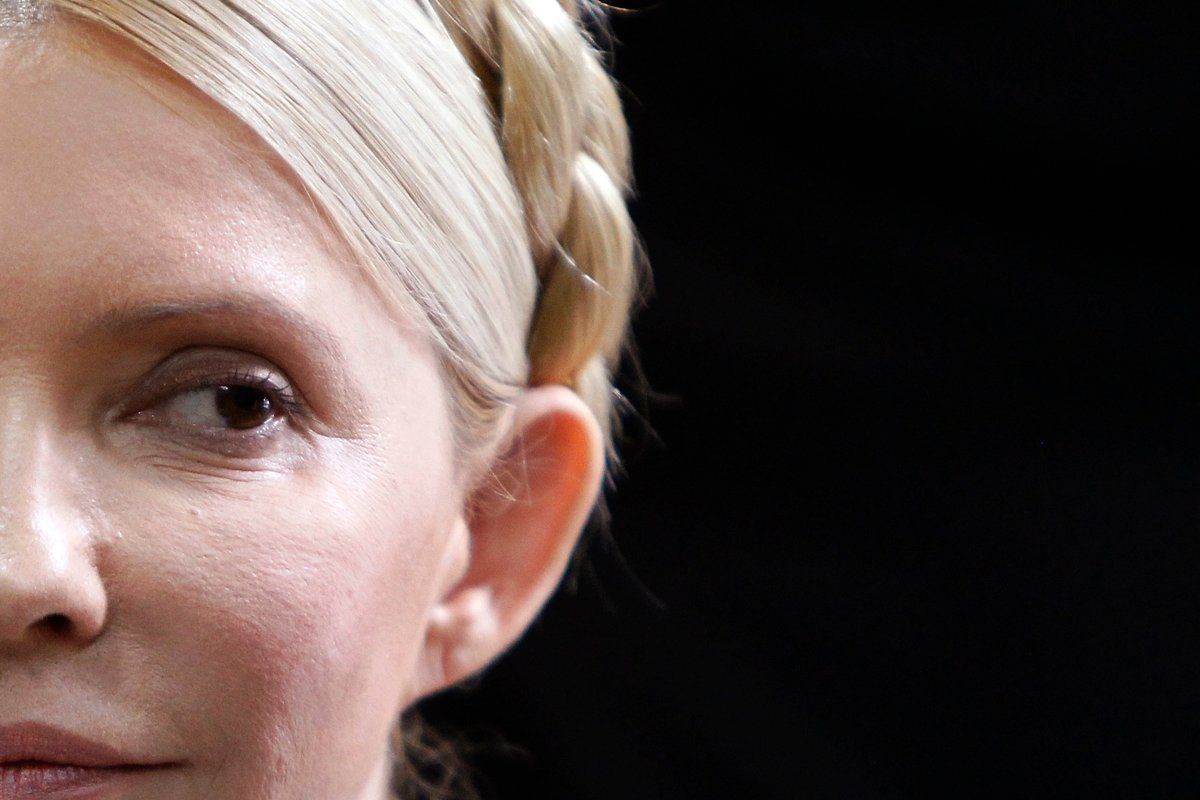 Yulia Tymoshenkoseemed a little paler and far more irritated after her arrest, but still managed to pin her long blonde braid into a perfect crown atop her head for her court appearance. Looking as if she had just walked out of a cabinet meeting, Ukraine's former prime minister sat straight-backed and elegant in one of her famously provocative tight gray dresses. Her icy stare bored straight into the judge whom she'd called "a puppet," precipitating her arrest for being in contempt of court on Aug. 5, during her trial for abuses of power in office—a move designed to rattle her cool, her defenders say.
But in the stuffy courtroom, Tymoshenko's firm voice cut through the air to show she hadn't been broken yet. "I am not going to stand up before you," she thundered at the judge. "That would mean I am kneeling to the mafia." Such obstreperousness, designed to delay the proceedings, has been Tymoshenko's strategy since the beginning of the trial, now in its second month. When she didn't have an opportunity to challenge the court, she hurriedly tweeted to her followers from the bench—where she sat behind a row of muscular special-forces officers—or read news on her iPad.
Tymoshenko's trial has sparked outrage both abroad and at home, where a dozen opposition parties signed a memorandum to support her and the current prime minister, Mykola Azarov, an ally of Tymoshenko's nemesis, Ukrainian President Viktor Yanukovych. During Tymoshenko's hearing, she wrote to NEWSWEEK on her iPad, casting the case against her as political payback for her staunch anti-corruption work. "The system of total corruption and theft of state money that I have been trying to crush all my political life is as solid as iron and concrete," she wrote.
Even after Tymoshenko's arrest, the court didn't dare put her in a prisoner's cage or even handcuff the iconic woman who just a few years ago led half a million protesters into the streets of Kiev to win the Orange Revolution.
Ukraine's braided leader knew the jail bars weren't far off as soon as she lost the presidential race last year by a mere 3.4 percent of the vote. In the months leading up to her arrest, she told her political team that Yanukovych—whom she's publicly branded a "criminal" and a "bandit"—would seek revenge. She spoke from experience: in 2001 Tymoshenko was jailed for 42 days after she organized anti-corruption protests against then-president Leonid Kuchma, and he fired her from her post as deputy minister of energy. After her release, she continued to agitate against Kuchma and eventually won the Orange Revolution for her then–political partner, Viktor Yushchenko. When Yushchenko took office as president, he appointed Tymoshenko as prime minister, but fired her a few months later after she accused him and his party members of corruption without hard proof.
Strong-willed and stubborn, Tymoshenko characterizes the men surrounding her in the soap opera of Ukrainian politics as "vindictive." "It's sickeningly painful to be betrayed by those who I thought were my loyal partners," she told NEWSWEEK in an interview shortly after her firing by Yushchenko. According to her political team, Tymoshenko was unfazed by the betrayals. She continued to be unfazed on the morning a month ago when she first packed a small bottle of water and a toothbrush in her purse, calling it the "day-I-go-to-prison kit."
Tymoshenko's stiff upper lip comes in part from her Soviet childhood, when she grew up in poverty with an iron-willed single mother, a taxi dispatcher in the city of Dnepropetrovsk. Later, when Forbes magazine thrice ranked Tymoshenko one of the world's most powerful women, she befriended other resilient female leaders: Angela Merkel, Condoleezza Rice, Hillary Clinton. She consciously modeled herself after the adamantine Margaret Thatcher and the populist Eva Perón. She also took a page from Perón's elegant stylebook, preferring to dress in Louis Vuitton, Chanel, and Dior. During her tumultuous 15-year political career, Ukrainians gave Tymoshenko many nicknames, from "Iron Lady Y" for her stamina as an opposition leader, to "The Last Samurai" for her constant battles with Russian and Ukrainian presidents, and even "Jeanne d'Arc" for leading masses to riot. Tymoshenko was never a big fan of the last moniker, saying often, "I do not want to finish like her."
Tymoshenko's legendary steadfastness is a trait that's served her well in jail, where she reads short stories by Haruki Murakami to pass the time in her cell. Outside, her supporters hold round-the-clock rallies for her release. "Yulia is a victim of Yanukovych's political repression of opponents," says Yuri Lewinsky, Tymoshenko's chief of staff. "We are definitely throwing Yanukovych off his throne now."
Yanukovych and his allies certainly run the risk of turning Tymoshenko into a martyr and raising her party's popularity in parliamentary elections next year. Outside the court building, the atmosphere is circuslike: crowds of Tymoshenko supporters chant with bullhorns, "Out with the bandits!" and "Yulia, we love you!" People wave white flags with red hearts, the symbol of the opposition in Ukraine. Though August is a vacation month, several thousand Tymoshenko fans have bused in to Kiev to support their leader. Other buses filled with police are parked around the courthouse, waiting to crack down on the protesters. When Tymoshenko was taken from court in a prison van, her supporters tried to swarm the street to block its path. Riot police clubbed people trying to reach the van windows and wave to her, or blow her kisses as she passed.
But the president does not seem to be too worried about the potentially high political price for Tymoshenko's arrest. Determined to send the former prime minister to prison even if the current trumped-up charges fall through, a committee in Parliament—led by Yanukovych's Party of Regions—is now investigating her stint running a natural-gas trading business in the 1990s, when she reported to one of Ukraine's richest oligarchs. The head of the committee, Inna Bogoslovskaya, told NEWSWEEK that Tymoshenko is like Al Capone, saying that she may go to prison on a technical charge but is surely guilty of worse crimes.
While the trial unfolds downtown, Tymoshenko's Kiev office sits empty and quiet. Fashion magazines are piled up next to books on the economy, a Bible, and a copy of Ukraine's criminal code that Tymoshenko studied before her arrest. Code or no code, Tymoshenko will likely face more jail time in the months to come. Still, she remains defiant. She says if there is any chance to "get rid of bandits in power, I will rise for 10, a hundred, a thousand more times. There is no other option, so I am rising."