Hice, Backed by Trump, Begins Georgia Campaign with Election Conspiracies
Fresh from an endorsement by former President Donald Trump for the post of Georgia's secretary of state, Representative Jody Hice (R-GA), has continued to peddle conspiracy theories about election fraud in the Peach State.
Hice is a four-term congressman who has been prominent in echoing the false claims by Trump that the 2020 election in Georgia had been marred by fraud.
He announced on Monday that in 2022, he would challenge for the post of Georgia's top election official. The incumbent, Brad Raffensperger, rejected pressure from Trump to overturn the state's result and certified President Joe Biden as the winner following a hand recount.
On the right-wing outlet Newsmax, Hice claimed without evidence that "700,000 people are illegal voters" in the state which he alleged had "virtually no voter ID."
He also repeated claims about drop boxes not being monitored and said that GOP poll watchers were "sent home after a fake water main burst." This referred to a claim which an investigation for the Secretary of State's office had concluded had been an overflowing urinal which did not affect the vote count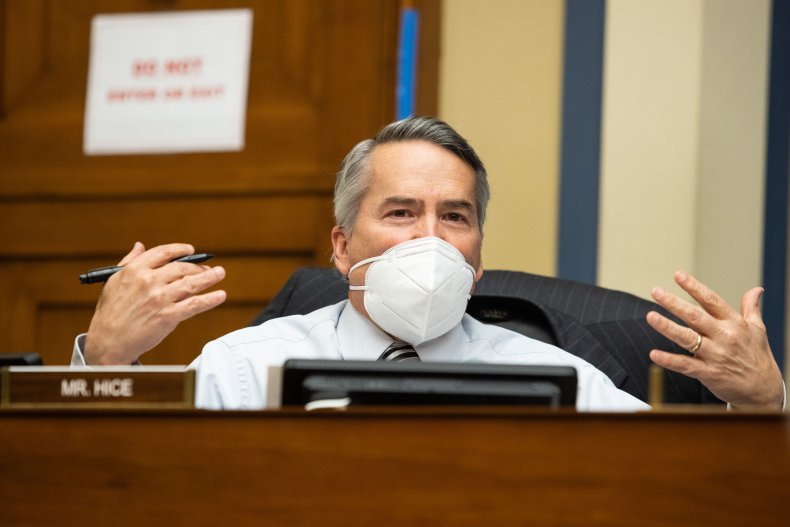 "I mean it just goes on and on and on. Ballot harvesting, mishandling of ballots, it's really too much to describe in one interview," Hice told the program Spicer & Co.
His comments came after he issued a statement that he would run for secretary of state, in which he accused Raffensperger of creating "cracks in the integrity of our elections, which I wholeheartedly believe individuals took advantage of in 2020.
"If elected, I will instil confidence in our election process by upholding the Georgia Constitution, enforcing meaningful reform, and aggressively pursuing those who commit voter fraud," Hice's statement said.
However, Raffensperger said on Monday that false claims about the election led to defeats for GOP Senate candidates in Georgia.
"Few have done more to cynically undermine faith in our election than Jody Hice," Raffensperger said, USA Today reported. "We saw in January what Georgia voters will do to candidates who use that rhetoric."
Trump lent his support to Hice's candidacy in a sign that the former president plans to play a significant role in the Republican primaries in 2022. Trump said: "I have 100 percent confidence in Jody to fight for Free, Fair, and Secure Elections in Georgia, in line with our beloved U.S. Constitution. Jody loves the people of Georgia, and has my Complete and Total Endorsement."
The former president is under investigation for pressuring Raffensperger and other election officials, telling the secretary of state in a phone call: "I just want to find 11,780 votes, which is one more than we have because we won the state."