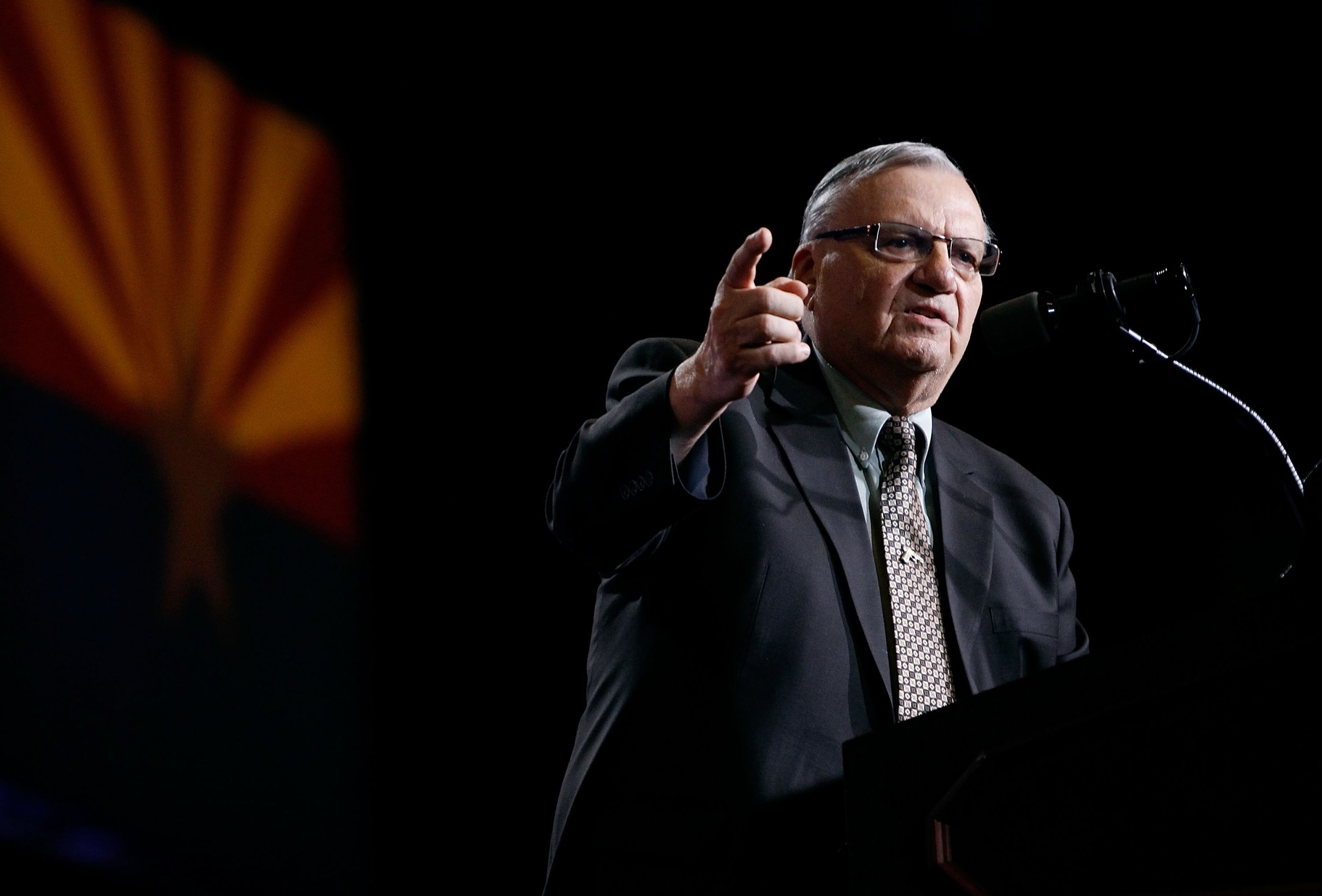 A Republican candidate with a shady legal and ethical past is running for a Senate seat in a reliably red state—which will likely lead to Democrats winning the seat.
Sound familiar?
That's one clear scenario if former Maricopa County Sheriff Joe Arpaio runs in Arizona, as he announced on his website on Tuesday. Such a campaign—like Roy Moore's doomed run in Alabama last month—could divide Republicans and hand an easy seat to the Democrats, experts say.
"This is Roy Moore part two, minus the child molestation allegations," CNN commentator and former GOP communications director Tara Setmayer told Newsweek. "If, God forbid, [Arpaio] becomes the Republican nominee in Arizona, you can hand the seat right to the Democrats."
President Donald Trump pardoned Arpaio in August, just a month after he'd been found guilty of criminal contempt for ignoring a court mandate to cease his racial profiling policing practices in Arizona. Like Arpaio, Moore had also been found guilty of contempt of court—though his problems at the ballot box also included allegations of molesting children.
Even before Arpaio jumped into the race, the long-red Arizona was in danger of tinting blue. In November, a poll showed Democratic frontrunner Kyrsten Sinema with a seven-point lead over Republican candidate Kelli Ward, a former state senator and strong Trump supporter who has pledged to "make Arizona great again." Having Arpaio in the race would split the "Trump-immigration hardliner" vote, Setmayer said, and hurt Republicans' chances of winning the seat.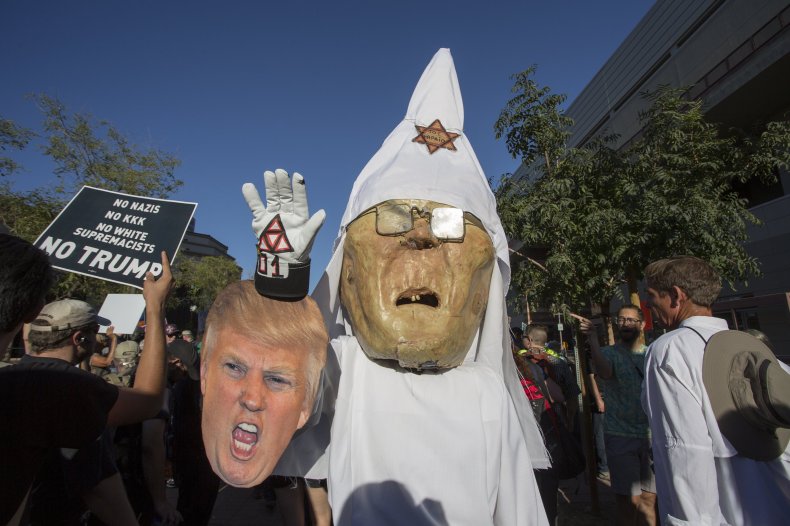 But the consequences for the Republican Party could extend far past the borders of Arizona if Arpaio moves forward with a Senate run. Arpaio has made it clear that he's running in Trump's name, writing on his campaign website: "President Trump needs my help in the Senate. He needs a conservative vote he can count on, and a voice in the Senate who knows first hand the threats our nation is dealing with."
In the months to come, Arpaio's close ties to Trump will force Republicans to explain how a man known for his civil rights abuses could come to represent their party in Congress—just as Moore's alleged transgressions albatrossed the neck of the GOP in Alabama.
"From now until the primary, in Arizona and across the country, Joe Arpaio is now a face of the Republican Party," Jesse Ferguson, a Democratic strategist and former senior spokesperson for Hillary Clinton's 2016 campaign, told Newsweek. "In the same way that every Republican had to answer for Roy Moore and what he had done, now every Republican owns Arpaio and the president's decision to pardon him."
It's still unclear, however, how seriously Americans should take Arpaio's bid to win the seat being vacated by anti-Trumper Jeff Flake. A source in Arizona told The Hill reporter Scott Wong that many are viewing Arpaio's Senate campaign as a "cash grab for donations" to offset legal fees he accumulated when he was found guilty of criminal contempt of court in July. Another source called the campaign a "serious fundraising scam."
"I think at this point in his career, you have to question the motive behind anything he's doing where there's money involved," Setmayer said. "He's going to be 86 years old in June. He's (been) convicted. And he's not popular in the state of Arizona."