Joe Biden Almost Tied With Donald Trump As Lead Falls Within Margin of Error: Poll
Former Vice President Joe Biden's lead over President Donald Trump is within the margin of error, according to new polling data.
The latest survey published by The Hill and Harris X on Thursday found that 42 percent of registered voters said they would back Biden if an election were held today, while 40 percent threw their votes behind the president.
A further 5 percent of voters said they would vote for a third party candidate instead of the Republican incumbent or his Democratic challenger.
Four percent told pollsters they were not going to vote at all, and the remaining 9 percent said they were not sure who to vote for in November.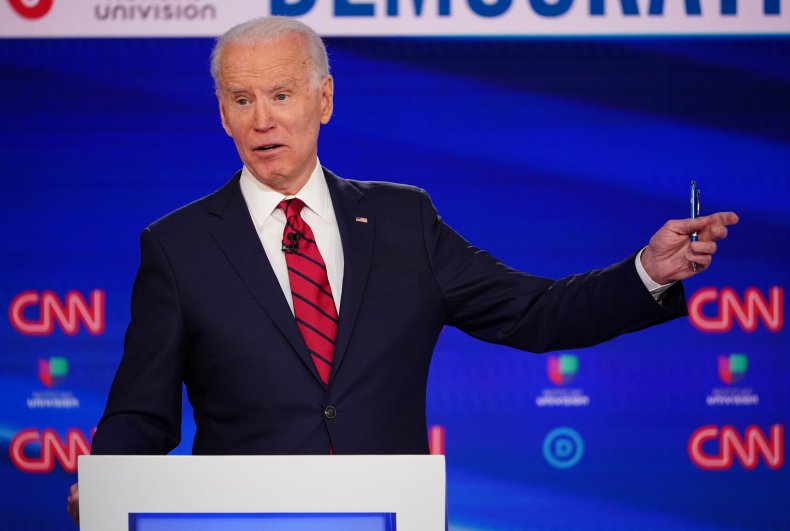 Broken down by gender, the results showed President Trump had a 5-point lead with male voters while Biden won the female vote by eight percentage points.
Almost a quarter of women (22 percent) told pollsters they were either unsure about who to vote for, or would vote for neither candidate.
Among younger voters in the 18 to 34 age bracket, the former vice president also led the incumbent by a striking 14 points.
But when registered voters over 65 years old were asked how they would vote, 48 percent backed Trump while only four-in-ten opted for Biden.
The president was also found to have a small lead among Independents, with 34 percent prefering the incumbent as 32 percent supported the former vice president.
Lower income Americans said they were more likely to vote for Biden, with 45 percent of registered voters earning less than $75,000 supporting the presumptive Democratic nominee.
By comparison, only 35 percent of the demographic said they would be voting for President Trump—putting him 10 points behind his challenger.
The Hill-HarrisX poll was conducted between April 19 and April 20, surveying 958 registered voters. Its margin of error stands at 3.1 percentage points.
Results from the latest Hill/HarrisX poll were released a day after a Reuters/Ipsos poll found that Biden had a six-point lead over President Trump.
The Reuters poll found 45 percent of registered voters planned to vote for Biden in the November election, while just under four-in-ten favored the president.
Another survey published by Marist pollsters this week showed that most Americans wanted to see the former vice president managing the U.S. economy and responding to the coronavirus pandemic.
According to the Real Clear Politics average of head-to-head polling, Biden still has a six point lead on Trump heading into the 2020 race.