Joe Biden to Finally Break Silence on UFOs in White House Speech
President Joe Biden is expected to make public remarks about a suspected Chinese spy balloon and three other unidentified flying objects that have been shot down over North American airspace since February 4.
The president will address the matter as early as Thursday, NBC News reported on Wednesday, but it's not yet clear when Biden will make the comments. That uncertainty is due to the fact that the president is undergoing a physical on Thursday that's expected to last several hours, making scheduling any address more difficult.
Daily guidance released by the White House on Wednesday contained a very limited schedule for Biden, who will be hosting a screening of Till on Thursday afternoon. The movie centers on Mamie Till-Mobley's fight for justice after the lynching of her 14-year-old son, Emmett Till, in 1955.
The White House has reportedly been weighing whether the president should publicly address the fact that the balloon and three other objects were recently shot down by the U.S. military.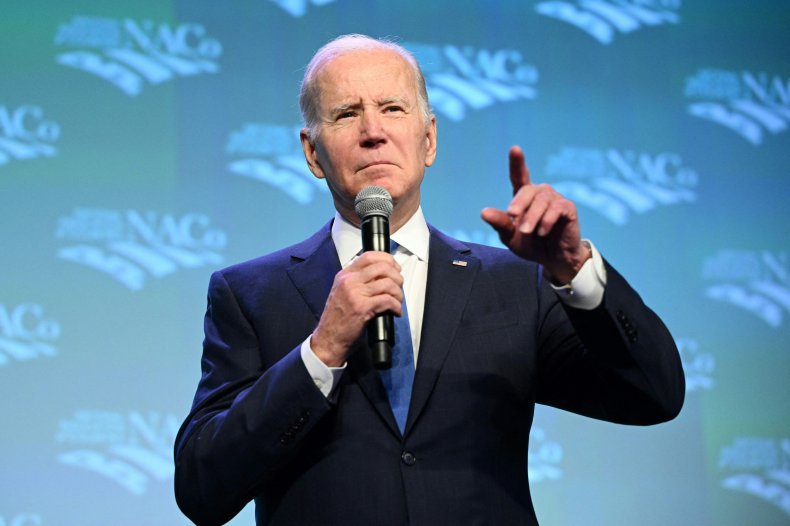 The U.S. has not yet confirmed the origin of the three UFOs, leading to some speculation that extraterrestrial life is somehow involved.
White House Press Secretary Karine Jean-Pierre and National Security Council spokesperson John Kirby have both dismissed the idea that the UFOs have anything to do with aliens.
"I don't think the American people need to worry about aliens with respect to these crafts," Kirby said on Monday.
Kirby said the three objects were unmanned and that no threats or communications signals from them were detected. The administration is facing pressure to provide more information.
Speaking on the Senate floor on Monday, Senate Minority Leader Mitch McConnell said: "President Biden owes the American people some answers. What are we shooting down? Where did they come from?"
Senators who received an intelligence briefing on Wednesday expressed concern about the aerial objects.
Following the briefing from officials from the Defense Department, NORAD (North American Aerospace Defense Command), and the United States Northern Command, as well as the Office for the Director of National Intelligence, Republican Senator John Kennedy of Louisiana told reporters Americans should "lock your doors."
"It's clear to me this is not a recent phenomenon," Kennedy said, adding that the situation had been going on since at least 2017. "If you are confused, you understand the situation perfectly."
Senate Majority Whip Dick Durbin told reporters that the briefing "answered a lot of questions and raised a lot of questions."
Though it remains unclear when Biden will address the issue, the White House is set to form a task force to study UFOs.
"The president, through his national security adviser, has today directed an interagency team to study the broader policy implications for detection, analysis, and disposition of unidentified aerial objects that pose either safety or security risks," Kirby said.
Newsweek has asked the White House for comment.