Senator Warns People to 'Lock Your Doors' After Classified Hearing on UFOs
A Louisiana senator has advised citizens to "lock your doors" following a classified briefing to lawmakers on the unidentified objects shot down over the weekend.
Four objects have been shot down over North American airspace since February 4. The first was identified by the Pentagon as a Chinese surveillance balloon, but the U.S. Defense Department has not confirmed the nature of the remaining three objects. Intelligence officials are "considering as a leading explanation that these could be tied to commercial or research entities and benign," the White House said on Tuesday.
Senators received a classified briefing on Tuesday. It was delivered by officials from the Defense Department, NORAD (North American Aerospace Defense Command), and the United States Northern Command, as well as the Office for the Director of National Intelligence.
Speaking to the media following the briefing, Louisiana Senator John Kennedy said officials had so far been unable to locate the remnants of the three unidentified objects, excluding the spy balloon.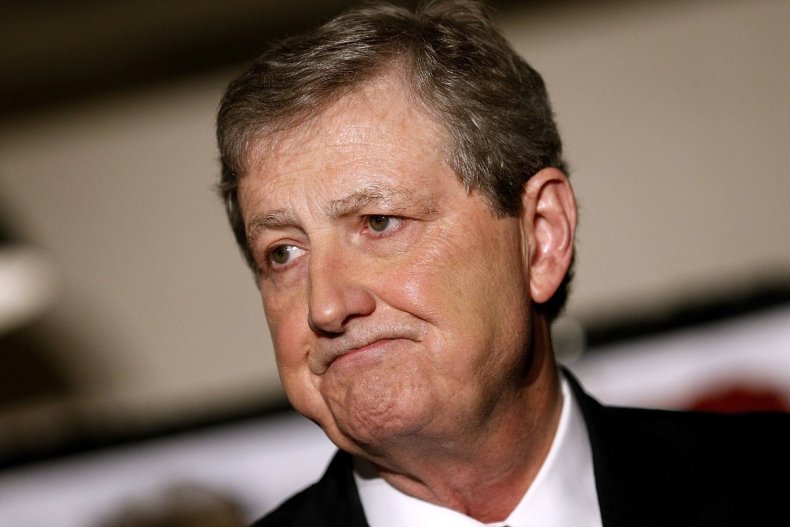 "It's clear to me this is not a recent phenomenon," he told reporters, saying "this has been going on" since at least 2017. Calling for more transparency, he said: "If you are confused, you understand the situation perfectly."
Concluding his comments to the gathered media, Kennedy added: "Lock your doors tonight."
Ten days ago, "we were led to believe that our skies are clear, but now we have unidentified objects and Chinese spy balloons raining down on us like confetti," the GOP senator wrote on Twitter on Tuesday ahead of the briefing.
On February 10, the Defense Department said a U.S. F-22 fighter jet had shot down an unidentified, "high-altitude object" flying at around 40,000 feet above northern Alaska.
President Joe Biden had ordered the shooting-down of the object, the Pentagon said, with the object posing a risk to civilian flight. The object fell into sea ice, and recovery operations are underway, the Pentagon added.
On February 11, the North American Aerospace Defense Command (NORAD) took down an unidentified airborne object flying over Canada. The following day, an F-16 fighter jet fired a missile to "successfully shoot down an airborne object" flying at 20,000 feet over Lake Huron, Michigan, the Pentagon confirmed.
"We did not assess it to be a kinetic military threat to anything on the ground, but assess it was a safety flight hazard and a threat due to its potential surveillance capabilities," the Defense Department said.
The object shot on Sunday was the fourth unidentified flying object targeted by U.S. missiles in little over a week. The first object, taken out over South Carolina on February 4, was identified by the Defense Department as a "Chinese surveillance balloon."
In a press briefing on Monday, Karine Jean-Pierre, White House press secretary, ruled out suggestions of alien involvement in the three unidentified objects shot down on consecutive days.
There is "no indication of aliens or extraterrestrial activity," she said, adding she "wanted to make sure that the American people knew that."
Connecticut Democrat Senator Richard Blumenthal said following the meeting that the government was "becoming more transparent, and that's a good thing, but there's a need for even more," according to Politico.
Quoted by Fox News, Florida Republican Senator Marco Rubio said that "99 percent of what was discussed in that room today can be made public without compromising security in this country."