Joe Biden Calls Donald Trump's Final Days As President 'A Sad Chapter' After Acquittal
Joe Biden has urged Americans to "end this uncivil war" after his predecessor, Donald Trump, was acquitted over a charge of inciting insurrection at the Capitol.
The current president said Trump's efforts to overturn the 2020 election result and the violence that followed on January 6 had been a "sad chapter" that provided a reminder that "democracy is fragile."
A majority of Senators—57 (including seven Republicans) to 43—voted to convict Trump for his involvement, 10 short of two-thirds majority needed.
In his first remarks on the result, President Biden said the "the substance of the charge is not in dispute," citing comments by Republican Senate Minority Leader Mitch McConnell, who voted to acquit but also accused Trump of a "disgraceful dereliction of duty" and "practically and morally responsible for provoking" the mob.
A statement released on Saturday night, said: "This sad chapter in our history has reminded us that democracy is fragile. That it must always be defended. That we must be ever vigilant. That violence and extremism has no place in America.
"And that each of us has a duty and responsibility as Americans, and especially as leaders, to defend the truth and to defeat the lies.
"That is how we end this uncivil war and heal the very soul of our nation. That is the task ahead. And it's a task we must undertake together. As the United States of America."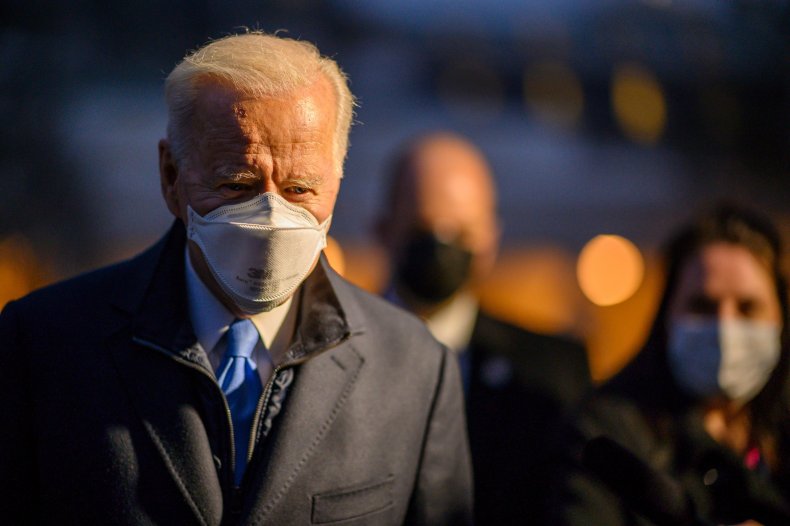 The statement began by namechecking Brian Sicknick, the Capitol police officer who died in the violence, and later praised those "who bravely stood guard" during the riot, adding that some were still "living with terror they lived through that day."
Violence at the Capitol came amid Trump's relentless, yet proven false, claims of widespread election fraud being behind his defeat to Biden, a point emphasized by prosecutors in the Senate trial.
Biden praised the "courage" of Democrats and Republicans politicians, judges, and election workers who defied Trump's efforts to overturn the election result, saying they had protected "the integrity of our democracy."
The seven Republicans who voted to convict—Richard Burr, Bill Cassidy, Susan Collins, Lisa Murkowski, Ben Sasse, Mitt Romney and Pat Toomey—in addition to the 10 House Republicans who backed impeachment, have faced a backlash from Trump's camp and supporters.
A statement released by the ex-president's office shortly after the acquittal vote, said the trial had been "another phase in the greatest witch hunt in the history of our country."
Meanwhile, his son Donald Trump Jr. tweeted: "Let's impeach RINOs from the Republican Party!!!", using the insulting acronym for Republicans In Name Only.
Had Trump been convicted in what was his second impeachment trial, Senators could have voted to ban him from running for public office in the future.
After the acquittal, Trump's statement suggested he was keen to remain in politics.
In it, he spoke of "so much work ahead of us" and told his supporters he would "look forward to continuing our incredible journey together."