Donald Trump Escapes Conviction a Second Time, Leaving Door Open for 2024 Run
Forty-three senators voted to acquit former President Donald Trump in his second impeachment trial on Saturday, leaving the embattled Republican leader a path for pursuing federal office again.
Though some Democrats in Congress have voiced support for banning Trump from holding federal office by invoking Section 3 of the 14th Amendment, law experts told Newsweek last month that doing so would not be simple and could pose questions about its constitutionality in Trump's case.
In the meantime, Trump's acquittal means he is allowed to run for federal office again—and though he hasn't announced plans to seek the presidency in 2024, when he departed the White House last month, he said, "We will be back in some form."
Many of Trump's supporters appear to endorse his hypothetical return. Recent polling suggests a majority of Trump voters believe he should run for president in 2024, while nearly two-thirds of Republican voters said they would consider joining a new political party under his leadership.
Those supporters and the members of Congress who are still aligned with Trump are most concerning to American University's Chris Edelson, an assistant professor in the Washington, D.C., school's Department of Government.
"We've had a number of tests over the last few years, beginning with Trump's candidacy and ending with the assault on the Capitol," Edelson told Newsweek. "Each time, the question was: Will there be anything that's too much for Republicans? And very sadly, the answer is no."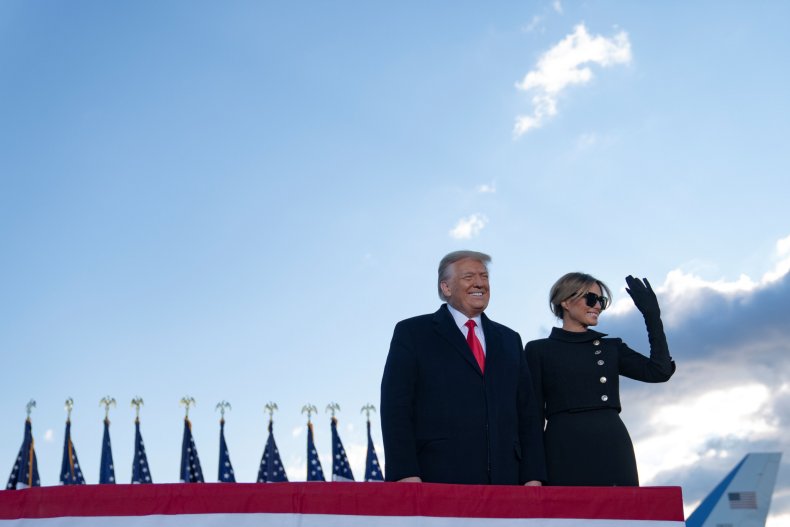 Edelson said Trump's acquittal "sends a dangerous lesson" to the former president and "more broadly to others who might take similar actions."
"When people try something like this and there are not clear consequences, the danger is, of course, it will happen again," Edelson said.
Trump was acquitted of "incitement of insurrection" in connection with his actions before the deadly riot at the U.S. Capitol on January 6. The House impeached Trump on the single article on January 13, making Trump the first president in U.S. history to be impeached twice. His first impeachment, in December 2019, ended with an acquittal in the Senate last February.
Both of Trump's impeachments have largely proceeded along party lines. Though Edelson expressed concern about the message this acquittal sends, he pointed out that Republican support for an impeachment trial did exist in both chambers of Congress.
"It would be worse if this were completely partisan, if all Republicans rejected impeachment and removal," Edelson said. "The fact that 10 Republicans voted to impeach in the House means something."
After those 10 Republicans in the House joined Democrats in impeaching Trump, the House impeachment managers delivered the article of impeachment to the Senate on January 25, five days after Trump left office. One day later, five GOP senators joined the chamber's 50 Democrats in voting to move forward with the trial, a vote that Kentucky Senator Rand Paul triggered by questioning if it was constitutional to hold an impeachment trial for a former president. A sixth Republican joined them in voting in favor of the trial's constitutionality as proceedings began on February 9.
Jonathan Turley, a legal scholar who testified during Trump's first impeachment and during the 1998 impeachment trial of former President Bill Clinton, told Newsweek there might have been a better chance for conviction if the House impeachment managers had pursued a different prosecution strategy.
"Many of the senators who have condemned Trump would still not be willing to sign off on an article of impeachment saying that he intended to incite an actual rebellion against the United States," Turley said.
Turley was critical of the House's impeachment strategy ahead of the trial. While the House prepared an "emotionally charged narrative" to present before the Senate, he said, the impeachment managers didn't take the time to build a record of witness testimony to back it up. This left them with an article that he said was "almost designed to prevent conviction."
"I've talked to many of these senators, and I think that this impeachment could have been handled in a way that would have made this a far closer question," Turley said.
Turley also said he was frustrated with the House's strategy because he believes there are "legitimate issues" the chamber could have pursued with alternate articles of impeachment. "There are potential impeachable issues, impeachable aspects, to what the president did," Turley said. "The House didn't seem interested in developing an article of impeachment that would garner bipartisan support."
With Trump's acquittal now official, the question of what the future of the Republican Party will look like remains. Edelson said he believes the GOP "is Trump's party" at present and is concerned about far-right groups, like QAnon supporters, that still hold sway over some elected Republicans in Congress.
"When you believe your opponents are doing those things, it means anything is justified," Edelson said of QAnon supporters, many of whom believe top Democrats, members of the media and Hollywood celebrities are involved in a child-sex-trafficking ring. "I think the party's in a dangerous position. But I think if all you care about is winning, what they're doing makes sense—because they will win again. And I would expect they would try to go further."
Turley also said it was unlikely the trial would change minds about Trump or the events at the Capitol on January 6.
"I think this trial will harden rather than change sides for most voters," he said.