Biden Walks Fine Line Between Condemning Russia and Putin's Nuclear Threat
President Joe Biden walked a fine line in his address to the United Nations General Assembly on Wednesday, harshly criticizing Russian President Vladimir Putin for "shamelessly violat[ing]" the U.N. charter while urging Russia not to exercise its veto power as one of the five nations allowed to do so.
Speaking from the U.N. headquarters in New York City, Biden opened his speech by telling his counterparts, "Let us speak plainly: A permanent member of the United Nations Security Council invaded its neighbor, attempted to erase the sovereign state from the map."
"Russia has shamelessly violated the core tenets of the United Nations charter," the president said.
Although Biden offered stark criticisms of Russia, he also said Russia should refrain from using its veto power "except in rare, extraordinary situations to ensure the Council remains credible and effective."
Russia is the most frequent user of the veto among the five Security Council nations with the power to do so. The other four nations are the U.S., China, France and the UK. The five permanent members of the U.N. Security Council cannot be expelled.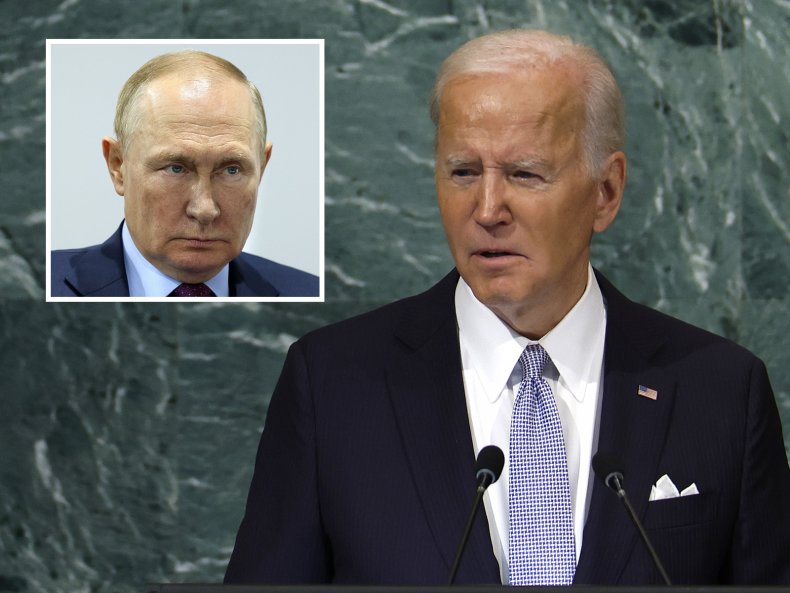 On Wednesday, Biden also responded to the overnight nuclear threats Putin made as he announced that Russia was expanding its war efforts by calling for a "partial mobilization" of citizens with military experience.
"The United States is ready to pursue critical arms control measures. A nuclear war cannot be won and must never be fought," Biden said. "The five permanent members of the Security Council just reaffirmed that commitment in January, but today we're seeing disturbing trends."
Early Wednesday, Putin alleged that officials in NATO states threatened to use nuclear weapons against Russia but that Moscow too "has various means of destruction," adding that his threat was "not a bluff."
"The world should see these outrageous acts for what they are," Biden told the U.N. "Putin claims he had to act because Russia was threatened, but no one threatened Russia and no one other than Russia sought conflict."
The line Biden walked in his remarks on Russia echoed comments delivered by National Security Council spokesperson John Kirby earlier in the day.
Speaking to Good Morning America, Kirby said that while there will be "severe consequences" if Russia were to use nuclear weapons against Ukraine, "we've seen no indication that that's required right now."
"It's irresponsible rhetoric for a nuclear power to talk that way, but it's not atypical for how he's been talking the last seven months, and we take it seriously," Kirby said. "We are monitoring as best we can their strategic posture so that if we have to, we can alter ours."