Ukraine War Updates: Zelensky Proposes Special Tribunal to Punish Russia
EU Foreign Ministers Discuss New Russian Sanctions
The foreign ministers of European Union member states are holding an emergency meeting at the United Nations General Assembly to discuss the recent actions of Russian President Vladimir Putin amid the ongoing tensions in Ukraine.
Josep Borrell, the high representative of the EU for foreign affairs and security policy, said the meeting was called Wednesday.
This comes after Putin made a speech in which he said the he will proceed with a referenda to annex occupied territories in Ukraine, mobilization of 300,000 reservists and use "all necessary means" to defend Russia, seemingly threatened to use nuclear weapons.
Borrell said Putin is "doubling down on a failing strategy."
"He is trying to intimidate Ukraine and all countries that support it," he said in a statement.
"But fake referenda will not change the legal status of Ukrainian territory. Mobilising reservists will not mean fresh, trained and motivated troops are somehow available. Threatening with nuclear blackmail is unacceptable and it will only increase Russia's diplomatic isolation. The threat to use nuclear weapons should alert the international community and in particular all the states which for one reason or another look with distance at this war which they believe does not concern them."
Borrell said these comments constitute another "major escalation" from the Kremlin that show "a sign of fear."
"We can already begin to see the reactions inside Russia, with courageous people trying to get on flights out of Russia, while they can," he said. "The main thing is not to be intimidated. We have to stay united as EU and continue our support to Ukraine as well as the countries that support it. Putin is trying to destroy Ukraine; we must make sure that Ukraine will prevail."
The EU foreign minister will discuss the new threat from Putin and their continuous military support for Ukraine.
More sanctions are also on the table, Borrell told reporters on the sidelines of the U.N. General Assembly.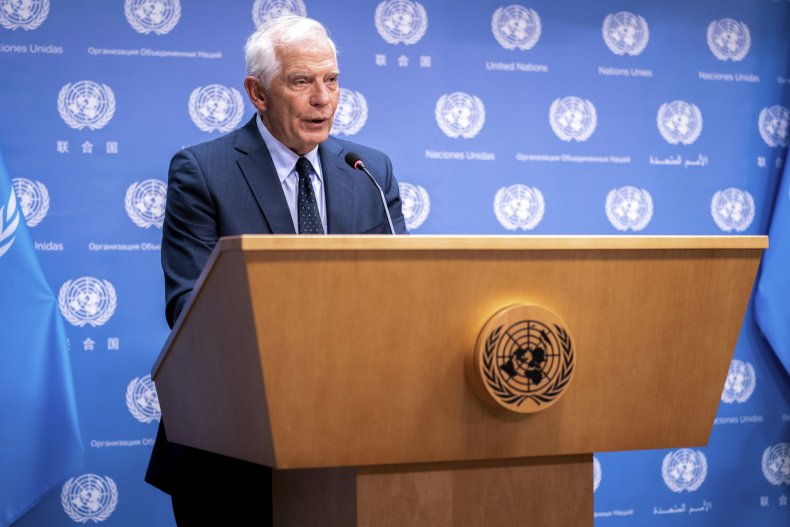 New Round of Sanctions Possible
The President of the European Commission also said she is prepared to call for a new round of sanctions on Russia.
Ursula von der Leyen told CNN's Christiane Amanpour that Putin's latest move justifies more action for the EU.
"President Putin is showing his weakness now because what you see is that he tries to mobilize personnel that is less trained, less experience, less motivated and he wants to start sham referenda on Ukrainian sovereign soil," she said. "So I think this calls for sanctions from our part again."
Von der Leyen said the EU is prepared to impose further economic costs on Russia and on individuals and entities inside and outside of Russia who support, politically or economically. Additionally, she said the bloc will propose additional export controls on civilian technology "as Russia moves to a full war economy."