Joe Biden Wishes Trump 'Swift Recovery,' Says He Will Pray for President and His Family
Democratic presidential candidate Joe Biden has wished President Donald Trump and the first lady Melania a "swift recovery" after the pair tested positive for COVID-19.
Trump confirmed in the early hours that he and Melania had received positive tests, with the pair isolating following this.
"We will begin our quarantine and recovery process immediately," he wrote.
"We will get through this TOGETHER!"
In a message following this, Biden said he and his wife, Jill, will "continue to pray" for the pair's health.
"Jill and I send our thoughts to President Trump and First Lady Melania Trump for a swift recovery. We will continue to pray for the health and safety of the president and his family," he wrote, in an update shared on Twitter.
Newsweek has contacted the Biden campaign for further comment on the president's COVID-19 diagnosis.
Trump's diagnosis comes with just 32 days until election day on November 3.
The pair have long had disagreements over how to react to the COVID-19 crisis.
Biden has been highly critical of the president's reaction to the pandemic, taking aim at what he has labeled a "failed response."
Prior to the president announcing his positive test result, Biden had tweeted:
"Donald Trump will do everything he can to distract from the fact that because of his failed COVID-19 response:
- Over 200,000 Americans have died
- 26 million are on unemployment
- 1 in 6 small businesses risk permanent closure
"We can't let him."
While Biden has criticized Trump's COVID-19 response, the president has responded by suggesting the situation would be worse under the Democrat's leadership, claiming travel from China and Europe would have been shut off later than it was.
Biden's message to Trump comes as numerous other high-profile figures sent well-wishes to the president and first lady.
Several world leaders shared supportive messages to Trump.
Trump's diagnosis comes with more than 7.2 million confirmed COVID-19 cases in the United States.
The below graphic, from Statista, highlights the number of cases in different states as of September 28.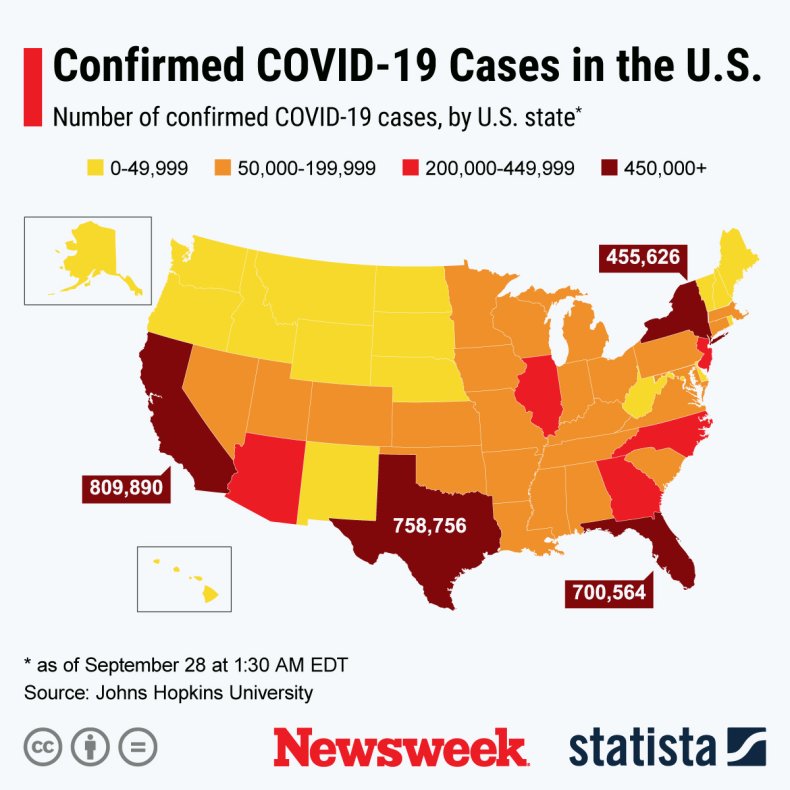 There have been more than 34.2 million confirmed cases worldwide, according to Johns Hopkins University figures.
The U.S. has the highest number of confirmed cases, followed by India and then Brazil.
Trump has long insisted the nation has the highest number of confirmed cases due to conducting a higher number of tests than other nations, despite there being questions raised over this.
This is a developing story and will be updated.