The end of summer brings a difficult time for President Joe Biden, with gas prices on the rise, a looming strike in the car manufacturing industry, the return of student loan payments, the threat of a partial government shutdown and lingering high inflation.
Although the administration has faced worse challenges in the past few years—post-pandemic rebuilding, rampant inflation and Russia's full-scale invasion of Ukraine— Biden still has a lot on his plate and now, ahead of the 2024 presidential election, every problem is a little more politically charged.
United Auto Workers' Strike
On Friday, the United Auto Workers (UAW) union is expected to go ahead with a strike targeting the "Big Three" American car makers—General Motors, Ford, and Stellantis—after negotiations failed.
Experts have told Newsweek that the industrial action could have catastrophic consequences for the U.S. economy. The strike is likely to "halt production of all domestic vehicles," said Karl Brauer, executive analyst at iSeeCars.
While the full impact will depend on how long the action lasts, it comes at a fragile time for the auto industry, which has just started recovering "from the twin disruptions of COVID-19 and the supply chain," Tyson Jominy, vice president of data and analytics at J.D. Power, told Newsweek.
The strike could also undermine Biden's efforts to push the U.S. car industry towards producing electric vehicles. This policy has been attacked by Republican frontrunner and former President Donald Trump, saying it harms Americans by raising prices for customers.
The UAW is asking for battery workers to be included in negotiations for better pay and labor standards, but manufacturers warn that this would make them uncompetitive with rivals such as Tesla.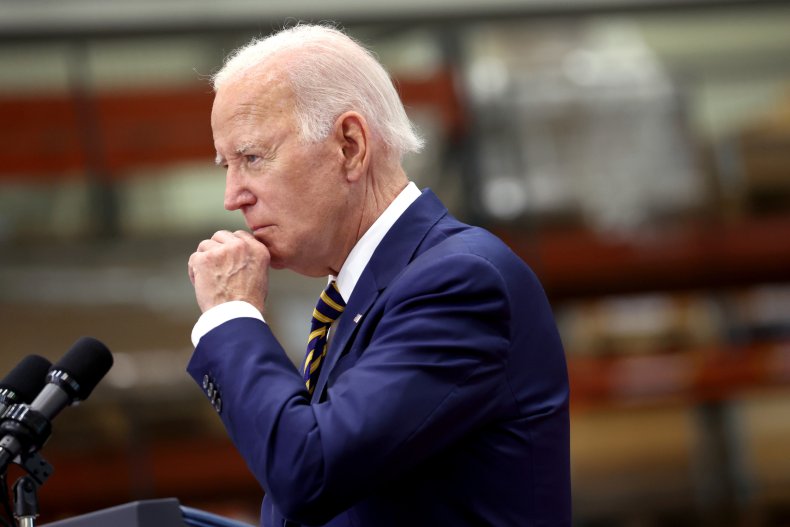 Gas Prices
Drivers are already feeling the pinch at the pump as gas prices approach the $4 mark. The national average cost for a gallon is $3.858 on September 14, according to the AAA. A year ago, the average was $3.703.
Gas prices have gone up "due to tight supply, particularly in the Midwest, and rising oil prices," Devin C. Gladden, an AAA spokesperson, told Newsweek.
In states such as California and Washington, the cost of a gallon is more than $5. California's average price is $5.505 on Thursday, while in Washington it is $5.050.
Government Shutdown
Another pressing problem for the Biden administration is the threat of a partial government shutdown. On August 31, the White House asked Congress to approve a short-term continuing resolution that will keep government funding at current levels and avoid a potential shutdown at the end of the month.
The move would be a temporary solution as Congress and the White House continue to negotiate over longer-term appropriation bills.
Dealing with the GOP-controlled House could be another challenge for the Biden administration, especially as the House launched an impeachment inquiry into the president this week.
Student Debt
Student loan repayments, which will resume on October 1, are also likely to put pressure on the economy. Interest on the loans started accruing again on September 1.
The Biden administration had tried to forgive $430 billion in student debt for millions of Americans, but the Supreme Court struck down this plan in June—a heavy blow to the president and many borrowers.
A study by the Consumer Financial Protection Bureau has found that more than one in 13 student loan borrowers is behind on their other payment obligations. About one in five student loan borrowers has risk factors that suggest they could struggle when scheduled payments resume.
Inflation
On top of these four issues, there's a problem that Biden has been grappling with for the past year: inflation. Although it has come down significantly in the past few months compared to the peak of 9.1 percent reached in June last year, it remains much higher than the Federal Reserve's target of 2 percent.
In August, U.S. inflation rose to 3.7 percent year-on-year, driven by higher energy prices at the end of summer. This raises the possibility that the Fed might raise interest rates again.
Liz Ann Sonders, managing director and chief investment strategist at Charles Schwab, told Newsweek: "It is possible the Fed is already done hiking rates. But as they continue to reinforce 'data dependency,' it's only the incoming data on inflation and the labor market that will dictate whether they are finished or still might have to hike."