President Joe Biden may like to portray himself as being a safe pair of hands, but their strange appearance in front of reporters as he departed the White House has sparked some quizzical reaction on social media.
Before Biden made his way towards Marine One on the South Lawn en route to Pennsylvania to promote his $1.9 trillion COVID-19 relief bill, he was asked about the situation at the U.S. border with Mexico.
Biden's Homeland Security Secretary Alejandro Mayorkas said on Tuesday that the U.S. is facing the biggest surge of migrants at its southwestern frontier for two decades.
When one of the journalists asked, "Do you have any plans to travel to the southern border?" Biden replied, "not at the moment."
But it was not his response that got the attention on social media. Rather, it was the video of the exchange, in which his hand appeared to go through the front of the reporters' microphones.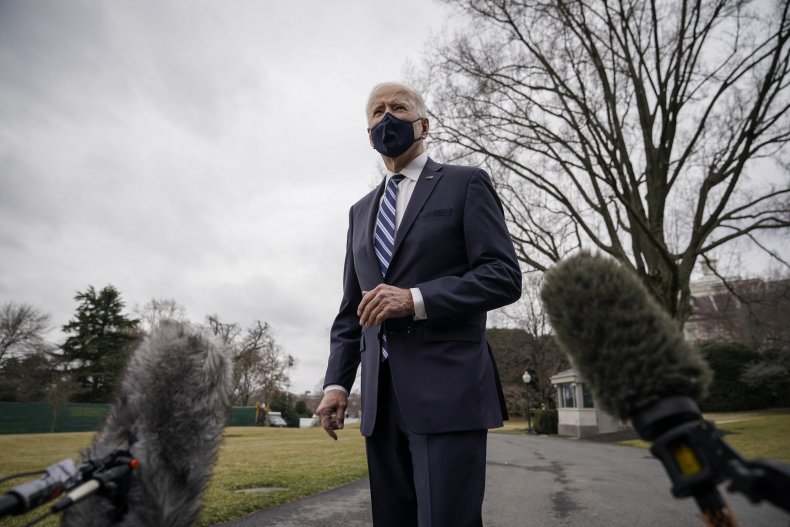 In a visual anomaly that more considered analysis might explain as simply an optical illusion, or a technical glitch, conspiracy theorists speculated that the video was shot in front of a green screen—the backdrop which allows digital effects or computer-generated imagery (CGI) to be later added.
While the incident did not trouble too many blue tick Twitter users, speculation from others showed the richness of the human imagination.
"Notice the part where Joe Biden's hands appear to 'clip' on top of the microphones. Most likely answer: Biden was either on a green screen of those microphones were edited into the video," tweeted Conservative Daily.
"@JoeBiden taking questions in front of the green screen. Notice the hand going right through the microphone. It's all a big production.....and so many of you are falling for it. Wake up!" tweeted Aubrey Huff. His tweet was shared by Tito Ortiz with his 564,000 followers, who added: "Here's the same green screen video. #FakeNews."
"This video is really weird. Green screen?" tweeted one user. "Either Biden has special 'ghostly' powers or that's a green screen of mics," tweeted another, while "Joe Green Screen Biden. The veil has been pulled back more," was the message from another user.
However, others shared a clip of the exchange from a different angle which shows Biden clearly in front of the reporters. Pictures on Getty Images also show a number of angles of Biden's brief exchange with reporters on Tuesday.
Toronto Sun reporter Brian Passifiume described the images as "trippy" but tweeted "def. not 'green screen' — matching zoom and depth requires pretty complex motion tracking, particularly in front of the entire White House press gallery."
Another user wrote: "If the mics were green screened Joe Biden's hands wouldn't have gone through it because the green screen video would be above the video of him speaking."
Meanwhile, under fire from his immigration policies and amid a surge in unaccompanied minors at the border, Biden told ABC News that would-be migrants should stay home.
"I can say quite clearly: Don't come over," Biden said, "don't leave your town or city or community. We're going to make sure we have facilities in those cities and towns... to say you can apply for asylum from where you are right now."