Joe Biden Just Had the Best Midterms for a Democrat President in 24 Years
President Joe Biden has produced the Democrats best midterm election result since 1998, after an expected Republican "red wave" failed to materialize.
Counting continues in a number of seats, with control of both the Senate and House of Representatives up for grabs, though the GOP enjoys a sizable seat lead in the lower chamber.
Thus far the Democrats have won 48 Senate seats and the Republicans 49, with control of the chamber to be decided by outstanding contests in Arizona and Nevada, as well as a run-off in Georgia. Victory in two of the three states for either party will give them a Senate majority.
Notably Democrat John Fetterman beat Trump endorsed Republican Dr. Mehmet Oz in Pennsylvania, flipping the seat.
For live updates on the midterms head over to Newsweek's Live Blog: Who Won the Midterm Elections 2022?—Senate, House, Governor Results.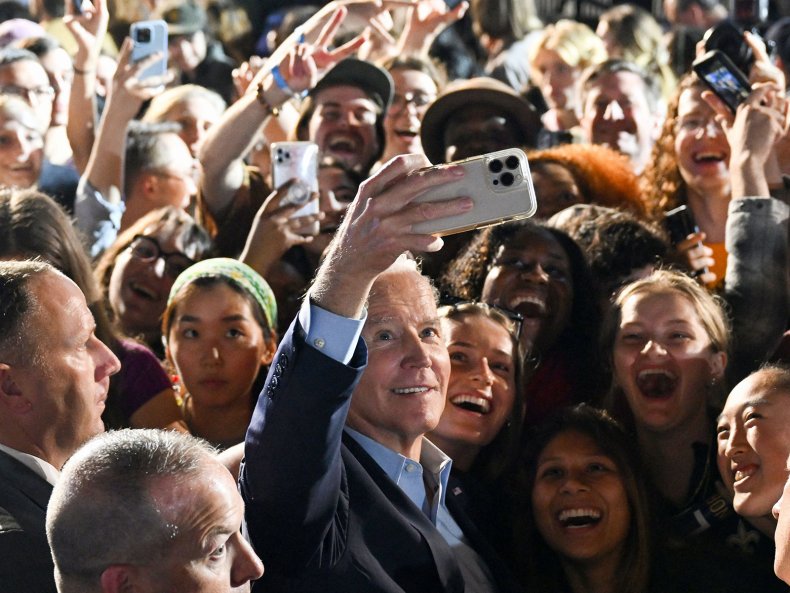 Prior to the election 50 senators were caucusing with each party, with the Democrats having a wafer-thin majority thanks to the vice-president's tie busting vote.
Thus, even if the Democrats are defeated in all three outstanding battles, they will only have lost two Senate seats, versus former President Barack Obama's losses of nine seats in 2014 and six in 2010. Obama also lost 13 House seats in 2014, after the 2010 "shellacking" cost him 63 seats.
This makes 2022 the Democrats most successful midterm election since 1998, when former President Bill Clinton retained the same number of seats in the Senate while picking up five in the House.
The only stronger performance in recent years was delivered by President George W. Bush in 2002, who picked up two Senate seats and another eight in the House. This election was unusual in that it took place a year after the 9/11 attacks, which were followed by a surge in popularity for Bush.
CNN has called 209 House seats for the Republicans versus 191 for the Democrats, with the remaining 35 yet to be decided. While neither side has secured a House majority of 218 yet, the GOP is clearly favored.
Rebecca U. Thorpe, an associate professor specializing in U.S. politics at the University of Washington, told Newsweek the president's party typically loses seats in midterm elections.
She added: "Given Biden's low approval rating and a poor economy, Democrats had reason to think that the outcome would be much worse than it was. However, this is probably less the result of a credible Democratic strategy than poor Republican strategy.
"One reason that Republicans under-performed was because of weak candidate selection. [Ron] DeSantis won his election by historically large margins in Florida, but the party faced losses or close races in places like Georgia, Pennsylvania and Arizona that they could have won handily if they had fielded stronger candidates.
"Negative partisanship may be another reason. Democrats may not be overly enthusiastic about Biden, but they are afraid of the Republican Party. In this context, the expected turnout decline for the incumbent party did not happen.
"While the Republican Party may dislike Biden and think that he is incompetent or corrupt, he does not really incite fear or invoke threat. To the extent that Biden can take credit for Democratic performance, he does not mobilize the opposition in the way that Trump and the MAGA movement does."
Following the Republicans unexpectedly poor performance, a number of conservative publications have taken aim at former President Donald Trump, suggesting it would be a mistake for him to run for office in 2024.
Charles Cooke, writing for the National Review, said: "Trump is a loser. He squeaked past the most unpopular woman in America in 2016, he presided over a blue wave in 2018, he lost to a barely breathing Joe Biden in 2020, and he hand-picked a bevy of losing Republican nominees in 2022."
On Wednesday Biden suggested he could run for a second White House term, saying American's who don't want him to stand again should "watch me."