Joe Biden Taking a Knee for White House Photo Op Sparks Laughter
President Joe Biden prompted laughter when he knelt for a photo during a White House ceremony honoring 2020 WNBA champions Seattle Storm.
Players Sue Bird, Jewell Lloyd and Breanna Stewart presented Biden with a souvenir Storm jersey, with "Biden" and "46" on it, during Monday's visit.
Moments later, 6-foot-tall Biden kneeled so as not to block the view of those standing behind him, as he posed for a photo with the team's players and coaches. The moment can be viewed below from the 17 minute mark.
In remarks, Biden celebrated the team's feats on the court as well as its social justice activism.
"What makes this team remarkable is they don't just win games, they change lives: encouraging people to get vaccinated so we can beat this pandemic; speaking out and standing up for racial justice and voting rights; supporting education and... mentorship programs for young people; and fighting to protect trans youth from an epidemic of violence and discrimination," Biden said.
"That's what winners do. They shine the light and lift people up. They're a force for change. That's the Seattle Storm, that's the WNBA. That's what they do."
At the ceremony, Storm co-owner Ginny Gilder also praised the team's activism as Black Lives Matter protests erupted across the country in the wake of the police killing of George Floyd last year.
"They are truly about so much more than basketball," she said. "They used their play on the court and their eloquence off, not merely to demand change, but to generate engagement and cause change."
Gilder also praised WNBA players for their efforts that helped elect Democrats Raphael Warnock and Jon Ossoff to the Senate.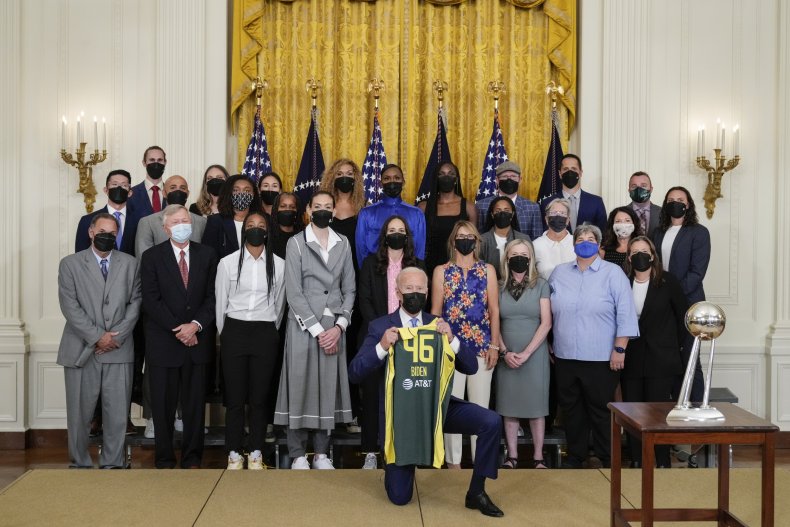 The team's visit marked the first to the White House by an NBA or WNBA team since Barack Obama was in office.
During Donald Trump's term as president, he got into several public feuds with athletes who have taken a knee or used their platforms to spotlight social justice issues.
Bird, whose fiancée and U.S. soccer star Megan Rapinoe was recently targeted by Trump, acknowledged the change in the White House during brief remarks made during Monday's ceremony.
"As people who are part of women's sports, it feels good to be back in this place and to have our achievements celebrated in this way," Bird said.
But she added that she "wouldn't be truly representing our league if I didn't talk about the work that still needs to be done in our country and our communities."
The White House has been contacted for comment.