Trump Ran New Hampshire Close Against Clinton. But Biden Has Firm 2020 Lead
As President Donald Trump prepares to hold a rally in New Hampshire on Saturday, July 11, recent polling suggests Democratic candidate Joe Biden has a firm lead in the state.
In the 2016 election, Democratic nominee Hillary Clinton only narrowly defeated Trump there with 2,736 more votes, a margin of around 0.4 percent, making it a target for a potential flip by the president this time out.
However, 2020 is shaping up to be a more convincing victory for the Democrats in the battleground state if Biden can hold on to his current position.
A Saint Anselm College Survey Center poll of 1,072 registered New Hampshire voters found 49 percent said they would back Biden versus 42 percent who chose Trump. The poll took place between June 13 to 16 and had a 3 percent margin of sampling error.
It showed a steady lead for Biden. The center had conducted a similar poll with 820 New Hampshire respondents from April 23 to 27, which gave Biden an eight-point advantage over Trump, by 50 percent to 42 percent. It had a 3.4 percent margin of sampling error.
In a previous poll in New Hampshire, nearly two-thirds of 400 likely Democratic primary voters said they would prefer a meteor to wipe out humanity than for Trump to be reelected.
A University of Massachusetts-Lowell survey posed the tongue-in-cheek question, with 62 percent opting for the world-ending option when asked between January 28 and 31. One of the researchers said it was intended to gauge partisan anger and polarization.
The gap in New Hampshire comes amid nationwide surveys suggesting a steady lead for Biden on the whole, including in a number of swing states.
The Trump event is set to take place on Saturday, July 11, at Portsmouth International Airport at 8 p.m. EDT.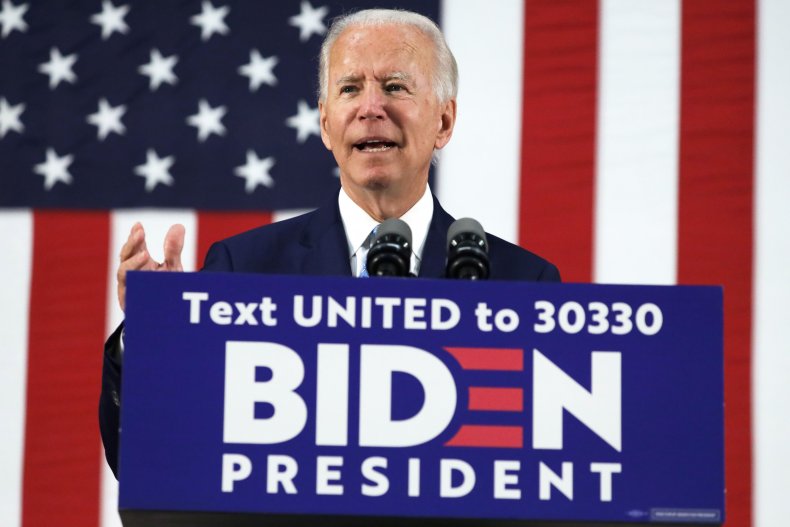 When registering for tickets, attendees are told to note they "understand and expressly acknowledge that an inherent risk of exposure to COVID-19 exists in any public place where people are present."
There is also a disclaimer waiving liability for the event organizers and venue for any risks of illness or injury.
Hogan Gidley, Trump 2020 national press secretary, said in a statement: "We look forward to so many freedom-loving patriots coming to the rally and celebrating America."
Attendees are to be given access to hand sanitizer and provided with face masks at the event, which they will be encouraged to wear.
New Hampshire has seen 5,897 confirmed COVID-19 cases as of July 5, with 381 deaths, according to the state's department of health. Of those, 4,684 have recovered while there have been 381 deaths.
Trump hopes his in-person campaign rallies will help him to pull closer to Biden in the polls. The New Hampshire event follows his return to the campaign trail in Tulsa, Oklahoma, last month. Trump has encouraged the Democratic candidate to do the same and host physical events.
His Tulsa rally did not pan out to be as well attended as anticipated. Around 6,200 attended the event held in a venue with a capacity of around 19,000.
Beforehand, the campaign team had touted around 1 million sign-ups to the rally. TikTok users and K-pop fans later claimed to have conspired to put their name down for tickets en masse and then not turn up. The Trump campaign denied such actions had had an impact on turnout.
Newsweek has contacted the Trump and Biden campaigns for comment.