Joe Biden Nominates Ketanji Brown Jackson to Supreme Court
President Joe Biden on Friday nominated Ketanji Brown Jackson to the United States Supreme Court. If confirmed, she will become the first Black woman in the court's history.
"I'm proud to announce that I am nominating Judge Ketanji Brown Jackson to serve on the Supreme Court," Biden wrote on Twitter. "Currently serving on the U.S. Court of Appeals for the D.C. Circuit, she is one of our nation's brightest legal minds and will be an exceptional Justice."
According to the official White House statement, Biden pursued a candidate with similar qualifications as retiring justice Stephen Breyer.
"President Biden sought a candidate with exceptional credentials, unimpeachable character, and unwavering dedication to the rule of law. He also sought a nominee—much like Justice Breyer—who is wise, pragmatic, and has a deep understanding of the Constitution as an enduring charter of liberty," the White House wrote.
"And the President sought an individual who is committed to equal justice under the law and who understands the profound impact that the Supreme Court's decisions have on the lives of the American people."
Jackson would be the second Black justice currently on the court and the third ever. She would also be the sixth woman in the court's history and is expected to be an addition to the court's liberal minority.
Jackson has lengthy experience as a judge and was elevated by Biden to the U.S. Court of Appeals for the District of Columbia in 2021. Before that, she served for 8 1/2 years as a district court judge in D.C. after being nominated by former President Barack Obama, with whom Biden served as vice president.
Biden informed Jackson of the nomination on February 24, according to a New York Times source.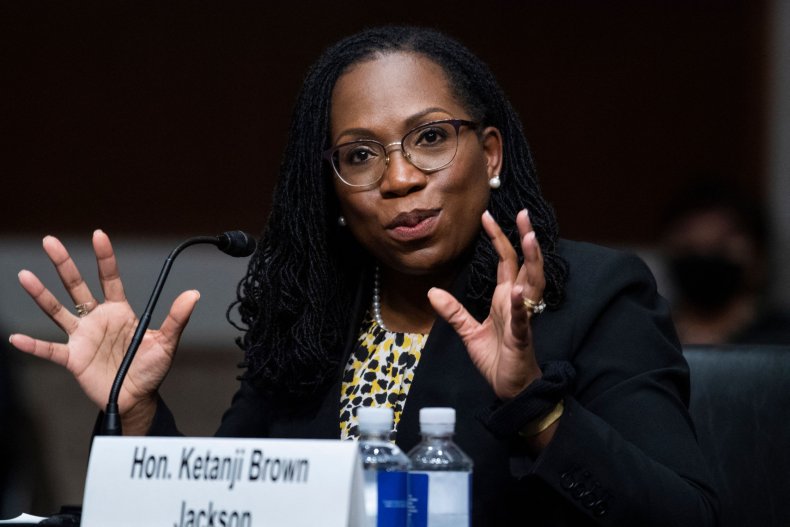 Jackson has also received support from pro-choice organizations, which could be an influential factor in determining high-profile abortion cases being deliberated on by the Supreme Court. NARAL Pro-Choice America, who previously endorsed Jackson upon her Court of Appeals nomination, gave a similar statement on her Supreme Court nomination.
"We are thrilled with President Biden's decision to nominate Judge Ketanji Brown Jackson—the first Black woman nominated to the Supreme Court. This is a phenomenal and overdue milestone," wrote the organization. Judge Jackson is both an eminently qualified jurist and someone who understands the disproportionate impact of our laws and justice system on communities of color. Judge Jackson also has a demonstrated record of defending and upholding our constitutional rights and fundamental freedoms—including reproductive freedom."
NARAL also said that the nomination comes at a critical time for abortion and reproductive health care access. The Supreme Court is still deliberating on Dobbs v. Jackson Women's Health Organization, the influential Mississippi abortion case that activists have speculated has the potential to unravel Roe v. Wade.
"While Judge Jackson's confirmation will not impact the outcome of this case," the organization continued, "her presence will shape the Court in the decades to come."
Brown has presided over many cases involving former President Donald Trump. In 2019, she ruled that former White House counsel Donald F. McGahn II should be compelled to obey a congressional subpoena to testify about Trump's alleged attempt to sabotage Robert Mueller's investigation into Russian election interference.
"Presidents are not kings," wrote Brown in her decision. "This means that they do not have subjects, bound by loyalty or blood, whose destiny they are entitled to control. Rather, in this land of liberty, it is indisputable that current and former employees of the White House work for the People of the United States, and that they take an oath to protect and defend the Constitution of the United States."
Jackson's nomination had already garnered support before Biden confirmed it. High-profile attorney Ben Crump recently endorsed Brown in an opinion piece published by The Hill.
"In my view, that of a civil rights lawyer and advocate who is committed to bringing justice, respect, and fairness to this nation, and particularly to my community, that woman is Judge Ketanji Brown Jackson," Crump wrote. He also referred to her as "the most experienced judge to be considered in recent memory."
Now that it's official, lawmakers have started commenting on Brown Jackson's nomination and potential confirmation.
"With her exceptional qualifications and record of evenhandedness, Judge Ketanji Brown Jackson will be a Justice who will uphold the constitution and protect the rights of all Americans, including the voiceless and vulnerable," Senate Majority Leader Chuck Schumer wrote in a statement.
Senate Minority Leader Mitch McConnell said she is being favored by "far-left dark-money groups" that allegedly undermine the Supreme Court itself, so "I look forward to carefully reviewing Judge Jackson's nomination during the vigorous and thorough Senate process that the American people deserve."
"Senate Republicans believe the Court and the country deserve better than Senate Democrats' routine of baseless smears and shameless distortions," McConnell added. "The Senate must conduct a rigorous, exhaustive review of Judge Jackson's nomination as befits a lifetime appointment to our highest Court. This is especially crucial as American families face major crises that connect directly to our legal system, such as skyrocketing violent crime and open borders."
Update 2/25/22, 10:45 a.m. ET: This story has been updated with comments from Chuck Schumer and Mitch McConnell.