Joe Biden Releasing Oil Reserves Seen As Pointless Political Move
President Joe Biden's move to release 50 million barrels of oil from U.S. reserves has faced a growing chorus of criticism from those who see it as a political move rather than a genuine attempt to ease gas prices.
With Americans paying an average of 50 percent more at the pump than this time last year, Biden said the largest release in history from the nation's Strategic Petroleum Reserve (SPR) showed he was "taking action."
Or at least his administration is seen to be taking action, which is just as important. That's according to Frank Maisano, energy expert at Bracewell PRG, which represents energy groups.
"He had to have some sort of virtue signaling to show people that he was doing something and that really what this is," he told Newsweek.
"This is him laying out things he can do even though it is not going to have much impact. When the market comes back, people will say, 'he did something at least.'"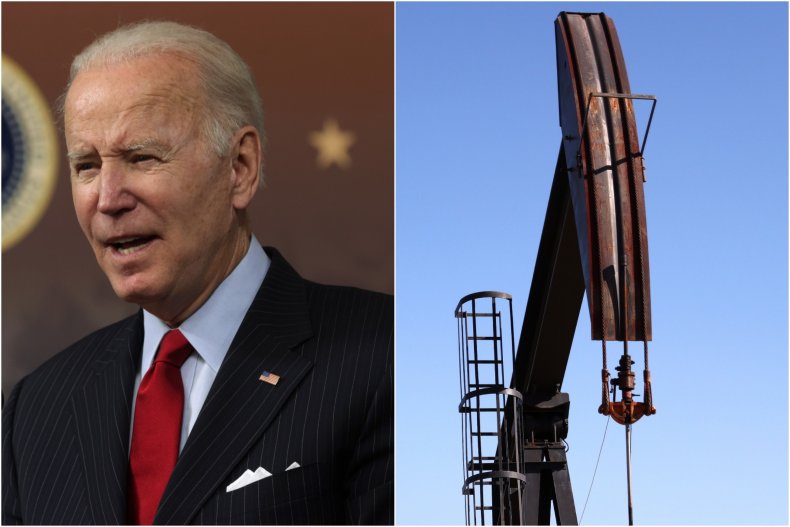 The widely trailed nature of the release—coordinated with other countries including India and China—robbed the measure of its element of surprise and meant that the market had already priced it in. Biden's announcement was followed by a $1 increase to the price of WTI Crude.
Of the 50 million barrels, 32 million will be released but eventually returned to the SPR in the next few years. The remaining 18 million barrels are part of a sale that Congress had already authorized.
Americans may be frustrated with inflation at a 30-year high and skyrocketing prices, but there are questions over whether tackling trying economic circumstances is what the SPR is intended for.
"The purpose of the SPR is for a supply-side emergency...like a hurricane or a war," Maisano said, "This is not a real supply-side emergency."
"Bad poll numbers are not a good reason to release oil from the SPR," he told Newsweek, "but the administration has the right to do it. Congress gave them the authority."
This was the message from the American Petroleum Institute (API), which said the Biden administration could exercise authority over the SPR "as they see fit."
However, API's senior vice president of policy, economics and regulatory affairs, Frank Macchiarola, said in a statement that any impact from the SPR release "is likely to be short-lived unless it is paired with policy measures that encourage the production of American energy resources."
Christopher Guith, senior vice president of the U.S. Chamber of Commerce's Global Energy Institute, was more critical. "Instead of ineffectual band aids, the White House should focus on policies that will encourage domestic production of oil and natural gas," he said in a statement.
Meanwhile, The Washington Post's editorial board accused Biden of "the two-step ritual that presidents perform to deflect voter anger over rising gasoline prices."
The first is to order a probe into gas price gouging and the second was to release oil from the SPR.
"These moves accomplish one thing: making it appear that the president is doing something about gas prices."
The Post's op-ed Wednesday said that Biden should instead focus on increasing domestic oil production and decreasing domestic oil consumption.
The energy industry wants the former, environmental campaigners want the latter and Biden faces trying to appease both.
An uneasy balance between Biden's climate change pledges and transitioning away from fossil fuels was highlighted last week with the auction of Gulf of Mexico federal drilling leases, following a legal ruling that the administration is still contesting.
Some lawmakers argue the SPR release is the wrong way to tackle rising gasoline prices.
"The precedent for using this as a tool to mitigate that energy policy is just a bad idea," said Rep. Garret Graves (R-LA). Sen. Lindsey Graham (R-SC) said he was worried that "we will end up having to eventually replace the released oil at higher prices."
The Department of Energy (DOE) said companies can submit bids for the oil up to December 6, with contracts awarded no later than December 14. It will be delivered to successful bidders between December 16, and April 30 next year.
Tony Fratto, a former deputy press secretary in the George W. Bush administration, said even if the SPR release was not enough to ease costs for consumers, it could still be a smart move by Biden.
"It may help him a little bit from a rhetorical standpoint coming from the White House to show that he cares about what Americans are dealing with right now," he told NPR.