Biden Gets Ominous Warning About His 2024 Run
President Joe Biden is reportedly gearing up to run for reelection in the next presidential race, but a new poll offers a potentially ominous sign for his 2024 campaign.
A Washington Post/ABC News poll released last week found that Biden has more in common with former President Donald Trump, who lost his second bid for the White House, than with former President Barack Obama, who served two terms, at this point in his presidency.
Overall, 62 percent of voters said Biden has accomplished "not much" or "little or nothing" since he took office two years ago. Comparably, only 52 percent of adults said the same thing about Obama as he pursued reelection.
Although Biden received broad support from Democrats, with 77 percent believing he's accomplished a good amount during his presidency, only 32 percent of independents and only 7 percent of Republicans agreed.
In fact, Biden's numbers are more on par with the negative ratings Trump saw before he lost his reelection campaign.
Democratic pollster Carly Cooperman told Newsweek that while Biden deserves some credit for giving the Democrats a boost in the midterm elections, "he still faces an uphill battle heading to 2024."
Only 7 percent of voters said they would feel enthusiastic if Biden was reelected, while 29 percent said they would be satisfied but not excited. On the other hand, 32 percent said they would be dissatisfied and another 30 percent said they would be outright angry if Biden won a second term.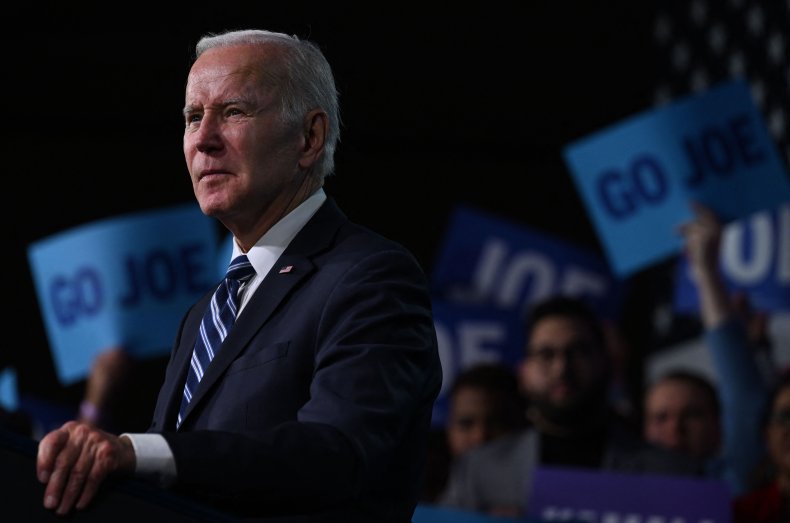 Cooperman said Biden has also struggled to pull up his approval ratings, not just generally, but also on his handling of particular key issues, such as the economy, inflation, immigration and crime.
In general, 42 percent of voters said they approve of Biden's job as president, compared to 53 percent who said they disapproved. However, when it comes to the economy, his approval drops to 37 percent.
Political strategist Jay Townsend told Newsweek that even though unemployment has fallen to a nearly 54-year low and GDP shows signs of strong job growth, the nation has become so polarized that "even good economic news is unacceptable to many."
"Ultimately, the winner of the 2024 election will be the candidate who can offer a unifying vision for what the country will be in the 21st century," Townsend said.
The poll also found that the vast majority of Americans do not think Biden has succeeded in delivering on his promises, like making electric vehicles more affordable, lowering prescription drug costs, creating more jobs, and improving roads and bridges.
But despite the warning signs for a Biden 2024 run, Cooperman pointed out that the president's GOP rival is facing almost identical challenges.
While the poll found that 17 percent of voters would be enthusiastic if Trump won in 2024, more Americans said they would be angry if he was elected when compared to those who would feel upset over Biden's reelection.
"Trump's ratings are similarly negative and the Republican Party's disappointing performance in the midterms underscores the risks to their viability if they continue to prioritize investigations and retaliation over addressing the country's major issues," Cooperman said.