Joe Biden Outlines How He Will Battle States Over Abortion in Post-Roe U.S.
President Joe Biden has outlined how his administration will potentially battle state governments that introduce restrictions on abortion that could violate federal law in the wake of the Roe v. Wade being overturned.
Biden made the remarks early on Saturday as he signed a new bipartisan gun control bill into law and he also took aim the Supreme Court for making "terrible decisions."
The president echoed comments he had made in an address to the nation on Friday following the publication of the Court's ruling in Dobbs v. Jackson Women's Health Organization and expressed a commitment to guaranteeing women's right to cross state lines in order to access abortion services.
Most abortions are now illegal or soon to become illegal in 16 states after the Court's conservative majority voted to overturn the landmark abortion rulings Roe v. Wade and Planned Parenthood v. Casey.
"Yesterday, I spoke about the Supreme Court's shocking decision striking down Roe v Wade," Biden said. "We've had a lot of discussion about that in our whole household, we think -"
"Anyway, Jill and I know how painful and devastating that decision is for so many Americans, and I mean so many Americans," the president went on.
"A decision is implemented by states. My administration is going to focus on how they administer and whether or not they violate other laws, like deciding not to allow people across state lines to get public health services," he said.
"And we're gonna take actions to protect women's rights and reproductive health," Biden added.
A reporter asked Biden if he thought the Supreme Court was broken,
"I think the Supreme Court has made some terrible decisions," the president replied.
In their majority opinion, authored by Associate Justice Samuel Alito, the conservative justices wrote: "The Constitution does not confer a right to abortion; Roe and Casey are overruled; and the authority to regulate abortion is returned to the people and their elected representatives."
During his address on Friday, Biden directly addressed the question of women traveling across state lines in order to access abortions.
"So if a woman lives in a state that restricts abortion, the Supreme Court's decision does not prevent her from traveling from her home state to the state that allows it. It does not prevent a doctor in that state — in that state from treating her, " he said.
"As the Attorney General has made clear, women must remain free to travel safely to another state to seek the care they need. And my administration will defend that bedrock right," the president went on.
"If any state or local official, high or low, tries to interfere with a woman's exercising her basic right to travel, I will do everything in my power to fight that deeply un-American attack," Biden said.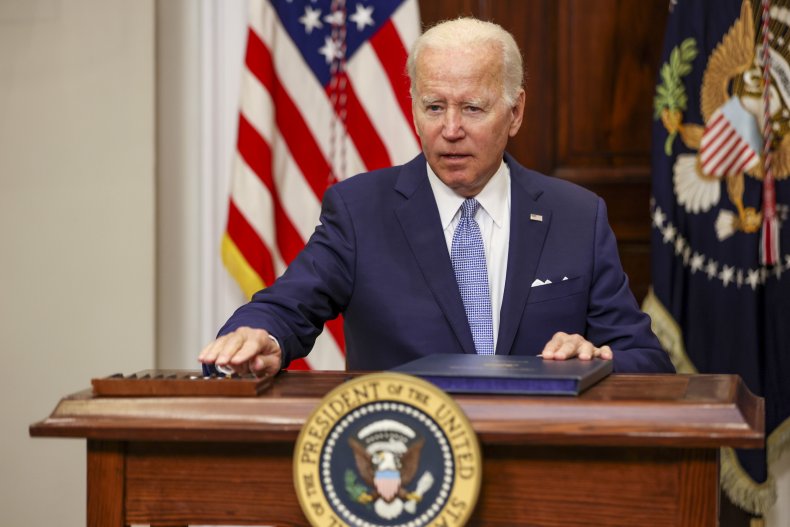 White House Could Battle States Over Abortion For Years
Biden may be setting his administration up for months or even years of legal battles with state governments but any conflict between the federal government and the states is in its earliest stages.
It is not yet clear if any states will introduce laws that seek to prevent women from accessing abortion services in other states but several have trigger laws that will now come into effect and in many cases ban most abortions.
There are also renewed concerns that data subpoenaed from period tracking apps could potentially be used to bring prosecutions against women who have had abortions and may have crossed state lines to do so.
Louisiana is currently considering a law that critics say could see women who've had abortions charged with homicide but the exact nature of state abortion bans may take months to become clear.
Biden signed the Bipartisan Safer Communities Act into law on Saturday morning. The legislation includes a number of new measures aimed at reducing gun violence and passed both the Senate and the House of Representatives rapidly this week.