Joe Biden Says Republicans Will Have 'More Room to Cooperate' When Trump Leaves
President-elect Joe Biden claimed that Republican lawmakers would have "much more room to run and cooperate" with his administration and Democratic lawmakers once President Donald Trump left the White House.
Appearing on The Late Show with Stephen Colbert on Thursday night, the former vice president said he believed he would be able to work with Republican leadership in the House and the Senate in the wake of his inauguration on January 20, arguing that a bipartisan group could "get things done" on the Hill.
He also said that he felt President Trump's impact "down the body politic" would fade once he vacated the Oval Office and lost the platform of the presidency.
"I think I can work with Republican leadership in the House and the Senate," Biden told Colbert. "I think we can get things done."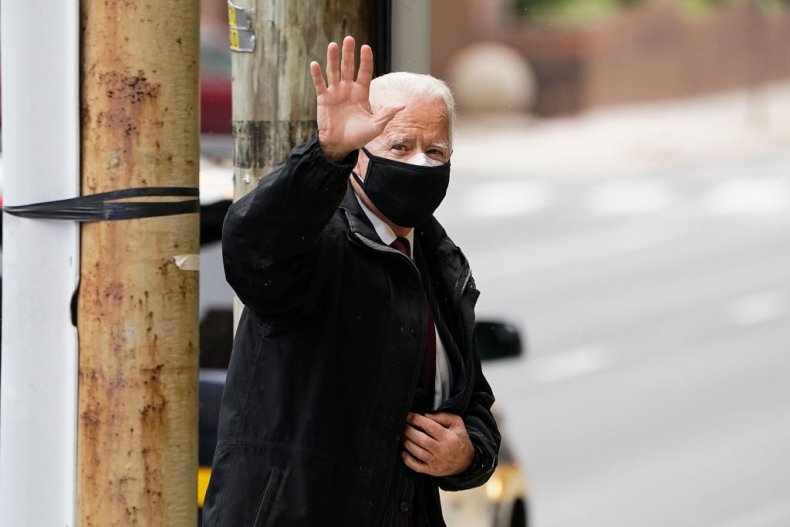 The president-elect then added: "And I think when this president is no longer in office, I think you're going to see his impact down the body politic fade. A lot of these Republicans are going to feel they have much more room to run and cooperate."
Biden extended an olive branch to GOP lawmakers on CBS last night after several senior members of the party recognized his election victory, bucking President Trump's refusal to concede.
Senate Majority Leader Mitch McConnell (R-KY) congratulated the president-elect on his victory as he spoke on the Senate floor earlier this week, and spoke with Biden later the same day. Senate Majority Whip John Thune (R-S.D.) also said people would have to "move one" once the Electoral College votes were tallied. "At some point you have to face the music," he told reporters.
A number of other Republicans on Capitol Hill have joined the party leadership in respecting the result of the election, even if they have done so begrudgingly. However, a few GOP lawmakers have yet to say whether or not they will challenge the certification of Biden's victory in Congress.
Elsewhere in his interview with Colbert last night, Biden was joined by his wife, Dr. Jill Biden, so the pair could discuss a Wall Street Journal op-ed that urged her to "drop the doc" from her name, sparking a backlash from Democrats on social media.
The op-ed published last week referred to Dr. Biden as "kiddo" and said her title sounded a "touch comic" as the first lady-elect had a doctorate in education, rather than anything related to health care.
"Your degree is, I believe, an Ed.D., a doctor of education, earned at the University of Delaware through a dissertation with the unpromising title 'Student Retention at the Community College Level: Meeting Students' Needs,'" the op-ed writer Joseph Epstein said. "A wise man once said that no one should call himself 'Dr.' unless he has delivered a child."
Reacting to the remarks, the first lady-elect said: "It was really the tone of it, you know he calls me kiddo. One of the things I'm most proud of is my doctorate, and I worked so hard for it."