Joe Biden Says Derek Chauvin Verdict Can Prompt 'Moment of Significant Change' for U.S.
President Joe Biden compared last summer's protests over the death of George Floyd to the Civil Rights movement and pressed for Congress to make sweeping law enforcement reforms after former Minneapolis police officer Derek Chauvin was found guilty Tuesday on three counts related to Floyd's death.
"It was a murder in the full light of day and it ripped the blinders off for the whole world to see the systemic racism [here]," Biden said in a public address after the guilty verdicts on two counts of murder and one manslaughter were announced. "This is a time for this country to come together, tonight, as Americans—we can never be a safe harbor for hate in America."
Congress has been mulling a federal law enforcement overhaul named for Floyd, who died in police custody on May 25, 2020, but the narrow Democratic majority in the U.S. Senate has created a precarious path for its passage. The George Floyd Justice in Policing Act seeks to give more oversight to the U.S. Department of Justice and states' attorneys general, require body-worn and car-dash cameras and prevent chokeholds and no-knock warrants, among other policy changes.
"This can be a moment of significant change," Biden said, wrapping up the rare nearly 10-minute presidential address responding to an individual criminal conviction.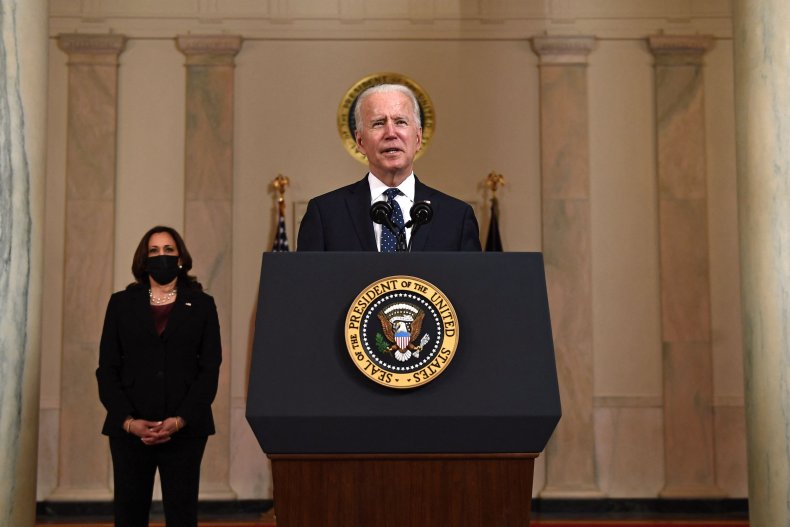 Bystanders' videos of Chauvin with his knee pressed into Floyd's neck for more than nine minutes before Floyd ultimately died on the street spread across social media and sparked protests in cities across the country through the summer. It also was shown in explicit detail repeatedly throughout the two-week trial.
Chauvin was found guilty on all three counts he faced—second-degree murder, third-degree murder and second-degree manslaughter. Video that showed Chauvin kneeling on Floyd's neck for more than nine minutes went viral last summer, prompting protests throughout the country and calls for police reform.
Biden and Vice President Kamala Harris watched the verdict with staff in the White House's private dining room, then Biden called Minnesota Governor Tim Walz.
Biden, Harris and first lady Jill Biden all called George Floyd's brother, Philonise, from the Oval Office in a call that was put on speaker phone as George Floyd's supporters gathered in a hallway in the courtroom.
According to video of the call that attorney Benjamin Crump posted online and confirmed by the White House, Biden said he wished he could be there in person to put his arms around the family members gathered.
"I'm anxious to see you guys," Biden said on the call, vowing to pass police reform measures named in Floyd's honor. "We're gonna get a lot more done."
Biden spoke to Floyd's family Monday evening, after jurors had been sequestered for deliberations—a timing the White House said was meant to avoid any influence on the outcome.
"I'm praying the verdict is the right verdict—the evidence is overwhelming in my view," Biden told reporters Tuesday, without elaborating on what he believed the "right" verdict would be but heavily implying he believed that Chauvin should be found guilty.
Biden faced some criticism over whether his remarks, which were made before news of a verdict, would further incite unrest if the jury didn't find Chauvin guilty. White House press secretary Jen Psaki defended the president's decision to speak out during a briefing with reporters Tuesday.
"Regardless of the outcome, the president has consistently called for peace, and our focus, as we're working with state and local authorities, is on providing the space for peaceful protests," she said. "That will be consistent regardless of what the outcome of the verdict is."