Joe Biden and Kamala Harris Speak Out on Capitol Police Officer Killed in Attack
President Joe Biden and Vice President Kamala Harris both expressed their sympathy to the family and friends of the police officer killed during the attack at the U.S. Capitol on Friday.
Capitol Police Officer William "Billy" Evans was killed after 25-year-old Noah Green of Indiana rammed a car into a security checkpoint at the Capitol and emerged with a knife, charging at him and another officer who was injured in the attack. Green was shot and killed.
"Jill and I were heartbroken to learn of the violent attack at a security checkpoint on the U.S. Capitol grounds, which killed Officer William Evans of the U.S," Biden said in a statement obtained by Newsweek. "Capitol Police, and left a fellow officer fighting for his life. We send our heartfelt condolences to Officer Evans' family, and everyone grieving his loss. We know what a difficult time this has been for the Capitol, everyone who works there, and those who protect it."
"I have been receiving ongoing briefings from my Homeland Security Advisor, and will be getting further updates as the investigation proceeds," he added. "I want to express the nation's gratitude to the Capitol Police, the National Guard Immediate Response Force, and others who quickly responded to this attack. As we mourn the loss of yet another courageous Capitol Police officer, I have ordered that the White House flags be lowered to half-mast."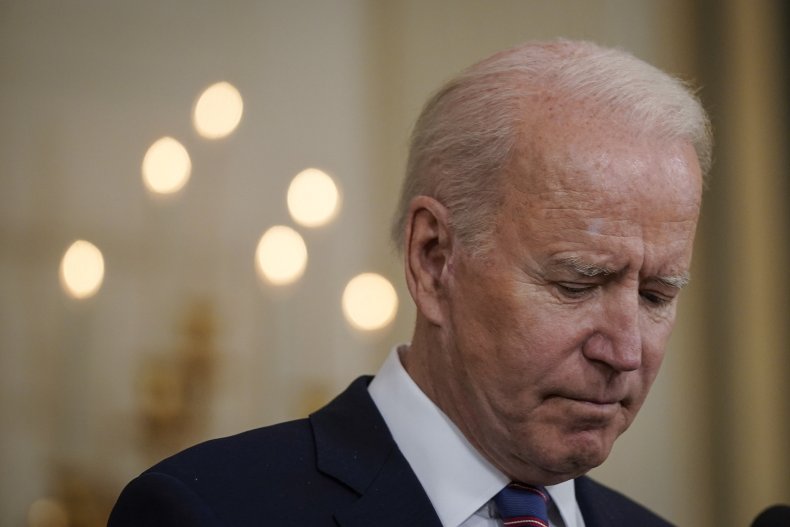 Biden issued a proclamation on honoring Capitol Police officers immediately after the statement. The proclamation orders that, "as a sign of respect for the service and sacrifice of the victims" of Friday's attack, flags be flown at half-staff at federal and military buildings in the U.S. and its territories until sunset on April 6. The proclamation also applies to all U.S. embassies and other American overseas facilities.
Biden was not in Washington, D.C. at the time of the attack, having departed for an Easter weekend trip to Camp David shortly before it took place.
Harris was also far away from the Capitol during the attack, having traveled to California on Thursday. She issued a statement describing the attack as "inexplicable" while offering gratitude to the Capitol Police.
"Today, in an inexplicable act of violence, a brave U.S. Capitol Police Officer was killed in the line of duty, while another officer fights for his life," Harris said. "Officer William Evans made the ultimate sacrifice protecting the Capitol and those who work there on behalf of the American people. Officer Evans, his family, and all those who knew him are in our hearts and prayers. We mourn with them during this difficult time."
"Doug and I are grateful for the Capitol Police, the National Guard Immediate Response Force, and everyone else who responded swiftly to today's attack," she added. "And we continue to be proud of the courageous men and women who defend the Capitol, especially during a challenging period when they have faced two violent and deadly attacks."
Robert Contee, acting chief of Washington, D.C.'s Metropolitan Police Department said that the attack did not initially "appear to be terrorism-related." However, motive for the attack is unclear and an investigation is ongoing. The security checkpoint is located about 300 feet away from an entrance to the building that is often used by U.S. senators and staff. The Senate was not in session at the time.
Friday's attack came almost three months after the Capitol building was violently breached by a mob of angry supporters of former President Donald Trump while Biden's victory in the 2020 presidential election was being certified by Congress. The Capitol riot left five people dead, including Capitol Police Officer Brian Sicknick.
Update 4/2, 6:51 p.m.: This article has been updated to include a statement from Vice President Kamala Harris. The headline has been updated to reflect statements from both Harris and President Joe Biden.