'F*** Joe Biden' Shouted by Heckler During President's Anti-MAGA Speech
A protester repeatedly heckled Joe Biden's Pennsylvania speech with an expletive chant attacking the president.
During Biden's primetime address at the Independence National Historical Park in Philadelphia, during which the president hit out at Donald Trump and the "extreme" MAGA movement as threats to democracy, a person could be heard shouting "f*** Joe Biden" from the crowd.
Towards the end of his speech, Biden addressed the disruption as the "f*** Joe Biden" chant was heard again.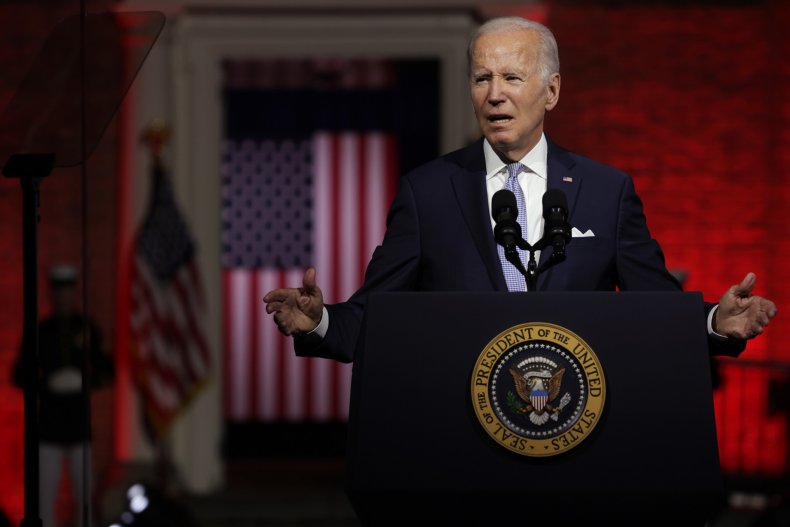 "Democracy begins and will be preserved in we, the people's, habits of heart, in our character: optimism that is tested, yet endures, courage that digs deep when we need it, empathy that fuels democracy, the willingness to see each other not as enemies but as fellow Americans," Biden said over the top of the chant.
"Look, our democracy is imperfect. It always has been," Biden said. "Notwithstanding those folks you hear on the other side there. They're entitled to be outrageous, this is a democracy. Good manners is nothing they've ever suffered from."
The "f*** Joe Biden" chant has been frequently used by Trump supporters to criticize the president after it was heard at major sporting events across the country late in 2021.
The phrase was later replaced by the "let's go Brandon" chant, which stemmed from a NASCAR event.
The chant originated from NBC Sports reporter Kelli Stavast claiming in October 2021 on air that a section of the crowd at the Talladega Superspeedway in Alabama was chanting "let's go Brandon" in support of NASCAR driver Brandon Brown, instead of "f*** Joe Biden."
Since then, conservative figures and Trump supporters have used "let's go Brandon" as a way to openly criticize the president without the expletive language.
Elsewhere during his speech, Biden described how Trump and the MAGA Republicans "represent an extremism that threatens the very foundations of our republic."
In an address full of fierce rhetoric against his predecessor and the right-wing movement he pioneered, Biden suggested Trump and other MAGA Republicans are a "threat to American democracy" who want to "take this country backwards—backwards to an America where there is no right to choose, no right to privacy, no right to contraception, no right to marry who you love."
Biden said: "MAGA Republicans do not respect the Constitution. They do not believe in the rule of law. They do not recognize the will of the people.
"They promote authoritarian leaders, and they fan the flames of political violence that are a threat to our personal rights, to the pursuit of justice, to the rule of law, to the very soul of this country."
In response, Trump said on his Truth Social platform the 79-year-old president is "insane" and suggested he is suffering from "late stage dementia."
The White House has been contacted for comment.