Joe Biden outlined his plan for returning to "normal" by July 4 in a televised address on Thursday evening on the one-year anniversary of the country's initial COVID-19 shutdown.
The president's remarks around July 4 gatherings was met with backlash on social media, with one user saying "do whatever the hell you want" to celebrate Independence Day.
Biden urged everyone to get vaccinated, noting further guidance will be issued on "what you can and cannot do once fully vaccinated" in the coming weeks.
"If we do all this, if we do our part, if we do this together, by July the 4th, there's a good chance you, your families, and friends will be able to get together in your backyard or in your neighborhood and have a cookout and a barbeque and celebrate Independence Day.
"That doesn't mean large events with lots of people together, but it does mean small groups will be able to get together.
Warning "we can't let our guard down," the president said, "A July 4th with your loved ones is the goal. But a goal—a lot can happen; conditions can change. The scientists have made clear that things may get worse again as new variants of the virus spread."
Jordan Rachel, a commentator and contributor for Turning Point USA, a conservative student movement, tweeted: "Raise your hand if you're going to get together with WHOEVER you want to on the 4th of July and do WHATEVER the hell you want because you're an American."
Sharing a video of Biden's address, user @Truth_Gazette, the creator of The Truth Gazette, which is described as "a conservative news service to fight the Fake News," tweeted: "No Joe - I'm gonna spend 4th of July with my friends and family out on the beach like I did last year, watching fireworks, eating BBQ, and celebrating my FREEDOM! And guess what... the government can't stop me! Feel free to join us - I'll save you a seat!"
The video had more than 43,000 views, while the user's post had more than 3,000 likes since it was first shared, at the time of reporting.
User @unscriptedmike, whose Twitter profile description is says "MAGA," tweeted: "Did you see Biden read from the teleprompter? He said he might let us get together in small gatherings on the 4th of July. F*** him." The post has had more than 1,000 likes since it was first shared.
Anthony Brian Logan, a conservative commentator and radio host, tweeted: If Black Lives Matter can riot for a whole year then I can do whatever I gosh darn please on the 4th of July." His tweet received more than 600 likes since it was posted, at the time of reporting.
User @cohkohhh tweeted: "Yeah, I'm going to celebrate the 4th of July, with no mask, no vaccines and lots of people on my property because I can." The post has received at least 335 likes since it was first posted on Thursday.
Fox News Channel's Laura Ingraham tweeted: "This was supposed to be an uplifting speech—but it felt and sounded more like a funeral for America."
Fox News contributor Liz Peek tweeted: "I don't need @JoeBiden to tell me what I 'can or cannot do' once fully vaccinated."
Republican Ohio Rep. Jim Jordan tweeted: "Here's an idea, Mr. President: Freedom."
Biden's latest speech marked his first public address since he took office. The president aims to make every adult in the nation eligible for COVID-19 vaccination no later than May 1, with vaccination sites to be increased nationwide.
The White House said in a statement Thursday ahead of Biden's speech: "As we approach July 4th, based on the best available science and the pace of vaccinations, the CDC [U.S. Centers for Disease Control and Prevention] will provide public health guidance for people as they travel, participate in small gatherings, and go to work and houses of worship."
A total of 33,863,127 people, 10.2 percent of the country's population, have been fully vaccinated, as of Thursday, according to the latest report from the CDC.
Total confirmed cases in the U.S. have surpassed 29.2 million, with 530,821 total reported deaths, as of Friday, according to Johns Hopkins University.
The country's seven-day average of cases declined from mid-January, while the seven-day average of deaths dropped from late January, according to data compiled by Worldometer.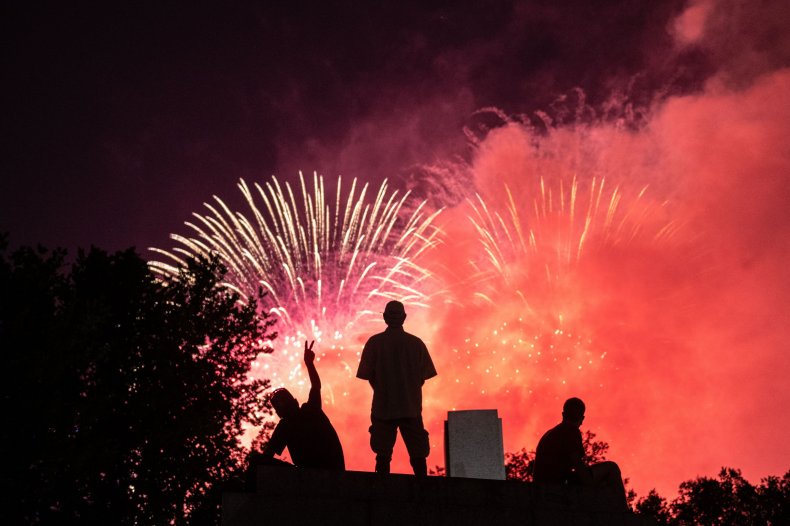 The wider picture
Coronavirus has infected more than 118.6 million people since it was first reported in Wuhan, China.
More than 2.6 million people have died worldwide and more than 67.1 million have recovered as of Friday, according to JHU.
The graphic below, produced by Statista, illustrates the composition of Biden's $1.9 trillion COVID-19 relief package.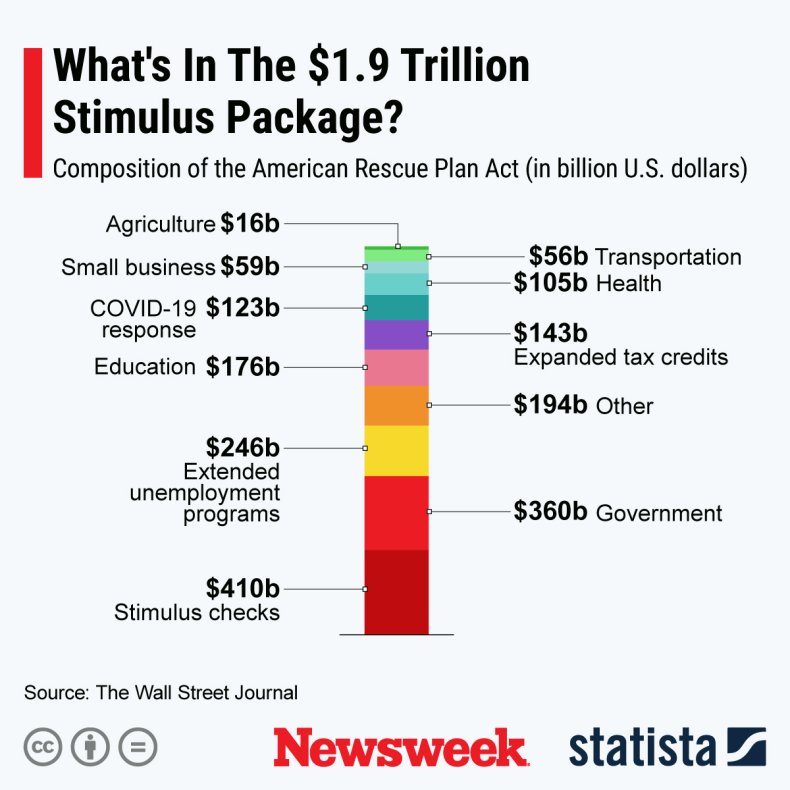 The graphic below, produced by Statista, illustrates the spread of COVID-19 cases in the U.S.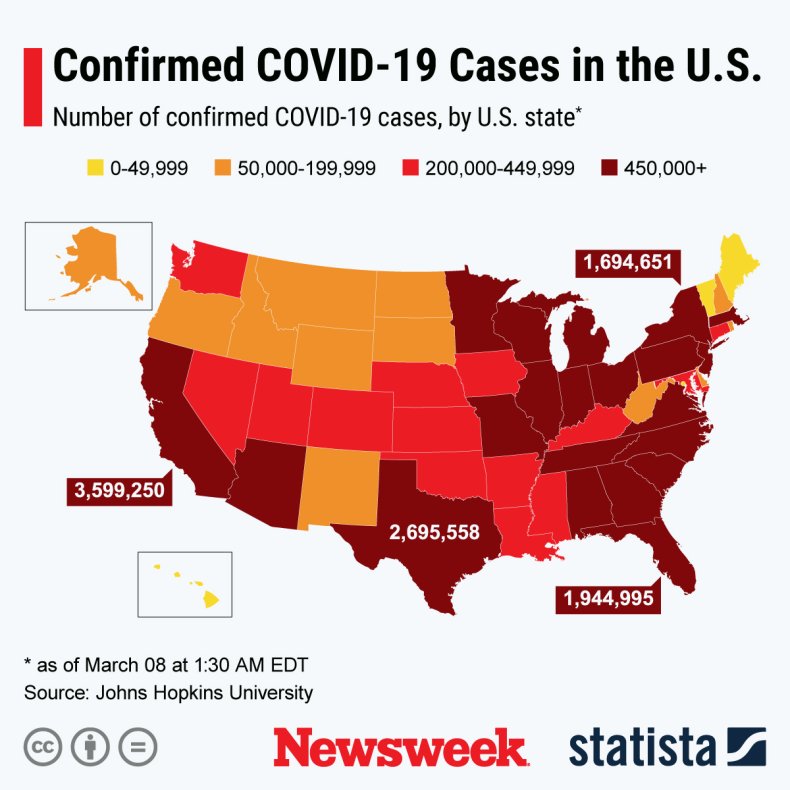 Newsweek, in partnership with NewsGuard, is dedicated to providing accurate and verifiable vaccine and health information. With NewsGuard's HealthGuard browser extension, users can verify if a website is a trustworthy source of health information. Visit the Newsweek VaxFacts website to learn more and to download the HealthGuard browser extension.
Uncommon Knowledge
Newsweek is committed to challenging conventional wisdom and finding connections in the search for common ground.
Newsweek is committed to challenging conventional wisdom and finding connections in the search for common ground.
About the writer
Soo Kim is a Newsweek SEO Reporter is based in London, UK. She reports on various trends and lifestyle stories, from health, fitness and travel to psychology, relationships and family issues. She is also a South Korea expert who regularly covers Korean culture/entertainment for Newsweek, including the latest K-dramas, films and K-pop news, and is the author of the book How to Live Korean, which is available in eight languages. Soo also covered the COVID-19 pandemic extensively from 2020 through 2021 after joining the general news desk of Newsweek in 2019 from the Daily Telegraph (a U.K. national newspaper) where she was a travel reporter/editor from 2010. She is a graduate of Binghamton University in New York and the journalism school of City University in London, where she earned a Masters in international journalism. Languages spoken: English and Korean.
Follow her on Twitter at @MissSooKim or Instagram at @miss.soo.kim
You can get in touch with Soo by emailing s.kim@newsweek.com