Joe Biden Slams MAGA, Appeals to Conservatives
Joe Biden repeatedly attacked the "extreme" MAGA (Make America Great Again) side of the GOP while saying he has "respect" for conservative Republicans during the president's first campaign speech ahead of the upcoming midterms.
Speaking to the crowd in Rockville, Maryland, Biden frequently mentioned his predecessor Donald Trump and his MAGA loyalists while suggesting that voters must decide in November whether they want a country that "moves forward or backward."
Biden added that he believes the U.S. is at an "inflection point," which occurs every few generations, and voters must now decide which direction they want to go in.
"Will we build a future or obsess over the past? Will we be a nation of unity, of hope, of optimism? Not a nation of anger, violence, hatred and division," Biden said.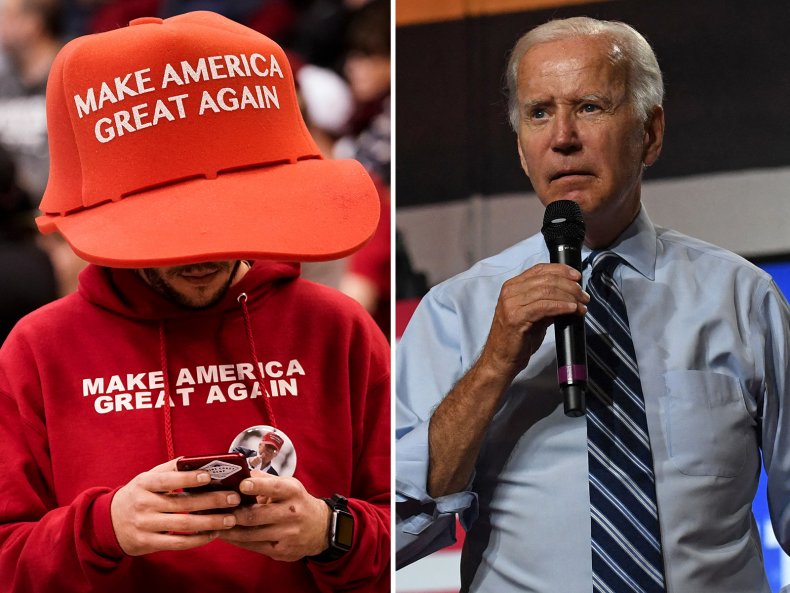 "Trump with the extreme MAGA Republicans have made their choice to go backwards, full of anger, violence, hate and division. But we've chosen a different path."
Biden has hit the campaign trail with the Democrats hoping to retain both Congress and the Senate in the midterms.
The president's speech comes as his poor approval ratings have started to improve following a number of political wins, including the Inflation Reduction Act, gas prices falling from their record high and, more recently, the promise to forgive at least $10,000 in student debt for millions of people.
The Democrats have also spent millions of dollars promoting controversial MAGA midterm candidates, including the far-right Pennsylvania governor hopeful Doug Mastriano, as part of a risky strategy aimed at getting the GOP to present voters with what the Democrats consider to be weaker options in November.
During his speech, Biden appealed to more moderate conservatives while praising Maryland Governor Larry Hogan as a "Republican you can deal with."
"We disagree, but at least he's within the mainstream of the Republican Party," Biden said. "I respect conservative Republicans. I don't respect the MAGA Republicans."
Elsewhere, Biden did note how "every single Republican" voted against the Inflation Reduction Act, a landmark climate change and health care bill, as well as lowering prescription drug prices.
The president told voters to look at how "extreme" MAGA Republicans are because of their reaction to the Supreme Court voting to overturn Roe v. Wade.
"In red states after red state, it was a race to pass the most restrictive abortion limitations imaginable, even without exception for rape or incest," Biden said.
"These MAGA Republicans won't stop there.
"If the MAGA Republicans win control of Congress, it won't matter where you live. Women won't have the right to choose anywhere."
Biden promised that he would "veto" any attempt by the GOP to pass legislation introducing a nationwide ban on abortions if they retake Congress in November.
"The MAGA Republicans have awakened a powerful force in America, the women of this nation," Biden added.
The RNC has been contacted for comment.