Avoiding Student Loan Forgiveness Scams as Biden Mulls Decision
As students await a decision from U.S. President Joe Biden on a possible extension of the pause on student loan payments, industry observers have warned of possible scams associated with these payments.
Last week, 100 House and Senate members signed a letter calling on Biden to extend the current pause on student loan payments past August 31. Former President Donald Trump first paused these payments during the beginning of the ongoing COVID-19 pandemic and Biden followed suit, extending it until the end of this month.
White House press secretary Karine Jean-Pierre recently told reporters that Biden will soon "make a decision" on possibly extending the pause once again. "I'll let him speak," Jean-Pierre said.
However, as Biden is currently mulling the decision, some have reported receiving scam calls associated with student loan forgiveness programs.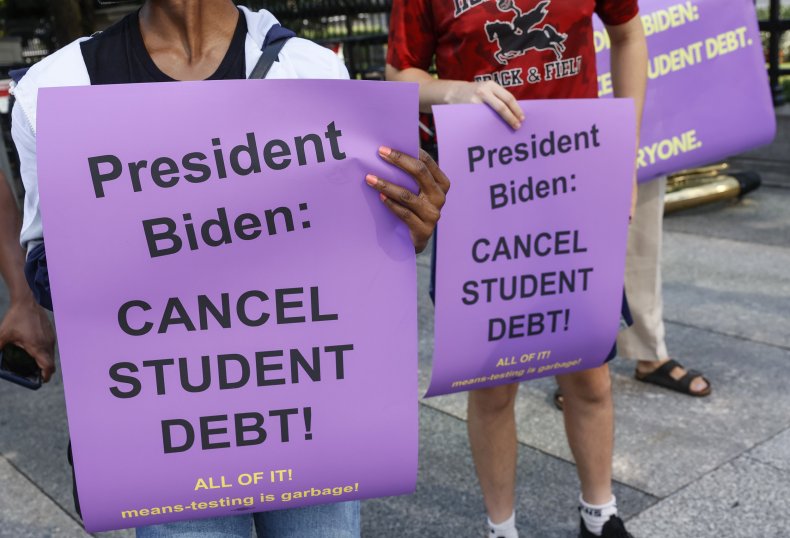 WATE-TV reporter Don Dare recently received one of these scam calls and reported it to the Better Business Bureau (BBB) in Tennessee. 

"The reason we are calling is because your student loan is eligible for a forgiveness program. We need your authorization to complete the process. Please call our office located in Tennessee at 423... BEEP," a recording of the call said.
Shortly after reporting the call, Dare spoke with Tony Binkley of the Better Business Bureau of Greater East Tennessee, who called the number.
"One of the questions I did ask during our conversation is are you located in Tennessee? They said, no, we're in Irvine, California. They are a real business with a real address. However, their website is very suspect. It's very, very simple. It's hard to get somebody on the phone. There were just a lot of red flags…up for me," Binkley said, according to WATE.
"When somebody is contacting you out of the blue, this is dialing for dollars. They're just dialing up anybody they can," Binkley was quoted by the local news station. "Hopefully, they'll get a hit, somebody who actually does have a student loan—someone younger than you or me—hoping they can prey on the knowledge that they don't have."
In April and May, the BBB, the Consumer Financial Protection Bureau (CFPB) and the Federal Trade Commission (FTC) all warned of possible student loan forgiveness scams.
"Scammers might promise a loan forgiveness program—that most people won't qualify for. Or they might say they'll wipe out your loans by disputing them. But they can't get you into a forgiveness program you don't qualify for or wipe out your loans," the FTC said in a press release on May 27. The FTC encouraged students to avoid these scams by not sharing your Federal Student Aid (FSA) ID.
In a similar press release, the CFPB said, "Numerous student loan borrowers recently submitted complaints to the Consumer Financial Protection Bureau about companies that promised them student loan forgiveness or loan forbearance in exchange for fees amounting to hundreds or thousands of dollars."
The press release continued, "Borrowers believed they were talking to their servicer or a company authorized by the Department of Education because they often knew private information such as the borrower's loan balance or recent consolidation activity. This is fraud."
The CFPB also told students to avoid these scams by watching out for unnecessary fees for loan forgiveness payments and by not giving out any personal information over the phone.
In a statement sent to Newsweek, a spokesperson for the International Association of Better Business Bureaus said the majority of student loan forgiveness scams were "classified under 'Credit Repair/Debit Relief' on Scam Tracker."
"Within the 'Credit Repair/Debit Relief' broad category (which includes other types of scams), exposure (% of total) increased ~17% from 2021/2022 and Median $ Loss also increased a bit (3%)," the spokesperson wrote.
The Department of Education also responded to Newsweek's request for comment and provided a statement from Federal Student Aid Chief Operating Officer Richard Cordray.
"No one should ever pay for help with their federal student loans. It's shameful that some companies and individuals operate solely to scam hardworking students. Federal Student Aid continues to work with law enforcement partners—including the Consumer Financial Protection Bureau, Federal Trade Commission, and the U.S. Department of Education's Office of Inspector General—to investigate, shut down, and prosecute these fraudsters. If borrowers think they've been a victim of a scam, they should visit StudentAid.gov/scams to learn what to do to retake control of their student aid account," the statement said.
Newsweek reached out to the FTC for comment.
Update 8/2/2022, 12:45 p.m. ET: This story was updated to include comments from the International Association of Better Business Bureaus and the Department of Education.