Dems Unite As Sanders, Warren, Buttigieg Supporters Switch to Biden
As Joe Biden gathered momentum in the race to be Democratic presidential nominee, there were concerns he might struggle to unite the party ahead of November.
Those worries appear to have now subsided with most supporters of his former rivals having chosen to back him over Donald Trump at the election, according to a new poll.
Nearly all those who backed Massachusetts Senator Elizabeth Warren, one of his most left-wing rivals, said they would support Biden, with 96 percent intending to do so.
None of the Warren supporters polled said they would be behind Trump.
Warren officially endorsed Biden in April, with her backing seen as a boost in securing support from younger, progressive voters.
At the time, she said: "He knows that a government run with empathy, competence and heart will save lives and livelihoods. And we can't afford to let Donald Trump continue to endanger the lives and livelihoods of every American."
Pete Buttigieg's following also said they would support Biden, with 92 percent intending to do so and only 3 percent planning to back Trump.
Buttigieg's backers would appear more likely supporters than Warren's, with him having looked to appeal to the moderate wing of the party, similarly to Biden.
The former mayor of South Bend quit the race to be Democratic nominee and endorsed Biden ahead of Super Tuesday, stating the former vice president could "restore the soul" of the nation.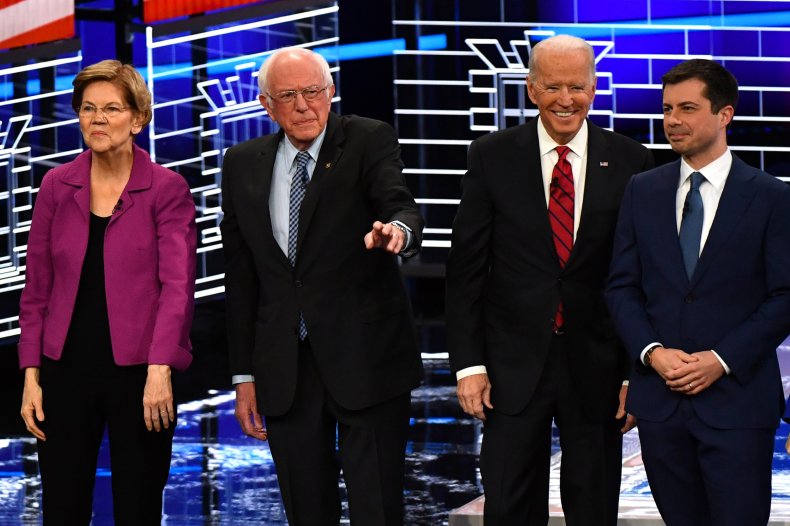 Biden's support dropped slightly among those who wanted Sanders in the primaries, with 87 percent stating they would be backing the former vice president.
The Vermont senator offered his official endorsement to Biden in April, over a live video stream amid the coronavirus pandemic in which he encouraged all his supporters to back Biden.
"I know we share the understanding that we've got to go forward," he said.
"Today I am asking all Americans, every Democrat, every Independent and a lot of Republicans to come together in this campaign to support your candidacy, which I endorse."
Around four fifths of supporters of Amy Klobuchar, 82 percent, and Mike Bloomberg, 81 percent, also said they will support Biden.
The New York Times/Siena College poll was conducted among 3,870 registered voters from June 8 to 18.
This survey comes after previous polling indicated most young voters had been unsure Biden could bring the party together.
More than half, 59 percent, of those aged between 18 and 29 were unsure he could do so, according to a Pew Research Center poll conducted among 4,917 Americans between April 7 and 12.
The unity indicated among Democrats comes as Biden holds a steady polling lead over Trump ahead of the election.
Newsweek has contacted the Biden campaign for comment.