Biden Holds Lead but Trump Gains Momentum With Texas, Florida, Ohio Wins
Democratic Presidential candidate Joe Biden has taken the lead again in the 2020 Presidential Election, ahead of President Donald Trump, as TV networks called eastern and midwestern states. Biden held a 235-214 lead over Trump at 12:10 a.m. ET on Wednesday morning. However, more key states could fall Trump's way as votes continue to roll in, like Texas did near midnight on the east coast.
Biden notched expected wins in New York, Illinois, California and other states along the east and west coasts. Trump won the coveted swing states of Florida and Ohio. Meanwhile, other key states like Georgia, Pennsylvania and North Carolina—as well as the midwestern states of Michigan and Wisconsin—swayed in the breeze.
Here are the updated electoral college results after Biden took the lead over Trump, based on reports from CNN, Fox News, ABC and the Associated Press:
Biden (236)
Arizona (11)
California (55)
Colorado (9)
Connecticut (7)
Delaware (3)
Hawai'i (4)
Illinois (20)
Maine (4)
Maryland (10)
Massachusetts (11)
Minnesota (10)
Nebraska (2nd Congressional District) (1)
New Hampshire (4)
New Jersey (14)
New Mexico (5)
New York (29)
Oregon (7)
Rhode Island (4)
Vermont (3)
Virginia (13)
Washington (12)
Trump (213)
Alabama (9)
Arkansas (6)
Florida (29)
Idaho (4)
Indiana (11)
Iowa (6)
Kansas (6)
Kentucky (8)
Louisiana (8)
Mississippi (6)
Missouri (10)
Montana (3)
Nebraska (4)
North Dakota (3)
Ohio (18)
Oklahoma (7)
South Carolina (9)
South Dakota (3)
Tennessee (11)
Texas (38)
Utah (6)
West Virginia (5)
Wyoming (3)
The Northeast is historically a Democratic stronghold. In 2016, New York, Connecticut, Rhode Island, Maine, Vermont, New Hampshire and Massachusetts cast their votes for Hillary Clinton. In both 2012 and 2008, these northeastern states also voted for former President Barack Obama.
However, In the midst of tonight's election, many states have yet to cast their electoral votes.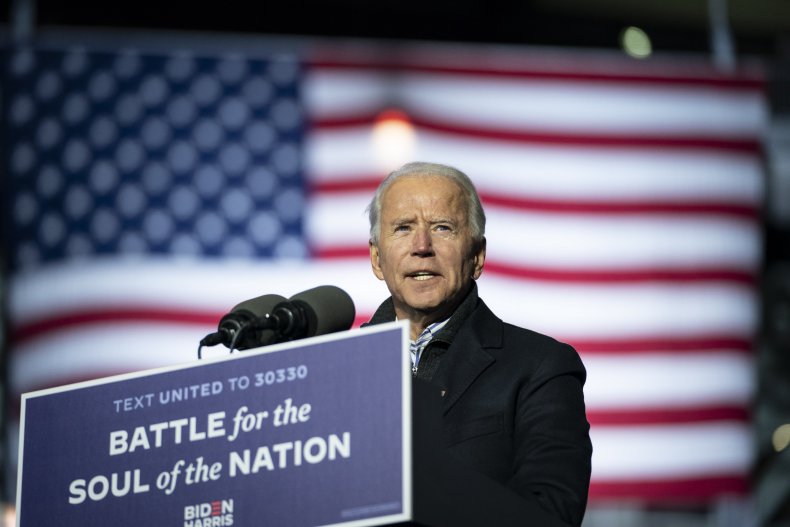 According to data compiled by FiveThirtyEight, Biden is predicted to also win in California, Colorado, Delaware, Hawaii, Illinois, Maryland, Minnesota, New Jersey, Nevada, New Mexico, Oregon, Virginia, Washington and Washington D.C.
Although Biden is the current front runner, Trump is predicted to win in many historically Republican-leaning states, according to data compiled by FiveThirtyEight.
FiveThirtyEight pollsters forecast a Trump win in Alabama, Alaska, Arkansas, Idaho, Indiana, Kansas, Kentucky, Louisiana, Mississippi, Missouri, Montana, Nebraska, North Dakota, Oklahoma, South Carolina, South Dakota, Tennessee, Utah, West Virginia and Wyoming.
Trump is also predicted to win Texas, Iowa and Ohio, but by slim margins, according to FiveThirtyEight.
There are six swing states to watch in the 2020 presidential election: Arizona, Florida, Michigan, North Carolina, Pennsylvania and Wisconsin. Each of these states voted for Trump in 2016. However, data from recent polls forecasted Biden could be on track to win these key states in 2020.
According to the most recent poll by The New York Times and Sienna College, Biden is leading Trump in Arizona, Pennsylvania, Wisconsin and Florida. The poll noted an 11-point lead for the former vice president in Wisconsin, followed by a six-point lead in both Pennsylvania and Arizona, and a three-point lead in Florida.
A survey conducted by CBS/ Change Research found that Biden is ahead in both Michigan and North Carolina as well.
The poll, which collected responses from 3,300 voters in Arizona, Michigan, North Carolina, Pennsylvania and Wisconsin, reported that Biden leads Trump in each state by a margin of 2 to 8 percentage points.
Final polling data from FiveThirtyEight also showed Biden as the national frontrunner, with projections that Pennsylvania will be the most likely tipping point state. In FiveThirtyEight's final forecast for the state, the polling tracker found that Biden leads Trump by about 5 percentage points.