Video of Joe Biden's Live Feed Cut Off After Asking for Questions Viewed One Million Times
The sudden cutting off of a virtual discussion live feed held by President Joe Biden and House Democrats after he opened the floor to questions has been widely viewed on social media.
During the session from the White House briefing room on Wednesday, Biden had urged fellow Democrats to make the case for the COVID relief package to their constituents.
At the end of the speech, Biden said: "I'm happy to take questions, if that's what I'm supposed to do Nance," referring to the House Speaker Nancy Pelosi, who had introduced him at the start of his address.
"Whatever you want me to do," he added, looking ready to field questions. But then the feed abruptly ended and a graphic of the White House appeared on screen. As of Thursday morning, the clip had been viewed more than 1.1. million times.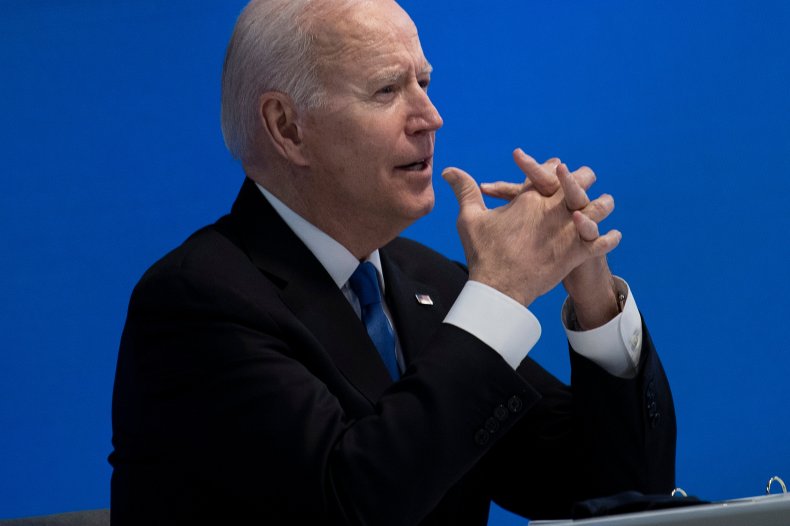 Biden has been criticized for not holding a formal press conference since he took office on January 20, more than six weeks ago.
This week, the former White House Press Secretary Kayleigh McEnany questioned why Biden had not yet conducted a solo press conference when his predecessors, Presidents Barack Obama and Donald Trump, had held them 20 days and 27 days into their terms respectively.
Obama's first press conference was on February 9, 2009, while Trump's was on February 16, 2017.
"Where's Joe? It's been 41 days, at this point President Trump had had multiple press appearances, press conferences. President Barack Obama had as well," McEnany told Fox News on Tuesday.
"Joe Biden needs to step up, we need to hear from him. He needs to engage in the transparency that he promised us, he hasn't thus far," she added.
In a note shared with colleagues, CNN White House reporter Kevin Liptak, citing the American Presidency Project database, said Biden "is behind his 15 most recent predecessors, who all held a solo press conference within 33 days of taking office."
"While he has taken questions from reporters on a few occasions, including during sprays and a more formal Q&A session following an event in January, he has not held a formal press conference," Liptak said.
Last week, White House Press Secretary Jen Psaki told a press briefing that the president "will hold a solo press conference, but I don't have a date for you at this point in time." Newsweek has contacted the White House for comment.
Before the feed cut off, Biden had appealed to the Democrats to stay "unified" to ensure the passage of the America Rescue Plan.
He said that the $1.9 trillion relief package currently being haggled over in the Senate, "won't just make a difference in our fight against COVID-19 and our efforts to rebuild the economy—it will also show the American people we're capable of coming together for what matters most to them."
"I believe we're going to come through this, and I think that people's memories will be long," he added.