Trump Combats the Press in Fiery News Conference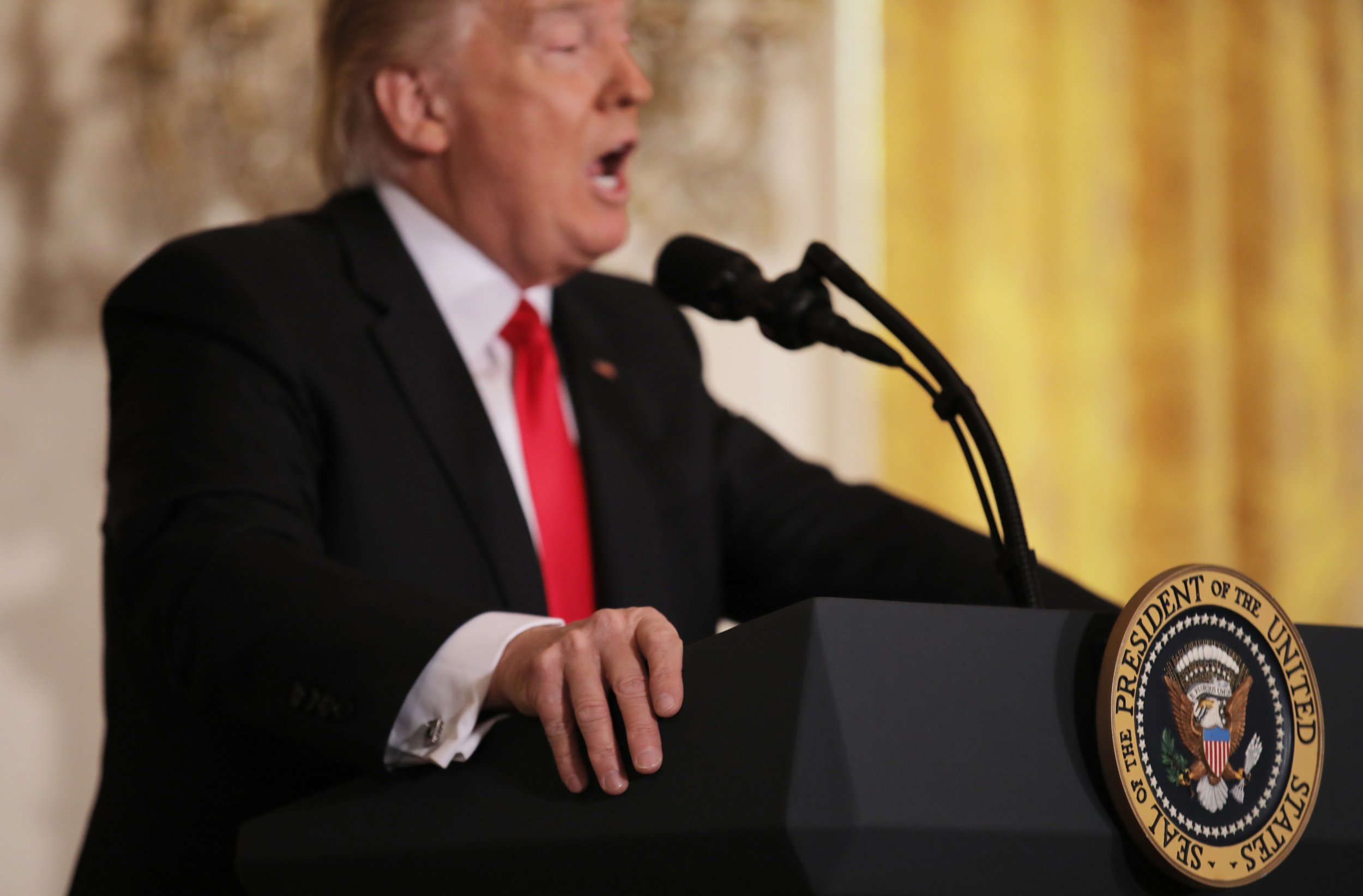 Updated | President Donald Trump was on the defensive during a stunning 75-minute news conference at the White House on Thursday afternoon, creating a hostile environment for most of the assembled reporters.
The stated purpose of the hastily called event was for Trump to announce his new secretary of labor, Alex Acosta, a day after Andrew Puzder withdrew his nomination amid controversy surrounding his personal and professional life. But the president quickly went off script, appearing to grow increasingly frustrated with the press and airing grievances about reporters as they questioned him on the resignation of his national security adviser, Michael Flynn, earlier this week. Trump disclosed that he asked Flynn for his resignation because he took issue with finding out that he had misled Vice President Mike Pence about his conversations with the Russian ambassador to the United States.
Related: How Trump avoids mainstream conservatives by nominating Acosta
But he denied any wrongdoing involving Russia and pledged that he didn't direct Flynn to discuss sanctions on the country with its ambassador. "Mike was doing his job. He was calling countries and his counterparts," Trump said about his former adviser. "I didn't direct him, but I would have directed him because that's his job." He said he has no knowledge of anyone else on his team speaking with Russian officials before the election. "Russia is a ruse. I have nothing to do with Russia," he said.
Trump and House Republicans have vowed to get to the bottom of who leaked classified information that, after being published, led to Flynn's resignation. "The leaks are absolutely real," he said, while "the news is fake because so much of the news is fake."
Trump himself made misstatements during the press conference, as he continued to appear locked in election mentality. In touting his campaign and victory—with 306 Electoral College votes—he falsely claimed that he had the biggest electoral win since President Ronald Reagan in the 1980s. His response to a reporter's fact-checking of his comment was "I don't know. I was given that information. Actually, I've seen that information around. But it was a very substantial victory."
He also declared that the rollout of his immigration ban last month was "perfect" and "very smooth." The executive order, which was issued late on the night of January 27, created mass confusion and led to protests in airports around the country.
Despite Flynn's resignation and Trump's first labor secretary nominee withdrawing his name from the process, among other issues, the president on Thursday told reporters that his administration is "running like a fine-tuned machine," even without a full Cabinet in place. Trump appeared on the brink of unraveling at times: He cut off some reporters before they had the chance to finish asking their questions, deemed their tones "such hatred" and coined the term "very fake news." "I'm not ranting and raving," Trump said to them. "You're just dishonest people." He also asked them hypothetical questions about how his former opponent, Hillary Clinton, would act with Russia if she had become commander in chief.
Aside from announcing Acosta as his nominee, Trump said the administration next week will issue a new executive order on travel and immigration to replace his first order, which was held up by the courts. He also said an Obamacare alternative would be offered in early March.
This article has been updated to include Trump'​s remarks.