Protests Held Across America Against Trump's Travel and Refugee Ban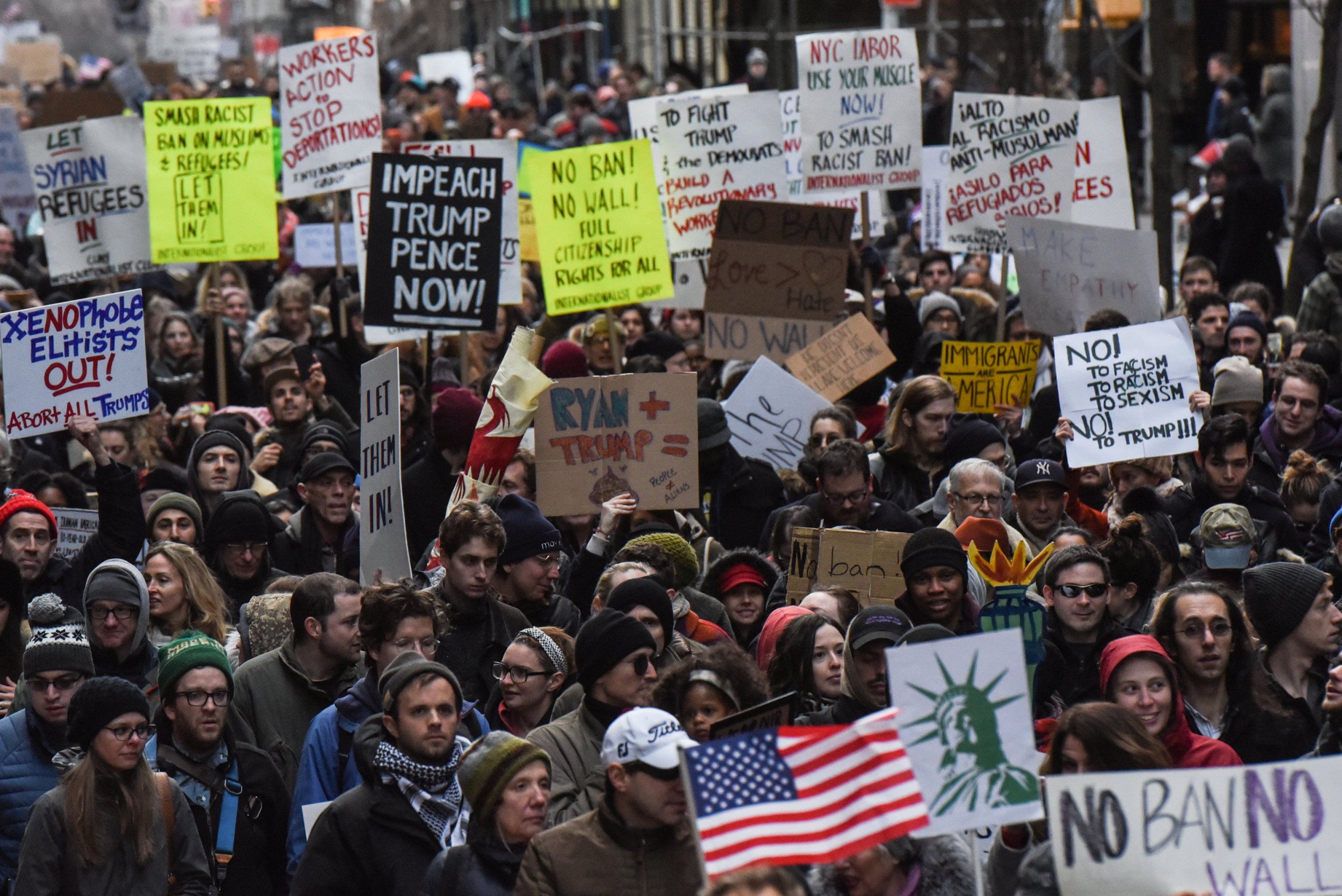 Protest actions were held across America this weekend against President Donald Trump's executive order banning immigration from certain Muslim-majority countries and suspending the U.S. refugee resettlement program.
Trump signed the executive order on Friday afternoon, claiming it will keep "radical Islamic terrorists" out of the country. The order targeted people from Iran, Syria, Iraq, Sudan, Libya, Somalia and Yemen, including those with visas and for a time lawful permanent residents holding green cards. Syrian refugees are indefinitely barred from entering the U.S., while refugees from other countries are prohibited from coming to the U.S. for 120 days.
Related: Thousands of lawyers descend on U.S. airports to fight Trump ban
The order quickly affected airports around the country, as nervous relatives waited hours to hear the fate of their loved ones. By Saturday morning, thousands of protesters started showing up at international airports across the U.S., demanding the release of those detained by Customs and Border Patrol (CBP) agents. Children and elderly people were among those held by immigration agents for hours; the Los Angeles Times wrote about Marzieh Moosavizadeh, a 75-year-old woman from Iran, who was was held for nine hours at the city's airport after arriving to visit her grandson.
On Saturday night, a federal judge in Brooklyn granted a temporary stay against Trump's executive order, allowing those detained to remain on U.S. soil and not be deported.
One person was still detained at John F. Kennedy International Airport on Monday, according to DNAInfo. At Dallas International Airport, 11 people were detained over the weekend, including a 70-year-old Iranian woman and an engineer for Chevron, the Texas Tribune reports. On Sunday, immigration lawyers were advising green card holders from the affected countries to fly through Boston's Logan International Airport, where an additional order issued by a judge was more expansive than the national stay issued on Saturday. The Boston order prevented people from being deported or detained at the airport.
Roughly 4,000 volunteer lawyers offered their help at airports around the country. The American Civil Liberties Union (ACLU), one of the organizations that sent lawyers to airports, received $24 million in online donations over the weekend, six times more than the $4 million it receives in online donations annually.
Airport protests continued on Sunday, including a 600-person protest at Boise Airport in Idaho, despite there being no reports of anyone being held at the airport, nor anyone being held at other airports with Boise as their final destination. Protests were held in New Mexico, Missouri, and cities in California, Rhode Island and Florida.
Thousands of people arrived in New York City's Battery Park on Sunday, under clear skies and in full view of the Statue of Liberty. Many people held signs featuring the words engraved on the statue's pedestal, written by Emma Lazarus: "Give me your tired, your poor, huddled masses yearning to breathe free."
A number of politicians, including New York City Mayor Bill de Blasio, Senator Chuck Schumer and Representative Jerrold Nadler, spoke in Battery Park. Nadler and New York City Representative Nydia Velazquez were both at JFK Airport on Saturday, where they spoke out against detentions and Trump's executive order. On Sunday, de Blasio spoke about the city's 900 Muslim NYPD officers, and said Trump's executive order is "the beginning of the degradation of our civil liberties and our human rights."
Tariq Kalash, 30, attended the protest with his wife and two young daughters. Kalash came to the U.S. six years ago and is a U.S. citizen. "I feel very bad. This country is for free speech," he says.
Kalash says he has many Syrian friends who are green card holders and will now find it difficult to return to their homes in America after visiting family abroad. "He sleeps, he wakes up, he can't come back to his family," Kalash says of his friends. "It's a dream."
Monica Landy, 26, attended the Battery Park protest with friends and held a sign that said: "No Ban No Wall the USA Welcomes All." Landy, who has Dutch and Thai ancestry, says: "It's really dangerous when we start playing these cards, these insular, cruel-minded cards," adding that, "America is already great" because of its history of immigration and diversity.
Just before 4 p.m., protesters began marching through the streets of Manhattan to Foley Square, chanting, "This is what democracy looks like" and "Refugees are welcome here." The march organizers estimate 30,000 people attended.
On Monday morning, Trump tweeted about his executive order, which he explicitly referred to as "the ban." Trump claimed the order was signed at such short notice because "if the ban were announced with a one week notice, the 'bad' would rush into our country during that week."
A tweet sent by Vice President Mike Pence in December 2015, saying, "Calls to ban Muslims from entering the U.S. are offensive and unconstitutional," was retweeted many times during the past few days. It was deleted over the weekend.