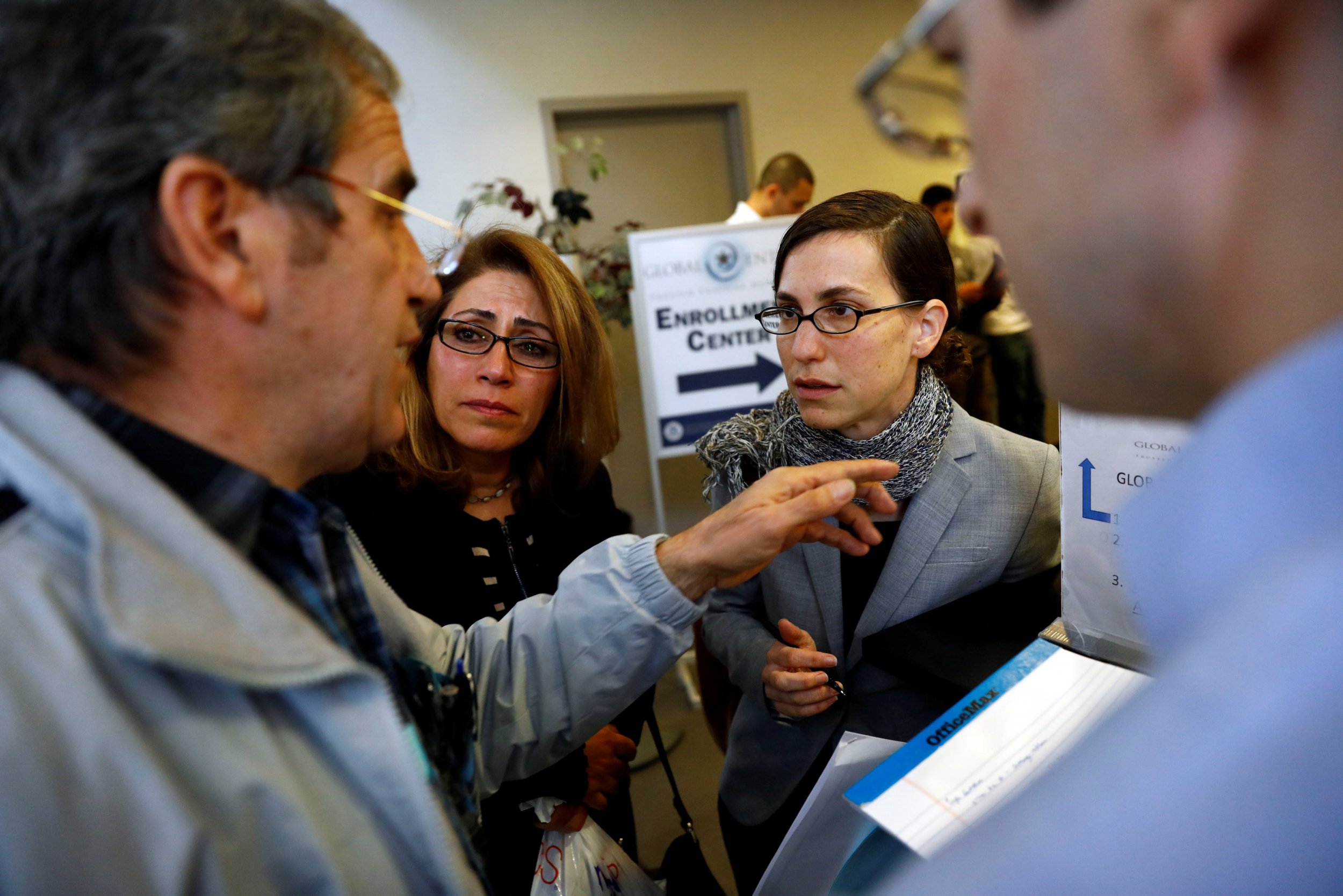 More than 4,000 lawyers are working in airports around the country in the wake of an executive order signed by President Donald Trump on Friday that blocks nationals from seven Muslim-majority countries from entering the U.S.
There was widespread chaos at U.S. airports, and many terminals around the world, on Saturday as Trump's order took effect. Photos from several international arrival terminals in U.S. airports showed lawyers sprawled on the ground at work. Becca Heller, director and co-founder of the International Refugee Assistance Project (IRAP), the organization leading the legal effort against the order, said 4,000 lawyers have signed up through her organization to help. However, the total number of lawyers volunteering their services is likely much higher due to the large number who have shown up organically, she said during a press call with laywers and advocates on Sunday.
By Sunday morning, more than 100 cases have been filed by attorneys and advocates for travellers from the seven affected countries—Iraq, Syria, Somalia, Iran, Yemen, Libya and Sudan—around the U.S., she said.
Related: Photos of immigrant ban protests at U.S. airports
"The last 48 hours have been really full of chaos, the sense of the federal government not complying with the federal Constitution," Marielena Hincapie, executive director of the National Immigration Law Center, said on a press call on Sunday. She added that the U.S. is currently facing "a constitutional crisis mode in our country."
On Saturday night in Brooklyn, a federal judge, Ann M. Donnelly, ordered a temporary block of Trump's executive order, declaring that those detained in U.S. airports should not be deported. Lee Gelernt, deputy director of the ACLU Immigrants' Rights Project, argued the case in the U.S. District Court for the Eastern District of New York in Brooklyn on Saturday night. The judge's order, which is national, only allows people to remain on U.S. soil and does not require them to be released from detention. It was filed "on behalf of a nationwide class of people who had lawful admission papers blocked by federal order," Gelernt said on Sunday.
During the Saturday night hearing, held at 7:30 p.m., the U.S. government was unable to prove that the detained travelers posed harm to the U.S. because they had already been extensively screened, said Gelernt. Additionally, he said, the government was unable to show that there wouldn't be harm to travelers from the seven countries if they were sent home. In many cases, they would be departed back to active conflict zones.
Customs and Border Protection have still not released the names of those detained. "We also said to [Donnelly], look, we don't know where everyone is," said Gelernt. "We need a list of all the people detained throughout the country." The ACLU is now expecting a list of detainee names from the government and the locations of their detention. The judge still needs to decide on the legality of Trump's executive order, said Gelernt.
"There's certainly no room to override order," said Gelernt. "[The judge] made very clear that she felt these people had been extensively vetted and were not a harm to the U.S."
Federal judges in Massachusetts, Virginia and Washington state issued additional rulings to the one issued by Donnelly. On Sunday, the Department of Homeland Security said it would comply with the four court rulings while continuing "to ensure that those entering the U.S. do not pose a threat to our country or the American people" by implementing Trump's order.
The order in Boston, issued on Sunday by U.S. District Judge Allison Burroughs, granted a temporary restraining order blocking the removal of two Iranian professors detained at Logan International Airport. Burroughs' seven-day order prevents officials from detaining and deporting approved visa and green card holders from the seven countries. Heller stressed on Sunday that anyone from the seven affected countries traveling to the U.S. on a green card should try and reroute their flight through Boston.
In Virginia, an order issued by U.S. District Judge Leonie Brinkema on Saturday night prevented the Department of Homeland Security from deporting from 50 to 60 people detained at Dulles International Airport. The Virginia order also allows those people, who are all legal permanent residents, to contact and speak with lawyers. In Seattle, U.S. District Judge Thomas Zilly barred the removal of two unnamed people by the federal government.
Lawyers on Sunday's press call said they are now looking at the entirety of all the orders to see how they complement each other. While it doesn't cover the enormous number of people who will continue to be affected by the executive order, "it's the first step in challenging the executive order," said Gelernt, adding that, "I think there will be broader challenges."
At New York's John F. Kennedy International Airport, where thousands of people turned up to protest on Saturday, agents are "releasing [detained travelers] in a trickle," says Heller. In addition to two Iraqi men released on Saturday, less than 15 people have been released on a case-by-case basis at JFK. Heller said many people are being processed for waivers by the government, which she calls a "legal fiction" because they were already allowed to enter the country legally on visas or green cards.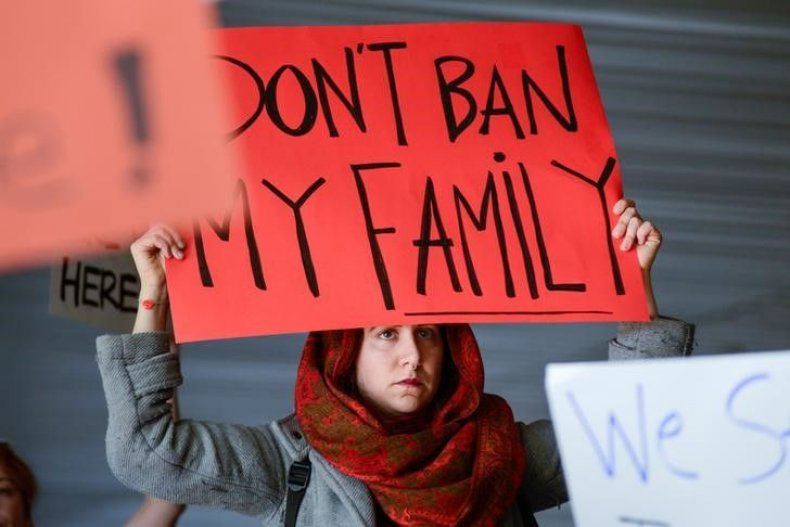 Heller added that even after the temporary stay was granted in New York, a young Iranian woman studying in the U.S. on a Fulbright Scholarship was forced onto an Air Ukraine flight at John F. Kennedy International Airport. The flight, Heller said, was turned around on the tarmac and the woman was allowed off the plane. Other detentions on Saturday included a 66-year-old woman visiting her son in the U.S. and a two-year-old entering the U.S. with green card-holder parents. A number of lawful permanent residents of the U.S. were allegedly asked by Customs and Border Patrol agents to sign papers that would surrender their green card to the U.S. government. Heller said the unknown number of people were told by agents that they would be released from detention if they handed over their green card.
"Even if they're if not being deported, their legal rights continue to be egregiously violated," said Heller.
Elica Dafaie, staff attorney with Asian Americans Advancing Justice, said she is working with two elderly Iranians and valid visa holders being detained at San Francisco Airport. In a violation of the New York court order, both were being threatened with imminent deportation. However, by the end of Sunday's press call, Customs and Borders Protection halted removals from San Francisco, said Gelernt.
Heller also provided updates on the U.S. refugee resettlement program, which is suspended for 120 days under Friday's executive order. IRAP has been told that refugees outside of the seven affected countries will be able to depart for the U.S. until February 2, although "we've been getting conflicting reports," she said. One such case is that of a 17-year-old orphan from Afghanistan who fled to Indonesia after his entire family was killed. He was due to be placed in a foster agency in Seattle, but is no longer allowed on his flight, said Heller. Afghanistan is not one of the seven affected countries.
Going forward, Hincapie says she expect "a lot of this order to be challenged."
"Think of this as the legal resistance part of what's happening in this country," said Hincapie.