Joe Biden and Xi Jinping Reassure United Nations As U.S.-China Rivalry Intensifies
President Joe Biden and his Chinese counterpart Xi Jinping employed tactical rhetoric at the United Nations to dispel concerns of a developing Cold War between the world's largest economies while sneaking in indirect swipes at each other's policies.
The leaders spoke at the UN General Assembly just hours apart on Tuesday and, at least on the surface, offered their own assurances that the intense U.S.-China rivalry would remain within the boundaries of responsible competition.
Biden and Xi sought to outdo one another on global health and climate commitments, with the former highlighting the U.S.'s position as the world's top COVID-19 vaccine donor—at over 160 million doses—and financial backer of climate action. Biden recommitted to mobilizing $100 billion a year in public and private support for climate work, including adaptation efforts in developing nations.
China's Xi pledged $100 million to the World Health Organization-backed COVAX vaccine sharing platform as well as 100 million vaccine doses to developing countries by the end of this year. He repeated the goal of achieving carbon neutrality before 2060—a decade after the U.S.—and said China would stop building coal-fire plants abroad.
Xi's passing mention of overseas coal projects has won early praise, but analysts say more information is needed regarding its domestic plants and those already underway in other nations. China has major investments in foreign coal-powered infrastructure throughout the Asia-Pacific region, according to Statista.
John Kerry, the Biden administration's climate envoy, welcomed the news, saying he was "absolutely delighted" with the announcement ahead of November's COP26 climate conference in Glasgow.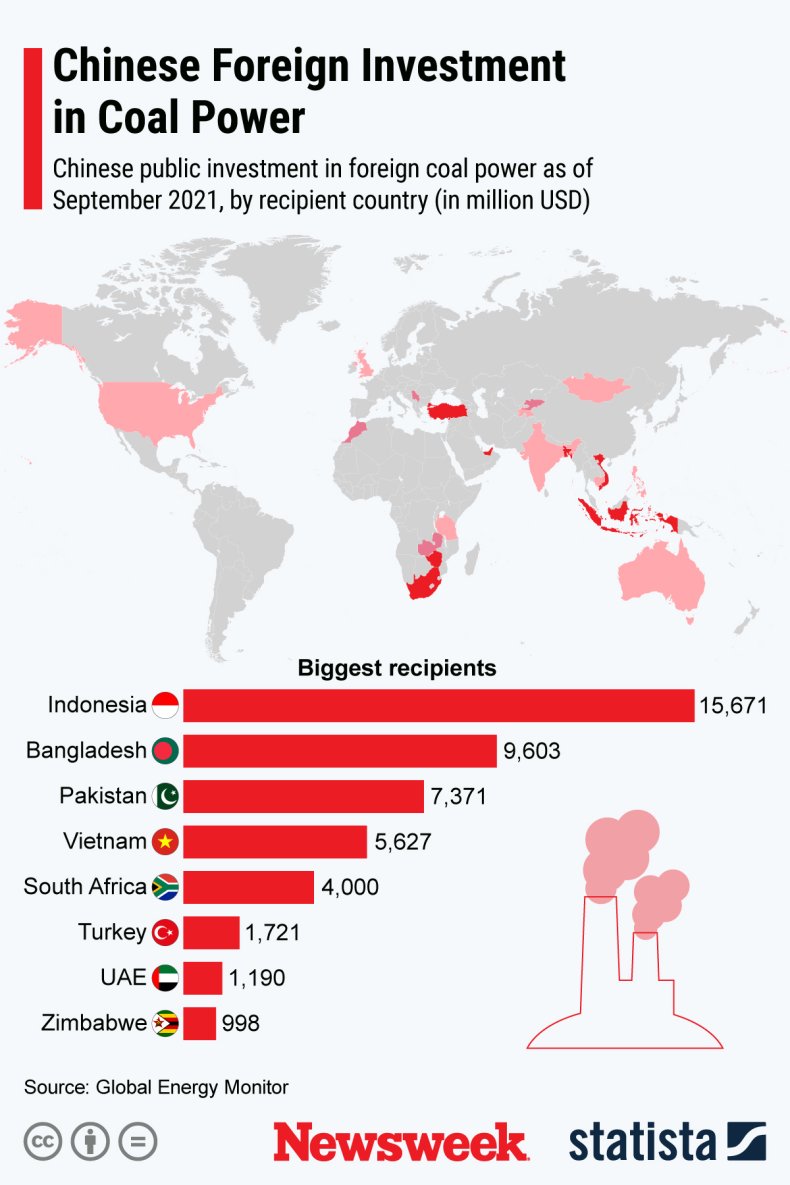 During his UN address, Biden made clear the U.S.'s strategic shift to the Indo-Pacific region, dropping references to NATO security commitments as well as the European Union and the Quad, which includes India, Australia and Japan. But the president struck a calmer tone about U.S. military power, calling it a "tool of last resort."
"All the major powers of the world have a duty, in my view, to carefully manage their relationships so they do not tip from responsible competition to conflict," he said. "The United States will compete, and will compete vigorously, and lead with our values and our strength."
"But we're not seeking—I'll say it again—we are not seeking a new Cold War or a world divided into rigid blocs. The United States is ready to work with any nation that steps up and pursues peaceful resolution to shared challenges," Biden added, in a speech that did not include a single utterance of the word "China."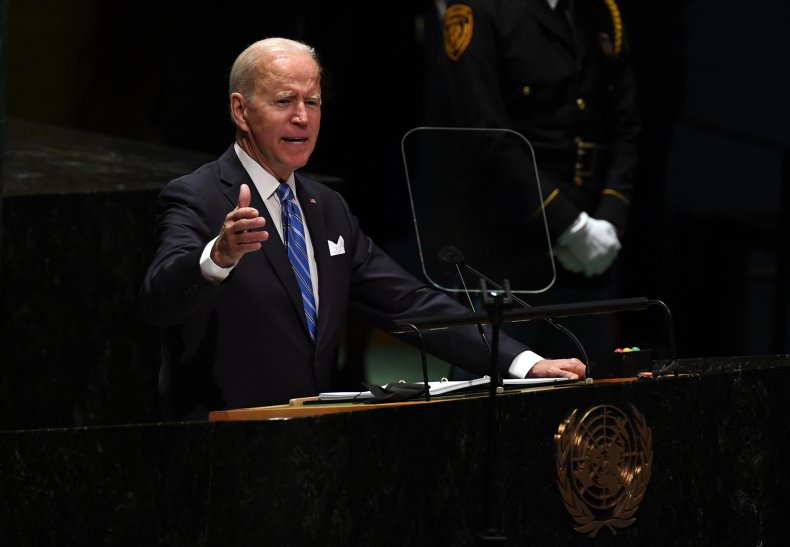 Xi, meanwhile, repeated familiar slogans including the need for international relations to be conducted under the principles of "mutual respect and win-win cooperation." He called for a rejection of "small circles or zero-sum games," before touting what he has termed "true multilateralism."
"One country's success does not have to mean another country's failure, and the world is big enough to accommodate common development and progress of all countries," said Xi, who spoke via a prerecorded message.
The two leaders appeared to directly address concerns expressed in a recent rebuke by UN Secretary-General António Guterres. In an interview with the Associated Press before the gathering in New York, Guterres described the U.S.-China relationship as "dysfunctional" and warned of a new Cold War characterized by bifurcation.
He raised this point again during his opening remarks on Tuesday, saying: "I fear our world is creeping towards two different sets of economic, trade, financial and technology rules, two divergent approaches in the development of artificial intelligence—and ultimately two different military and geopolitical strategies."
Guterres called the trend a "recipe for trouble."
Despite the milder language, both Biden and Xi referenced familiar themes that have been at the center of their respective policy directions and encapsulated within the wider rhetoric of strained U.S.-China relations.
Biden returned to his description of the current period as a rivalry between democratic and authoritarian systems. He called on countries to speak out against the oppression of minorities—including in Xinjiang—and offered indirect criticism of Xi's foreign policy centerpiece, the Belt and Road Initiative.
"We'll stand up for our allies and our friends and oppose attempts by stronger countries to dominate weaker ones, whether through changes to territory by force, economic coercion, technological exploitation or disinformation," he said, in choice words that covered a range of disagreements with Beijing over its treatment of Taiwan, Japan, Australia and others.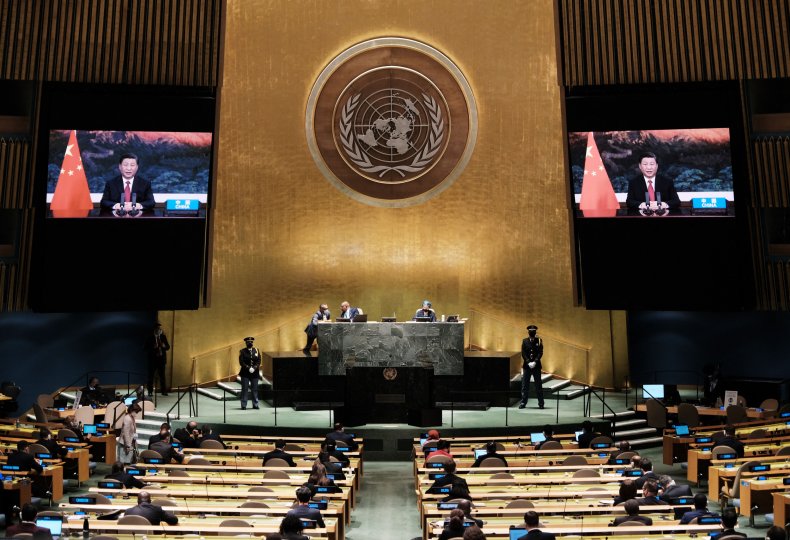 Chinese President Xi offered less veiled criticism of the U.S. and NATO withdrawal from Afghanistan—a subject seized upon by officials in Beijing and by state-owned media outlets to undermine American credibility.
"Recent developments in the global situation show once again that military intervention from the outside and so-called democratic transformation entail nothing but harm," said Xi.
He added: "China has never and will never invade or bully others, or seek hegemony."
The U.S.-China relationship has undergone "structural change" since the expectations surrounding China's peaceful reforms of the 1990s, said Su Tzu-yun, an analyst at the Institute for National Defense and Security Research in Taipei. "At its core is a conflict between democratic and authoritarian civilizations."
China is exporting its authoritarian model overseas and challenging universal values such as freedom and democracy, he told Newsweek. The superpowers are engaged in a rivalry that spans the traditional spectrum of economy, technology, military and nuclear power balance, Su added.