President Joe Biden's emails from his time as vice president are coming under renewed scrutiny over his apparent use of the pseudonym "Robert L. Peters" and other names.
The House Committee on Oversight and Accountability's chairman, Republican Representative James Comer, has asked the National Archives and Records Administration (NARA) in a letter on Thursday to provide unredacted emails from Biden's time as vice president that relate to Ukraine and natural gas company Burisma.
Comer's letter to NARA comes amid the ongoing House Republican investigation into the president and the business dealings of his son, Hunter Biden. The White House has repeatedly denied that Biden had any involvement in Hunter Biden's business affairs.
Newsweek has reached out to the White House via email for comment.
"Joe Biden has stated there was 'an absolute wall' between his family's foreign business schemes and his duties as Vice President, but evidence reveals that access was wide open for his family's influence peddling," Comer said in a statement.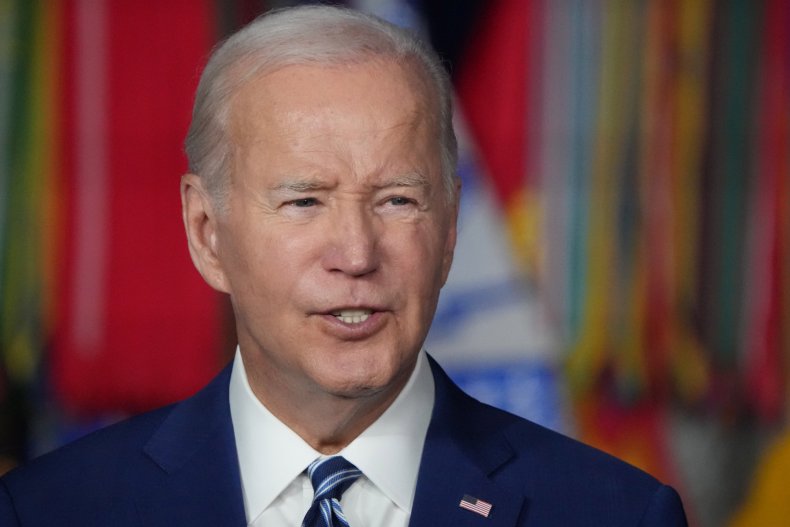 "We already have evidence of then-Vice President Biden speaking, dining, and having coffee with his son's foreign business associates," Comer said, referring to testimony by Devon Archer, a former business associate of Hunter Biden's.
The committee wants "unrestricted special access" to a NARA case record that was first made public in June. That record contained four emails but two were withheld and two others had redactions.
Comer's letter said the Oversight Committee wants to see "Email Messages To and/or From Vice President Biden and Hunter Biden related to Burisma and Ukraine" and also highlights the use of pseudonyms.
Two of those emails were sent from then-Biden aide John Flynn to the then vice president on May 27, 2016 and June 15, 2016. Hunter Biden was a carbon copied recipient on those two emails.
The House Oversight Committee is now seeking "all unredacted documents and communications in which then-Vice President Joe Biden used a pseudonym" and the pseudonyms listed in Comer's letter are "Robert Peters, Robin Ware, and JRB Ware."
Those names were used by Biden for private email addresses during his time as vice president, according to a report from The New York Post in July 2021.
Newsweek attempted to reach out to the email address cited in that report—Robert.L.Peters@pci.gov—but received a bounce back early on Friday morning.
Comer drew particular attention to the email on May 27, 2016, which included an attached copy of Biden's schedule referencing a phone call Biden had with then Ukrainian President Petro Poroshenko.
"It is concerning to the Committee, however, that this document was sent to 'Robert L. Peters;—a pseudonym the Committee has identified as then Vice-President Biden," Comer's letter said.
"Additionally, the Committee questions why the then-Vice President's son, Hunter Biden—and only Hunter Biden—was copied on this email to then-Vice President Biden," the letter added.
In addition to communications sent to or from Biden and all documents in the NARA case file, the House Oversight Committee is seeking any document or communication where Hunter Biden, Devon Archer or Eric Schwerin were included or mentioned.
Archer is a former business partner of Hunter Biden's who testified before the House Oversight Committee as part of their probe, while Schwerin was a founding partner and managing director at Hunter Biden's now closed firm, Rosemont Seneca Partners.
The committee is also seeking all drafts of a speech Biden delivered to the Ukrainian parliament on December 9, 2015. Republicans want to see all drafts of that speech from November 15 to December 9, 2015.